What's next, social distancing for big cats? Zookeepers demanding personal protective equipment?
In a word, yes. COVID-19, the illness that has cut a swath through the globe's human population, is threatening tigers, too, and even lions, experts say.
Those at greatest risk of catching the virus, according to animal welfare experts, are the thousands of tigers living in unregulated zoos and private captivity across the United States.
More than 5,000 tigers live in captivity in the U.S., with as few as 6 percent of them in accredited zoos — the fruits of an illicit market that was placed under global scrutiny by the Netflix documentary "Tiger King."
Full coverage of the coronavirus outbreak
But even big cats that live in accredited zoos are in danger. Four tigers and three African lions have been diagnosed with COVID-19 at the Bronx Zoo in New York City. Public health officials believe the animals caught it from zookeepers.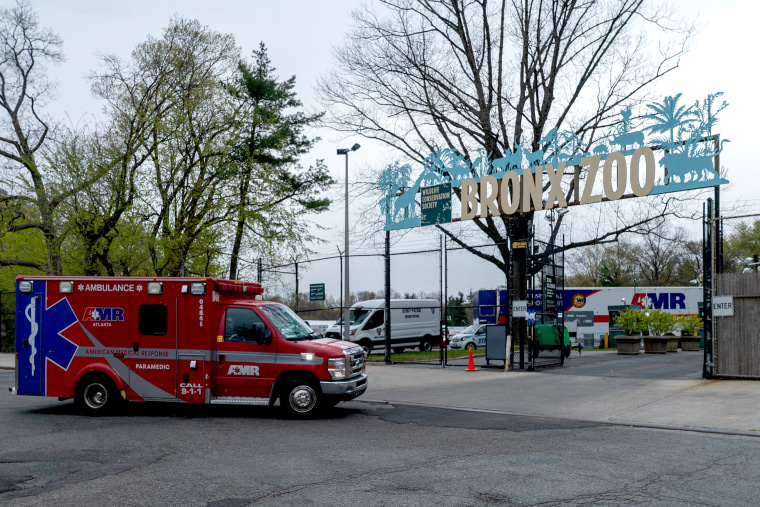 While the illness appears to be mild for big cats, with no evidence yet that they can pass it to humans, accredited zoos are racing to implement social distancing for their animals, as well as their staff.
The cats in accredited zoos are the lucky ones. Tigers sold in the poorly regulated private market are more likely to live in cramped conditions with fewer resources, experts say.
Saff Saffery, a popular star of "Tiger King" who has regularly engaged with unregulated zoos and sanctuaries, says most of them cannot protect their animals. An outbreak of disease is always possible, he said.
"Unless there is a licensed staff of veterinarians to individually care for these animals at proper protocol levels, it's impossible to prevent," he said.
Beyond that, feeding and caring for the animals without sufficient protective equipment puts workers in danger, Saffery said. He lost an arm when he was mauled by a tiger at Joe Exotic's Greater Wynnewood Exotic Animal Park in Oklahoma.
"The livelihood of these animals is in the hands of the humans who care for them," he said. "So because it's a give-and-take relationship, they need to operate together. These zoos have no choice but to go out and tend to these animals directly, one on one, every day."
Preliminary studies indicate that the coronavirus replicates poorly in dogs, pigs and chickens but that ferrets and cats are vulnerable.
Since the first cases emerged, accredited zoos across the U.S. have put new safety measures in place, although marshaling the necessary resources can be difficult.
Dr. Randy Junge, vice president of animal health at the Columbus Zoo and Aquarium in Ohio, says his team is working to prevent any outbreak among the 10,000 animals there.
"Privately owned 'exotics' ... they're pretty much unregulated, so what they do is completely up to them," he said.
"We've divided up our staff into small teams," he said. "We wear masks. We maintain distance between workers. We report illness and take our temperature daily. And all of those steps that we do to protect people are also protecting our animals. So there's no zoo visitors here. All of our keeper staff are wearing masks around the animals."
Download the NBC News app for full coverage and alerts about the coronavirus outbreak
The Columbus Zoo plans to reopen in the summer, but the ongoing lockdown has taken a financial toll. As of Tuesday, 29 employees had been furloughed and 33 positions were being removed. And the economic impact of the shutdown presents an added challenge for all animal keepers.
Lauri Caron, owner of the Octagon Wildlife Sanctuary in Punta Gorda, Florida, houses a hundred exotic animals. She says she's been struggling with supplies for the volunteers who manage her big cats, which include 14 lions, three tigers and 20 bobcats.
For the time being, members of her team have been maintaining 6 feet of distance between one another while preparing food that has been donated for her animals. But she doesn't know what the sanctuary will do once it runs out of the necessary equipment.
"We need more masks and gloves," she said. "We don't have enough. For the time being, any volunteer feeling sick is not allowed in here. We've been spraying bleach on the bottom of our volunteers' shoes and the animals' toys, too.
"There are so many unknowns. We try to take all precautions we can. And since we survive on visitors to keep the lights on to buy medications and other supplies, we don't know what we are going to do without funding."