Hundreds of thousands of climate change demonstrators around the world took to the streets in a series of marches leading up to the United Nations Climate Summit, where more than 120 world leaders will convene Tuesday to galvanize political will for a new global climate treaty by the end of 2015.
People in over 160 countries participated in the events, which organizers with PeoplesClimate.org were calling "the largest climate mobilization in history."
Over 300,000 marchers filled the streets of New York City Sunday, and in London, organizers said 40,000 took part in the demonstration. A march in Melbourne, Australia, drew 10,000 people, while marchers in France held signs displaying, "We only have one planet" and "Alone we go faster, together we go farther!"
"If we don't hurry up and clean up our act we are in the process of destroying a livable planet, said Elizabeth Michaud, a technical writer and mother from Boston, came to New York to lend her voice to the chorus." We need to take action."
"New York has experienced firsthand the devastating effects of a changing climate," Governor Andrew Cuomo said in a statement before joining the crowd of marchers. "I encourage all New Yorkers to join in by observing Climate Week and learning more about how they too can help protect our state and the environment."
New York has been among the first states in America to proactively research and implement climate initiatives. A number of events will be held New York City over the course of the week to raise awareness of this initiative. Social media campaigns are using the hashtag #PeoplesClimate to connect demonstrators from all over the world.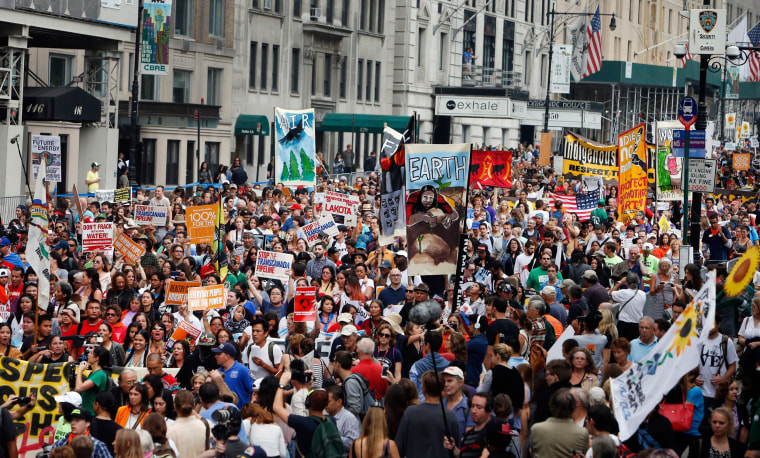 IN-DEPTH
SOCIAL
— Mel Bailey and The Associated Press
California authorities catch 4 of 5 jail escapees