LOS ANGELES — Thousands of fans flocked to the Staples Center on Sunday after the death of NBA legend Kobe Bryant, seeking comfort and solace at the place where his outsize talent was on display for so many years, the home of the Lakers.
There they laid flowers, talked about how much he meant to them and cried. They mingled outside the arena for hours as Grammy Awards preparations, and later the televised show, unfolded inside.
Bryant and his daughter Gianna, 13, were killed in a helicopter crash Sunday morning near Los Angeles. Seven other people were were killed in the crash, authorities said.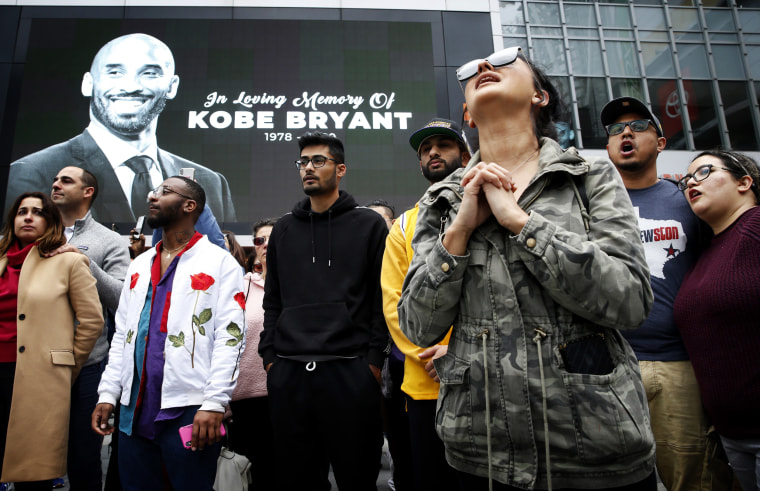 Bryant, 41, spent his entire 20-year NBA career playing for the Lakers, leading the team to five championships and working his way into the hearts of Angelenos.
"He meant a lot. He was an icon to the city — a legend now," Oscar Martinez, 37, said as he stood outside the Staples Center with his two sons. "He brought a lot of people together."
Download the NBC News app for breaking news
In a plaza across the street, mourners left posters, jerseys, flowers and candles at makeshift memorials. Some cried, and others chanted "M-V-P" and "Thank you, Kobe." Every so often, someone would start playing a song like "I'll Be Missing You," by Puff Daddy, Faith Hill and 112, on a portable speaker. Entire families arrived decked out in Lakers gear.
Ernest Washington, 58, walked around with a giant copy of a drawing he made of Bryant, asking other fans to sign the artwork. He proudly noted that the historic game in which Bryant scored 81 points occurred on his birthday.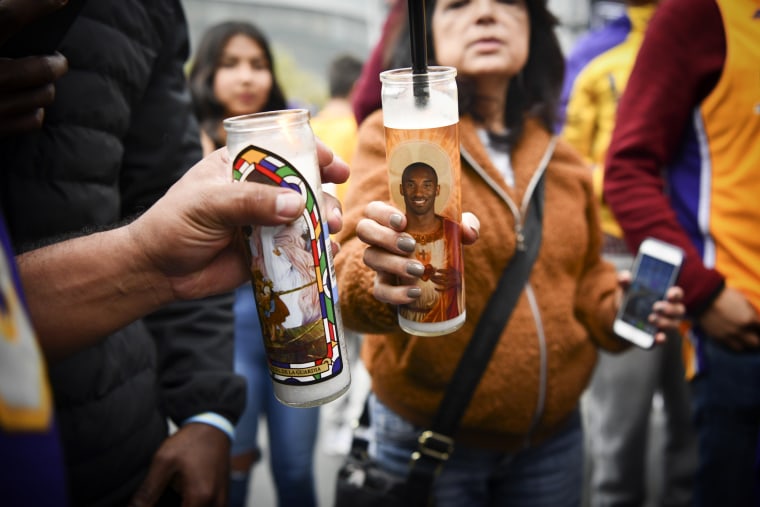 A scattering of people dressed for the Grammys maneuvered around the crowd in their gowns and tuxedos, headed for pre-show drinks at nearby restaurants. Although some fans heckled Grammys attendees a few times, the crowd was peaceful.
Ivan Henriquez, 21, clutched a copy of Bryant's book "The Mamba Mentality," which he got as a Christmas gift in 2018. He said the book reflected Bryant's drive and work ethic.
"I relate to this because he's teaching me how to work harder and not give up on dreams," said Henriquez, a college student.
Fans in other parts of Southern California also memorialized Bryant in their own ways. At a Lids sports apparel store in Santa Monica, Abed Saleh, 31, bought a Bryant jersey.
"He took L.A. to another level," Saleh said. "We had exciting basketball for 20 years."
Many of those mourning Bryant were born and raised in Los Angeles. That Bryant never played for another NBA team made him a steady presence in the lives of fans as they were growing up.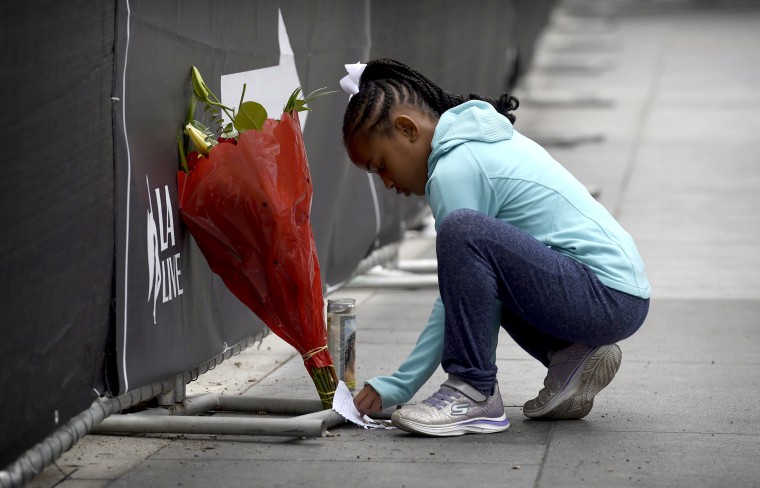 For Los Angeles native Salvador Galindo, 28, who was raised without a father, sports became an outlet to fill the void.
"All I would do is watch Lakers games," Galindo said. "People have gaps in their life, and some people filled it in with Kobe."
Alejandro Robledo, 23, who also didn't have a father in his life, said Bryant's death was like losing a family member.
"No one really tells me advice," Robledo said. "I take my advice from Kobe."
Eddie Lugo, 21, considered Bryant a better father figure than his own dad.
"He was a real inspiration to everybody," Lugo said.
Some fans said they wondered at first whether news of Bryant's death was a hoax.
"I thought it wasn't real," said Bernadette Hernandez, 45, of Simi Valley, who journeyed to Bryant's Mamba Sports Academy in nearby Thousand Oaks, which became another gathering spot for fans. Bryant's chosen nickname was The Black Mamba.
Hernandez said her daughter's basketball team was invited to an event last year hosted by Bryant and the Los Angeles Sparks WNBA team. She said Bryant ran the players through several drills, something not many kids can say they've experienced.
"He's very down to earth — a real dad," Hernandez said. "You could see the connection with his daughters. Watching him — he was the reason I kept going to Lakers games."
Ryan Rameah, 28, also picked up some gear at a Lids store in Santa Monica. He said Bryant inspired people to be motivated, even if they didn't necessarily care about basketball.
"He had such an impact on and off the court," Rameah said. "This to me falls as one of the biggest events in sports history."