PITTSBURGH — Steffi Wright ventured out into the chilly, pouring rain on Sunday night to make a statement — she is not afraid.
Wright, a graduate student at Chatham University, joined about 3,000 other people at an interfaith vigil at Soldiers & Sailors Memorial Hall & Museum to mourn those who were killed Saturday at the Tree of Life synagogue.
"This shouldn't scare us away from our places of worship," she said. "It kind of encourages us to be strong and stay together. When there's hardships like this, we really have to come together as a people."
Wright teaches a third- and fourth-grade youth study group at Temple Sinai in the Squirrel Hill neighborhood, which is also home to Tree of Life. On Sunday, her students were clearly frightened, she said.
"I had to prepare myself to be able to be there for them so they wouldn't be scared to be open about being Jewish or being afraid of being Jewish," Wright said.
Like others at the vigil, Wright lamented a modern climate in which "some people just feel it's OK to be open about their hateful views."
"I think it can be scary to be Jewish," she said. "But I think we shouldn't be hiding our Jewishness."
It was her grandmother who taught her "to never stop being Jewish," she said.
"It's in the memory of my grandma to be loud about my Jewishness and to keep that chain going within my family."
Avram Mlotek, who traveled from New York City, where he is a prominent rabbi, also cited what he called "a wave of hate-filled violence in our country."
"Anti-Semitism, like racism or xenophobia or Islamophobia, has always been present in our larger American fabric, but it's been subdued, or it certainly hasn't been as out in the public since 2016," he said.
Mlotek is the rabbi of the Manhattan branch of Base Hillel, a community- and home-based outreach to younger Jews. He came to Pittsburgh both because some of his relatives had their bar mitzvah ceremonies at Tree of Life and because, as a grandchild of Holocaust survivors, "I felt it important to bear witness."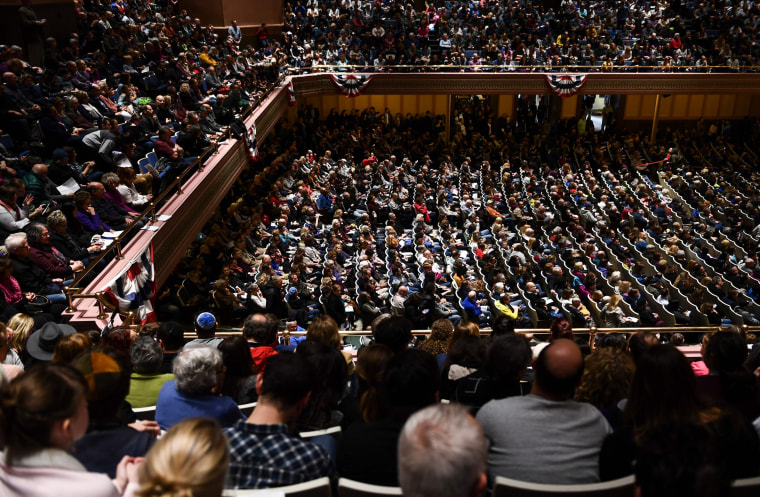 Mlotek ticked off a list of frightening events in recent years — the killings of nine people at an African-American church in Charleston, South Carolina, in 2015; the death of a counterprotester at a far-right rally in Charlottesville, Virginia, last year; and the mailing of pipe bombs to prominent critics of President Donald Trump this month.
"There's a violent ether in the air that is terrifying, but it's only as terrifying as we let it be," he said. "That's why I'm so moved by being here today."
As the ceremony began, Jeff Finkelstein, chief executive of the Jewish Federation of Greater Pittsburgh, noted that Squirrel Hill was Mr. Rogers' Neighborhood — literally, as the beloved children's TV host once lived there.
"As our own Mr. Rogers said: 'When you see scary things, look for the helpers. You will always find people who are helping,'" Finkelstein said. "Thank you to all the helpers."
Phil McCausland reported from Pittsburgh. Alex Johnson reported from Los Angeles.