Claims processors with the Department of Veterans Affairs say they have strained to keep up with a flood of new cases brought on by the PACT Act and an existing quota system that pits their livelihoods against the veterans they signed up to help as a growing number of the processors leave the job.
The PACT Act expanded benefits to millions of veterans exposed to toxic substances when it was enacted in August of last year. But that has stressed the VA workers tasked with moving cases along amid a backlog, mandatory overtime, inadequate training and quota demands, according to two former claims processors and four current processors who spoke to NBC News on the condition of anonymity out of fear of retaliation.
The processors were struggling to manage the workload even before the PACT Act, with more than 2,000 having resigned or retired since 2020. The number of departures has grown each year, data shows.
"The PACT Act came in like a bull," one of the current processors said. "Morale is on the floor."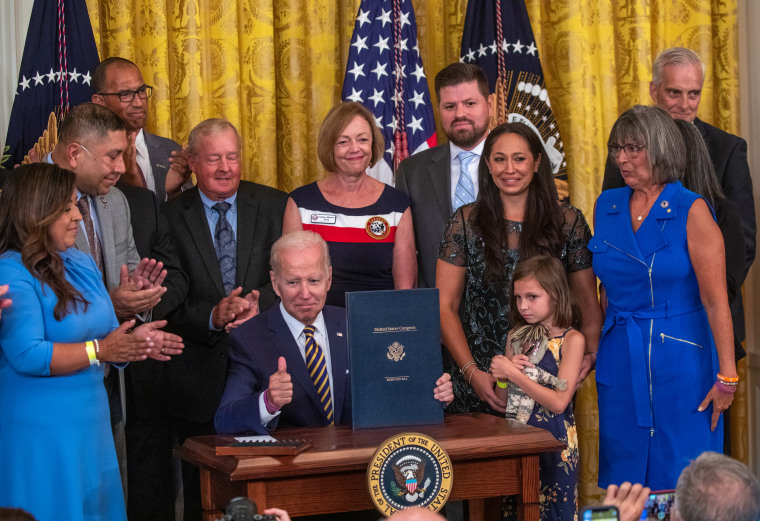 Another employee said at least 25 new claims enter her queue each day, on top of the cases she did not get to the day before.
Confused by the new regulations under the PACT Act, she said she began making multiple errors for the first time on the job, which lowered her performance scores during three monthly quality checks and delayed a scheduled promotion.
"It's impossible," she said. "You're falling in sand you can't get out of."
The VA launched an "aggressive hiring push" to prepare for the surge in claims and now has about 12,900 processors. Nearly 5,000 of them joined in 2022 and more than 6,500 were brought onboard in 2023, the agency said. But seasoned workers worry mounting pressures of the job will keep the door revolving.
"The VA has become a turnstile for employees," a third claims processor said. "You see a lot of people come and a lot of people go, especially now with this point system. It's crushing people."
An 'untenable' demand 
The VA has been using an official quota system since 2017 to measure performance, which the agency said is "critical to providing efficient, accurate claims decisions."
Under the so-called standards system, Veterans Service Representatives, or VA claims processors, have to earn a certain number of points per pay period by completing specific tasks, the VA said. That includes verifying information and gathering the medical and service records, or other supporting documents, needed to determine a veteran's eligibility.
But because the claims in the last few years have become more complex with new processes and additional eligibility metrics, processors say it often takes hours to properly review a veteran's service record, significantly extending the total processing time, reducing their chances to earn other points and often leading to errors that lower their performance score.
"It's like this flowchart that is like a thousand pages long, and you're under so much strain," said Nancy Gwinn, who processed claims for the VA's Houston office for about six years. "If I review all this, then I won't make my points, and I will be terminated."
Gwinn, 63, a single mother to two teenagers, worried she would lose her job if she spent too much time on a case. She said it was easier and quicker to look for the first thing that would discredit a claim and close it out, rather than find ways to approve it.
"It stresses our own internal ethics," said Gwinn, a Navy veteran, who retired in 2020 because of job stress and physical health issues. "It's an untenable request to make on anybody."
A current employee, who has processed claims for the VA for more than a dozen years, said the point system has become more stressful and stringent in the past year, as the workload has doubled. 
"They're trying to crack the whip," he said. "You don't get too much breathing room. By the time you complete all your cases, you have to take a deep breath and jump right back in again."
In a statement, VA press secretary Terrence Hayes said the agency did not define the "acceptable amount of time" that a processor should spend on a particular case "because each claim is unique." The points system, he said, is based on "total work processed" and not the total number of claims processed.
Some employees say there's a heavy focus on volume and a contradicting demand for thoroughness. 
"We don't have enough time to look through every little thing because we got to have so many points a day," one processor said. "The supervisor is going to contact me and say what's going on, and why haven't I touched these claims?"
About 600 claims processors resigned or retired from the VA in 2022, a 42% jump from roughly 420 in 2020, data shows. The VA said 500 processors left in 2021, and nearly the same number has already resigned or retired this year, as of the end of August.
Hayes said that one of the VA's top priorities was supporting processors during a time of increased claims and that the agency would "continue to take steps to better support" them.
Those steps, he said, include reviewing the standards system, recognizing high performers, hosting town halls, attempting to reduce employee burnout, hiring more people and adding more training sessions.
Nearly 1 million new claims 
The VA has received more than 978,000 PACT Act claims since the measure — officially called the Sergeant First Class Heath Robinson Honoring our Promise to Address Comprehensive Toxics Act — was signed on Aug. 10, 2022. It has led compensation claims to increase by nearly 37% from the year before, the agency said. 
The bill extended eligibility for VA benefits to about 6.2 million veterans who were exposed to burn pits, Agent Orange, radiation and other toxic substances during their service, according to the agency.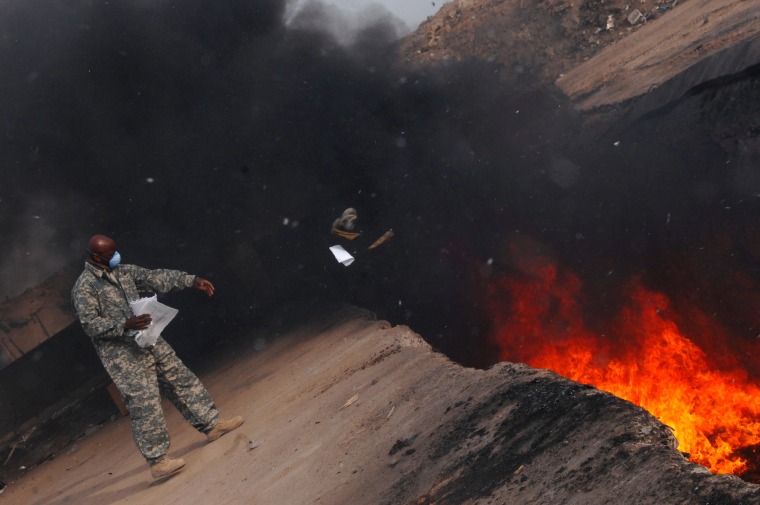 Processors have been "particularly critical" in implementing the new law, Hayes said. They completed more claims than ever in 2021 and 2022 and are on pace to break another record in 2023, he said.
But those feats came with challenges.
Processors are mandated to work 20 hours of overtime each month when there is a high demand, Hayes said. While they were given a nearly two-month respite starting in July to "help prevent burnout," Hayes said the overtime requirement kicked back in at the end of August. The requirement, which has been around for six years, will last until the end of September, as the VA evaluates needs for October. 
Confusion fills much of those hours. 
One processor said that she was not given enough training and that the sessions she did sit through were unhelpful because they were mostly delivered online and were recorded, which did not allow people to ask questions.
"It was kind of like chasing your tail, trying to keep up," she said. "You didn't know if you were processing it correctly. No one really knew what to do."
Another processor said her team started working on PACT Act claims in January, so they were "bombarded" with multiple training sessions right before the holidays in 2022.
"How do you expect people to inhale all that information?" she said.
That employee said the job has become overwhelming for both new and seasoned processors. 
"If you're a new person, and you ask for help, it's like pulling teeth now," she said, adding that a new hire on her team recently lasted only a few hours once the processing work began.
"He went to lunch and he never came back," she said.
On top of that, more than half of the people who work for the benefits unit are veterans themselves, the VA said, meaning some may be dealing with their own service-connected medical and mental health issues.
Mustapha Rahim, who became a VA claims processor in 2015 after serving for more than 20 years in the Army, said PTSD, anxiety and back pain hindered him at work, as did his anger at feeling ineffective.
"You end up developing an 'I don't care' attitude," he said. "When you stop caring, you stop processing claims, you miss stuff."
Rahim said he was written up for not meeting his quota and then put on a performance improvement plan.
More than 270 regional office employees, including claims processors and other workers, have been put on performance improvement plans since the quota system took effect in 2017, the VA said. The agency said 136 claims processors were terminated and 27 were demoted because of performance issues in that time period. 
Rahim, 59, said the job also took an emotional toll when he had to read disturbing details in some of the claims that stemmed from sexual assault. On at least three occasions, he said he "had to pray and wash up."
After a panic attack at work sent him to the hospital in 2019, the disabled combat veteran quit. 
"No job is worth your health," he said, adding that resigning has alleviated his mental and emotional pain.
Now, he says, "I grow honey melons and peppermint." 
Longstanding problems 
Even before the PACT Act, the VA's disability compensation program had "longstanding challenges in managing large workloads and making timely decisions," a 2021 report by the U.S. Government Accountability Office found.
The report emphasized the importance of properly training claims processors as the VA continues to implement new initiatives, change up its procedures and hire more staff. 
The GAO began conducting its performance audit in 2020 after the Blue Water Navy Vietnam Veterans Act went into effect, extending eligibility to some veterans who were exposed to herbicides.
"Every time Congress changes the contracts for veterans, they are more complex for the claims processors to understand," Gwinn said.
The PACT Act was an even larger undertaking. The landmark legislation is the most significant expansion of benefits and services for toxic exposed veterans in more than 30 years, the White House said. 
About 47% of the total number of filed PACT Act claims have been approved so far, according to the latest available public data.
Of the roughly 4,100 processed radiation-specific claims, the VA said it rejected more than 3,500 and granted about 570 in the first year of the PACT Act, NBC News previously reported.
When asked for data on claims related to burn pits and Agent Orange, the VA said it could not provide specific figures because of labeling issues. Many toxic-exposure claims only receive the "PACT Act" label — as opposed to a "burn pits" or "Agent Orange" label — which "creates challenges when attempting to report down to the claimed exposure type," Hayes said. 
Meanwhile, there are currently more than 1 million pending disability compensation and pension claims and a backlog of about 297,000 that have stayed unresolved for longer than 125 days, the latest available data shows. 
In February, the VA discovered that about 32,000 veterans who submitted disability compensation claims online since 2018 have had their claims delayed due to technical issues, the agency said. 
Hayes said the surge in claims would subside with time. But the workload isn't expected to ease anytime soon.
The VA expects the number of disability compensation claims to increase as more than 1 million service members are supposed to depart the military by 2024, according to the GAO report.
"We feel like machines," said one of the processors, who is also a veteran.
But after experiencing bouts of unemployment and homelessness, she said she is determined to do anything to keep her job and the steady paycheck that comes with it.
"When you go through so much and you're finally stable, you break your neck to hang on to that," she said.