Thousands of students in several dozen schools across the United States and Great Britain were evacuated Monday after what appeared to be coordinated recorded threats of violence were called in, according to news reports and law enforcement officials who spoke to NBC News.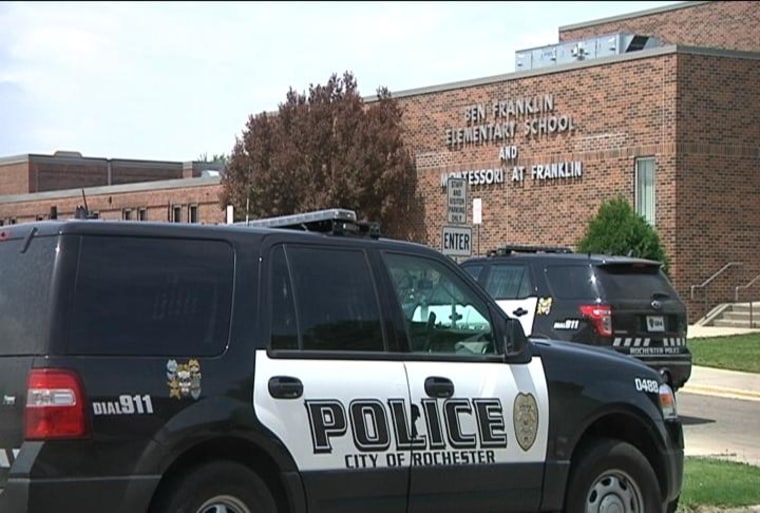 None of the threats were known to have been found to be credible, and many schools resumed classes, but national testing across Britain for the General Certificate of Secondary Education, or GCSE, was severely disrupted, school officials and British media reported.
Local news reports said schools in at least 21 U.S. states also received phoned threats: Colorado, Delaware, Florida, Illinois, Iowa, Maine, Massachusetts, Minnesota, Montana, New Hampshire, North Dakota, Maryland, New York, Oregon, Rhode Island, South Dakota, Utah, Vermont, Washington, Wisconsin and Wyoming. As many as 10 schools received the threats in some states.
Law enforcement sources said the threats were being handled by local law enforcement, but the FBI told NBC News that it was aware of the threats, adding, "We remain in touch with our law enforcement partners to provide assistance if needed."
Authorities stressed that such threats are common during the school year — a similar wave of unfounded threats disrupted classes in New York, Los Angeles and other cities in December — but law enforcement sources told NBC News that the number of schools affected Monday appeared to be unusually high.
Related: Why Did LA See a Legit Bomb Threat Where NYC Saw a Hoax?
"I think it's sick," Tom Yates, whose daughter attends Storm Grove Middle School in Indian River County, Florida — one of the affected schools — told NBC station WPTV of West Palm Beach.
"Somebody that gets joy and pleasure out of seeing children scared and their parents scared for them — this world needs a lot of help," Yates said.
Rochester, Minnesota, police Capt. John Sherwin told NBC station KTTC that the call received Monday at Ben Franklin Elementary School in Rochester was similar to many others that were received across the country.
Many American schools said they recorded calls from an electronically disguised voice reporting a bomb, multiple police agencies told NBC News. Many said the calls came in around 2 to 2:30 p.m. ET.
In Britain, several schools received a 90-second recorded call from a voice with an American accent promising that "shrapnel" would "take children's the heads off," according to multiple news reports. Many of those schools reported that the calls also came in about the same time, in this case about 10 a.m. local time.