Five children were injured when a car drove into them while they were waiting at a bus stop in Tampa, Florida, Thursday morning, police said.
The accident, which left one of the kids in critical condition, happened just after 8 a.m. ET at the corner East Bougainvillea and Marvy avenues.
Photos from the scene showed clothing, shoes, and backpacks strewn about the sidewalk.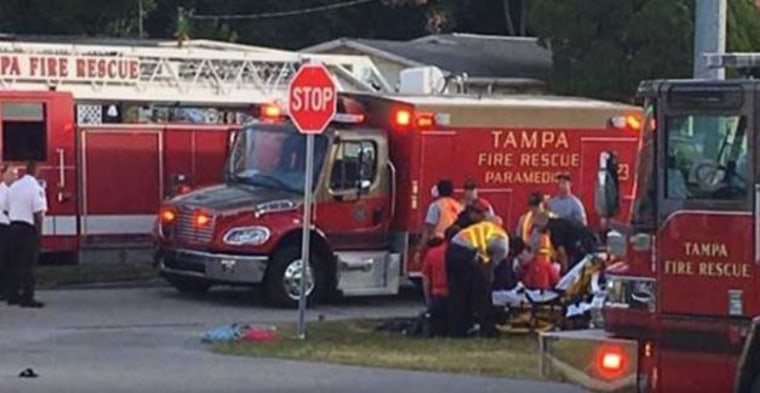 Authorities said the kids, ranging in ages from 6 to 12, and two adults were standing on the south side of Bougainvillea when a vehicle heading eastbound hit the group. Witnesses told police the driver, identified as Brian Darnell West, was speeding before the crash.
The children and the adults were all taken to a local hospital with non-life threatening injuries.
Police said it does not appear the crash was intentional and they do not believe West was impaired. The cause of the crash is still under investigation, and charges for the driver are pending.
The school's principal, Ovett Wilson, said during a news conference that he has never received complaints about the bus stop where the seven people were hit.
"Student safety is always a priority," he said. "We want to make sure that we are driving with caution we're paying attention, and that we're looking out for the well-being of our students every single day," he added.
A second accident was reported two blocks away at E. Bougainvillea and Nebraska avenues when a Tampa Fire Rescue truck collided with a car and then hit a power pole. Authorities said the rescue truck was responding to the first accident.
The driver of the car and the two first responders were taken to the hospital as a precaution, officials said.
The accident is the fourth this week where children have been hit by vehicles as they were heading to or waiting at a school bus stop.
A second-grade student at Tyrone Elementary was fatally struck by a vehicle in Franklin Township, Pennsylvania around 7 a.m. ET Thursday.
Cathy Harlow, the Superintendent of Tyrone Area School District, said in a statement that the child, whose name has not been released, was standing at the bus stop when he was struck. The bus driver discovered the child and called 911, she said.
Dalen Thomas, 9, was killed in Mississippi on Wednesday as he was boarding a school bus. State Troopers said Thomas was crossing Highway 370 in Lee County when he was hit by a pick-up truck.
The driver, 22-year-old Hunter Newman, was arrested and charged with aggravated assault, NBC-affiliate WTVA reports.
Earlier this week twin 6-year-old brothers Xzavier and Mason Ingle and their 9-year-old sister Alivia Stahl were killed in Indiana when a woman driving a pickup truck hit them as they were crossing the street to board a school bus. An 11-year-old boy, Maverik Lowe, was also injured in that crash and hospitalized with non-life-threatening injuries.
The driver of that crash, 24-year-old Alyssa Shepherd, was charged with three counts of felony reckless homicide and misdemeanor illegal passing of a school bus, according to court records.