Three people are dead after wind-driven wildfires burned through 8,300 acres in Southern California, forcing thousands to evacuate their homes as firefighters sought to contain the fast-moving blazes.
Two victims were discovered this week in the Villa Calimesa Mobile Home Park, where multiple structures burned in the Sandalwood fire centered in Calimesa, California, the Riverside County Sheriff's Department said Saturday.
One of the victims was identified as Lois Arvikson, 89, and the other was not yet named. That blaze was 25 percent contained at 823 acres, the Riverside County Fire Department said.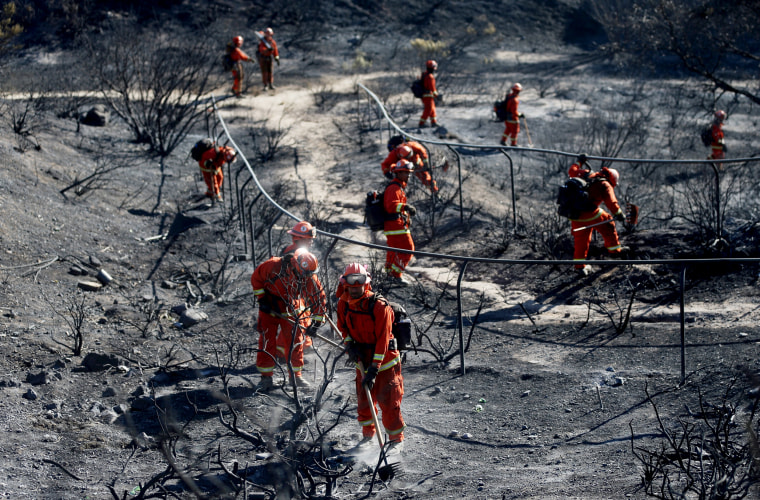 In Los Angeles, where the Saddleridge fire consumed 7,522 acres, a man suffered cardiac arrest Thursday night in the community of Porter Ranch and later died at a hospital, Mayor Eric Garcetti said Friday.
Saddleridge was 19 percent contained Saturday, according to the Los Angeles Fire Department, which said 21 structures were destroyed and another 11 damaged.
Evacuated Southern Californians were returning to their homes Saturday as winds died down and cooler breezes from the Pacific Ocean moved in.
Overnight, as many as 100,000 people were under mandatory evacuation orders but by Saturday afternoon, most of those had been lifted.
CalFire warned that the fall's dry, windy weather was not over yet.
"We all want to be on guard and not do anything that's dangerous," said CalFire spokeswoman Lynnette Round.
In Northern California, where an estimated 2 million people were impacted by precautionary blackouts initiated Wednesday by Pacific Gas and Electric, power had been restored to nearly all customers, the company said in a statement.
Downed power lines owned by the state's largest utility have been blamed for past deadly wildfires.