Residents of a South Carolina community were warned to keep their doors locked after three escaped jail inmates led police and crashed a stolen car into a wooded area and fled, authorities said.
Michael Bryan Chaplin, 31, Donald Ray Little Jr., 34, and Matthew Daniel Chaplin, 28, pushed out a window at the Dorchester County Jail in St. George at around 3 a.m. Friday and then used a blanket to get over barbed wire, NBC affiliate WCBD reported.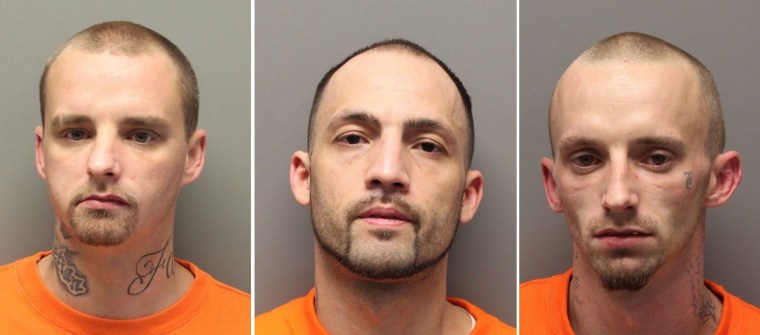 The trio had been suspected of stealing a car after the escape, and at around 2 p.m. the vehicle with what was believed to be the three inmates inside were spotted and pursued by police in Berkeley County, east of the jail, Berkeley County sheriff's Major Jeremy Baker said.
The chase ended when the vehicle crashed into the woods in an area known as the Hamlets in Goose Creek, a city north of Charleston, Baker said.
The search in Berkeley County was called off for the night Saturday. Baker said the area the three fled into is a swamp in rough terrain, Baker said.
Little was in jail for a probation violation, the Dorchester County sheriff's office said. Michael Chaplin was jailed for grand larceny and burglary, and Matthew Chaplin was in jail for possession of meth, credit card theft and possession of a stolen vehicle, the sheriff's office said.
Eleven other inmates at the jail saw the escape but did not try to flee, WCBD reported. All three are from the Summerville area, a city of around 43,000 west of Goose Creek.