At least three people are dead after a large fire broke out at a Honolulu high-rise condominium building on Friday, sending flames and smoke billowing out from the tower's upper floors and causing people to flee to safety.
Three people have been confirmed dead, officials said,and some 12 people were treated by paramedics. Four people, including one firefighter, were rushed to hospital in a serious condition.
The fire at the Marco Polo condominium building, which does not have sprinklers, broke out at around 2:15 p.m. local time (8:15 p.m. ET) and fire crews fought it for hours before the blaze was declared under control shortly before 7 p.m., officials said.
"Our hearts go out to the families of the folks that lost their lives, and the folks that lost their possessions in their apartments," Honolulu Fire Department Fire Chief Manuel P. Neves told reporters Friday evening.
"We're going to go room by room, go back though and do a secondary search to make sure we haven't missed anybody," he said.
The fire started on the 26th floor, Honolulu Fire Capt. David Jenkins said. The 36-story building, which was completed in 1971, has 568 residential units, NBC affiliate KHNL reported.
The fire spread from the 26th floor to the 27th and 28th floors, Neves said. "We put crews on the 29th floor and we were able to stop it there," he said. No firefighters were injured, he said.
Mitch Silva, who lives on the 29th floor, told KHNL that the floor was filled with smoke. "I started smelling smoke and this woman was screaming help," Silva told the station. Even though the fire was on the other side, he said "the entire floor was engulfed in smoke."
Troy Yasuda, who lives in a building across the street, told The Associated Press he was giving water to people who evacuated. "They were choking from the smoke," he said, adding that people told him they evacuated through dark stairwells.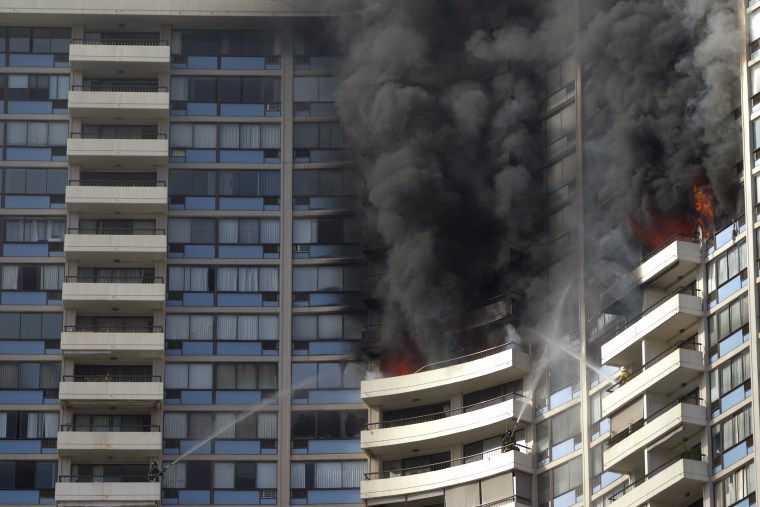 Honolulu Mayor Kirk Caldwell and Neves said that the building did not have sprinklers. Caldwell told KHNL that at the time it was built sprinklers were not required by building codes.
"Without a doubt, if there was sprinklers in this apartment, the fire would be contained to the unit of origin," Neves, the fire chief, told reporters.
Neves said battling the blaze was a challenge. "As far as how the conditions are, we had to evacuate our firefighters about two or three times. It's very difficult," Neves told reporters before the blaze was under control.
Debris falling from the fire caused secondary fires on floors below, Jenkins told KHNL. Approximately 100 firefighters were on the scene, he said. Fire investigators will determine the origin and cause of the blaze, Neves said.
Caldwell said a nearby community park was made available for evacuees, and pledged support to those affected.
"It is very tragic," he told KHNL. "We have three confirmed fatalities. Our hearts go out their families."
The American Red Cross said it was assisting those displaced by the fire. The building is just east of Waikiki.
CORRECTION (July 15, 2:30 a.m. ET): An earlier version of this article misstated the completion year of the Marco Polo apartment building. It was completed in 1971, not 1975.