The three suspects in the killing of Ahmaud Arbery were officially indicted by a Georgia grand jury on murder charges, the district attorney in Cobb County announced Wednesday.
Gregory McMichael, 64, his son Travis McMichael, 34, and their neighbor William "Roddie" Bryan, 50, all face allegations of malice and felony murder in the Feb. 23 death of Arbery.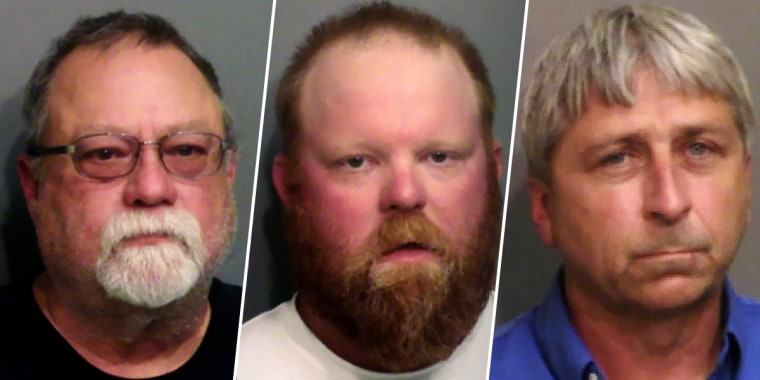 Arbery, 25, was fatally shot in the coastal city of Brunswick, Georgia, after he was pursued by the McMichaels. His family said he was out for a jog, while the McMichaels said they thought he was a burglary suspect.
Bryan is accused of using his pickup truck in an attempt to box Arbery in.
The indictment accuses the three men of collectively causing Arbery's death "by unlawfully chasing him through the public roadways of the Satilla Shores neighborhood in pickup trucks and shooting him with a shotgun."
The indictment includes four counts of felony murder, two counts of aggravated assault, and one count each of false imprisonment and criminal attempt to commit false imprisonment.
Lawyers for the suspects have said what they did was not criminal.
Bob Rubin, who represents Travis McMichael, said in a statement Wednesday that his client planned to plead not guilty. "We look forward to presenting all of the facts regarding this tragic death in a court of law," he said.
Gregory McMichael's lawyers have said he's a "good person" and that his arrest and prosecution represents a "rush to judgement."
Kevin Gough, a lawyer for Bryan, has said his client was just a witness. In court this month Gough described Bryan's actions as "what any patriotic American citizen would have done under the same circumstances."
In a hearing this month, Richard Dial, an agent with the Georgia Bureau of Investigation, testified that Bryan said during an interview in May that he had heard Travis McMichael say, "f---ing N-word," after Arbery was shot.
Wanda Cooper-Jones, Arbery's mother, told NBC News on Wednesday she was "very pleased" with the indictment.
'At this point, " she said, "I do believe the case is moving in the right direction."
Her lawyer, Lee Merritt, said, "We still obviously have to see this through to a conviction and appropriate sentencing, but as Miss Cooper said, I believe we're on the right track."
"This is another step forward in seeking justice for Ahmaud," said Cobb County District Attorney Joyette M. Holmes. "We will continue to be intentional in the pursuit of justice for this family and the community at large as the prosecution of this case continues."
The McMichaels were taken into custody on May 7. Bryan was arrested two weeks later.
Arbery's death inspired Georgia's legislature to pass a hate crime bill that would impose additional penalties for crimes motivated by race, religion, national origin, sex, sexual orientation, gender or disability.
Holmes indicated at a news conference on Wednesday that the bill was unlikely to affect the case as it would not be retroactive if Gov. Brian Kemp does sign it.
Cooper-Jones said, "Maybe if the McMichaels and Mr. Bryan would have known that this deal was in place, they would have probably thought more than twice before they took the law into their own hands and took Ahmaud's life."