Three soldiers from the same Washington state military base were charged Tuesday in the stabbing death of a fellow soldier during a roadside argument over the weekend.
Pvt. Jeremiah DeShaun Hill, 23, of Chicago, was charged with first-degree murder and Pfc. Cedarium Laborious Johnson, 21, of Tyler, Texas, and Spc. Ajoni Runnion-Bareford, 21, of Isleboro, Maine, were charged with rendering criminal assistance for allegedly helping to dispose of the murder weapon.
All of the suspects are members of the 3-2 Stryker Brigade Combat Team, 7th Infantry Division, at Joint Base Lewis-McChord — where the victim, Tevin A. Geike, 20, of Summerville, S.C., was also stationed as a specialist with the 16th Combat Aviation Brigade. 
Bond was set at $2 million for Hill and $250,000 for Runnion-Bareford. Johnson was released into the custody of his mother and immediately returned to Lewis-McChord.
Two other men who were with the suspects are cooperating with investigators and aren't in custody, prosecutors said.
Geike was walking early Saturday with friends in the town of Lakewood when a group of men in a car yelled something at them, according to charging documents filed Tuesday in Pierce County Superior Court. A witness told investigators that he "understood that someone was making 'hateful remarks' at them." 
Geike or one of the men with him yelled back "something related to being 'combat veterans,'" which led to a verbal confrontation, according to the charging documents.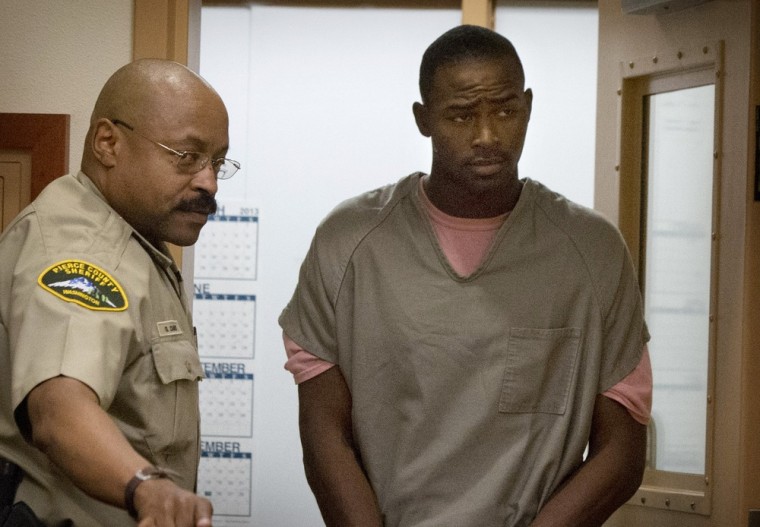 The argument appeared to be "de-escalating" when Hill suddenly grabbed Geike — who witnesses said was walking away from the confrontation — and threw him to the ground, where he was found covered in blood, prosecutors said. The suspects drove off quickly, prosecutors said.
Prosecutors said all of the suspects except Hill agreed that Geike wasn't doing anything to justify an attack. An autopsy found that he died from a deep stab wound that cut through a rib and entered his heart.
An Army medic told investigators that Hill later requested help for a significant cut to his hand, which he said he got when he "stabbed someone to death," according to the charging documents.
The suspects are African-American and Geike and his friends are white, but authorities said the case wasn't being investigated as a hate crime.
Friends and fellow soldiers put together a small memorial of flowers and pictures on the sidewalk where Geike was stabbed.
"We're all just trying to show our appreciation and our love for him," Amy Barnes, a friend, told NBC station KING of Seattle.
"Why would you stab your own brother in arms?" asked Donald Tener, a specialist at the base. "You're supposed to have each other's back."
Spc. Brian Johnson, another friend of Geike's, said the killing was tantamount to treason.
"You betrayed your country," Johnson said of the suspects. "At some point, you served your country, and now you killed a man that was doing the same."
The slaying devastated members and instructors at the ROTC program at Stall High School in North Charleston, S.C., where Geike graduated early so he could join the Army in October 2010. He was posted to Lewis-McChord in April 2011.
Geike excelled in ROTC and had long planned to follow several of family members in the Army, Lt. Col. Lonnie Ford, a senior instructor with the program, told the Post & Courier newspaper of Charleston.
Ford said he had stayed in touch with Ford, who recently told him he had fallen in love and had a child.
"He was just a good kid, a hard-working kid who was willing to put his life on the line to protect his country," Ford said. "He had a lot of self-discipline, and he enjoyed the ever-changing world of the military."