A fighter jet from the famed U.S. Air Force group the Thunderbirds ran off the runway after landing and flipped over at a Dayton airfield as the team practiced for an air show, officials said. The pilot suffered injuries that are not life-threatening.
The U.S. Air Force said the F-16 Fighting Falcon was involved in a "mishap" upon landing at about 12:20 p.m. ET. Dayton officials said two people were on board the plane.
Lt. Col. Jason Heard, commander of the Thunderbirds, said at a news conference that the pilot, Capt. Erik Gonsalves, suffered lacerations to his head as well as a leg injury. Sgt. Kenneth Cordova did not have visible injuries, Heard said.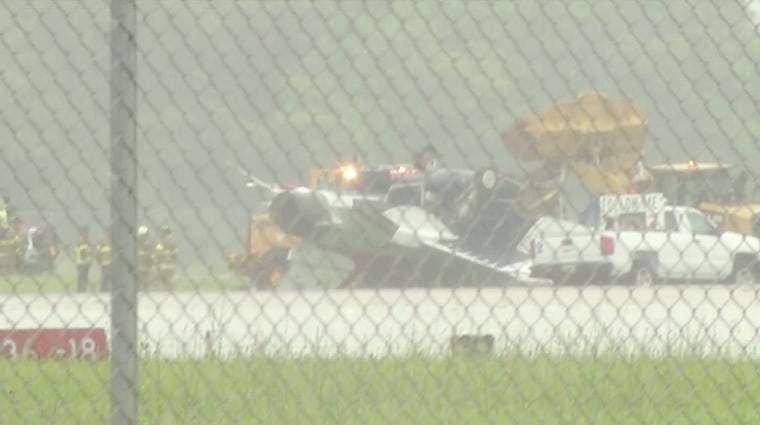 Both were conscious and talking when they were extracted from the 25,000-pound plane and taken to the hospital. Gonsalves and Cordova had approximately 1,600 hours of flight experience.
A safety board will investigate and determine the cause of the mishap.
The Wright Patterson Air Force Base said its firefighters responded alongside the airport's fire and rescue team.
The crew of the F-16 had planned to do a routine flyover ahead of this weekend's 2017 Vectren Dayton Air Show to familiarize themselves with the area, Heard said. The jet that crashed upon landing was not scheduled to perform at the show.
The Thunderbirds were practicing their aerobatic maneuvers in thunderstorm conditions. Wind gusts this afternoon were about 11 to 17 miles per hour, Weather.com reported.
According to Heard, the Thunderbirds will not fly in Saturday's show. It wasn't immediately known if they will fly Sunday.
The Dayton Air Show is no stranger to tragedy: In 2013, a pilot and stunt walker were killed when their bi-plane crashed onto the runway and burst into flames as spectators looked on.