Tilikum, the orca that killed a SeaWorld trainer in 2010 and was featured in the documentary "Blackfish," which cast a harsh light on killer whales in captivity, died early Friday.
The whale, estimated to be about 36 years old, was suffering from serious health issues, including a persistent bacterial lung infection, but a cause of death would not be known until a necropsy is complete.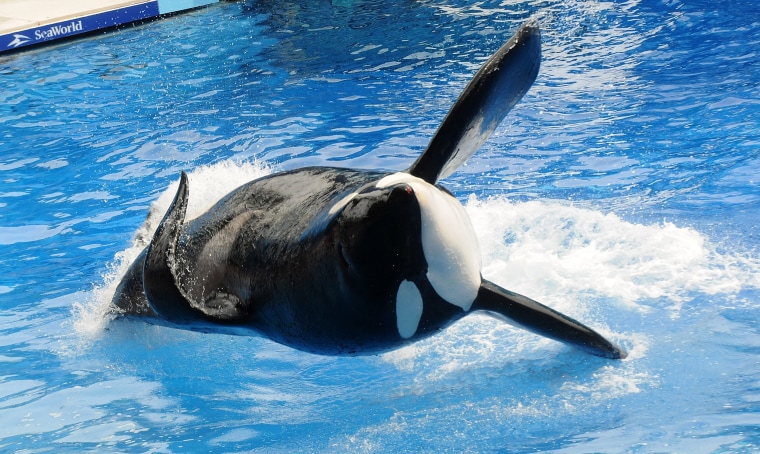 "Tilikum had, and will continue to have, a special place in the hearts of the SeaWorld family, as well as the millions of people all over the world that he inspired," SeaWorld CEO Joel Manby said in a statement. "My heart goes out to our team who cared for him like family."
Tilikum was SeaWorld's most prolific male orca, siring 14 calves while he was at SeaWorld Orlando. He arrived at the park about 25 years ago and was noticeable for his size at more than 22 feet and 11,800 pounds.
Related: What's Next for SeaWorld as it Stops Breeding Killer Whales?
The sea creature was born off the coast of Iceland and after his capture was brought to the aquarium Sealand of the Pacific in Canada.
While at Sealand in 1992, Tilikum and two female orcas were responsible for the death of a part-time trainer who slipped and fell into their pool and was submerged by them.
Tilikum was moved to SeaWorld Orlando a short time later, and Sealand later closed.
In 1999, a naked man who had eluded security and snuck into SeaWorld at night was found dead the next morning draped over Tilikum in a breeding tank in the back of Shamu Stadium.
Related: SeaWorld to End Breeding Program for Killer Whales
But it was the 2010 death of SeaWorld trainer Dawn Brancheau by Tilikum after a "Dine with Shamu" show that left the biggest impact on the future of orcas at SeaWorld parks. Brancheau was killed in front of a live audience while interacting with Tilikum at SeaWorld Orlando.
SeaWorld Entertainment officials announced in March 2016 that the tourist attraction would end its orca breeding program and theatrical shows involving killer whales. The decision came six years after Brancheau's death and three years after the release of the documentary, "Blackfish," which chronicled Tilikum's life and Brancheau's death.
Animal rights group PETA said Tilikum's death only highlights the need for ending the practice of keeping whales and other sea animals in captivity for human entertainment.
"Tilikum must be the last orca to die inside a SeaWorld amusement park," PETA Senior Vice President Lisa Lange said in a statement.
"The last generation of captive orcas will all pass eventually in light of SeaWorld's decision to discontinue breeding its orcas, and the era of keeping these great animals in captivity will actually end," added Wayne Pacelle, president of the Humane Society of the United States.