Secretary of State Rex Tillerson launched a "listening tour" this week, asking his employees for their insight into how the State Department functions as the agency prepares for a proposed 30 percent cut to its $50 billion budget.
"I know change like this is really stressful for a lot of people, there is nothing easy about this and I don't want to diminish the challenges this presents," Tillerson told a crowded room of employees Wednesday. "I can promise you that once this is all done you are going to have a much more satisfying fulfilling career."
Speaking to an agency-wide audience for the first time since February, Tillerson attempted to settle nerves, leaving the podium behind and circling the stage with his microphone in a manner reminiscent of his old job as CEO.
"My wife has always said if you tied my hands down to my side, I would be a complete mute," Tillerson said. "I do know how to read a speech, but I thought today we'd just have a chat."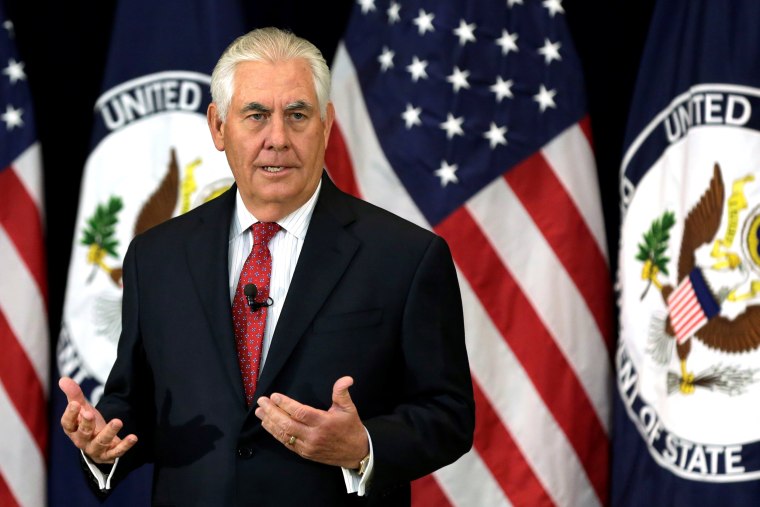 Tillerson thanked employees for their hard work in helping his team to come on board and said he reads all of the memos that come across his desk and finds their insights "extraordinarily helpful" and "valuable."
He did not directly mention the budget cuts chief among many employees' concerns.
State Department spokesman R.C. Hammond said addressing the budget would come after defining the agency's mission and determining if employees have the resources they need to "get the job done." "Congress will tell us how much we have to do that," Hammond pointed out.
Those questions will be among those asked in an online survey sent out Wednesday to foreign and civil servants. The survey, managed by an outside consulting group, will remain open through next week and will be followed by personal interviews with 300 employees randomly selected from within the State Department and USAID.
"I want to ask all of you to be very free in your thinking," Tillerson told employees Wednesday. "I really encourage all of you to please go on line and participate in the survey online, this is vital to how we understand where we want to go."
Although he has pointed to the addition of positions under the Obama administration, Tillerson has said the "reorganization of the State Department" will not just be about eliminating boxes on the agency's organizational chart and has said he has no preconceived notions about the outcome of the review.
Tillerson has proposed cutting 2,300 jobs from the roughly 75,000 employee department. With a hiring freeze in place, a spokesperson for the agency said many of those losses will come through the natural attrition rate of 8 percent.
"Most people like to start with the boxes and then try to design it. I do it the other way around. How do we get the work done? We'll then put the organization structure in place to support that," Tillerson said.
Overall, Tillerson described a foreign policy that had not fully evolved since the end of the Cold War and pushed the need for both the department and the policies it promotes to adapt. He framed his vision of the future of foreign affairs under the Trump administration's policy of "America First."
"I think I approach it really that it's America first for national security and economic prosperity," said the Secretary. "Look, things have gotten out of balance, and these are really important relationships to us and they're really important alliances, but we've got to bring them back into balance."