Court documents reveal secret life insurance policies, stolen money, a contentious court battle and the hiring of a private investigator to dig into the death of a Utah man whose wife allegedly poisoned him with a spiked drink.
The wife, Kouri Richins, was arrested and charged with killing Eric Richins last year during a quiet celebration at their home in Kamas, Utah, about 40 miles southeast of Salt Lake City, after she closed on a home for her business, according to authorities.
She has denied the accusations.
A medical examiner said Eric Richins had five times the lethal dosage of fentanyl in his system at the time of his death on March 4, 2022.
Eric Richins had suspected his wife had tried to poison him multiple times and warned his family that she was to blame if anything happened to him, according to affidavits for search warrants obtained from the Summit County Sheriff's Office. A family spokesperson said he stayed in the marriage because of their three children.
Here are some key dates in the investigation.
Between 2015 and 2017 
Richins is accused of purchasing at least four life insurance policies on her husband totaling nearly $2 million, according to an amended court document filed May 18 that led to the postponement of a detention hearing originally scheduled for May 19. Eric Richins did not know about the policies, the document stated.
September 2020
Eric Richins discovered that his wife had allegedly obtained and spent a $250,000 home equity line of credit on their home in Kamas, had withdrawn at least $100,000 from his bank accounts and spent more than $30,000 using his credit cards, according to the amended court document. It also alleged that Richins was "appropriating distributions made from Eric Richins' business for the purpose of making federal and state quarterly tax payments and not paying the taxes." The stolen tax payments totaled at least $134,346, according to the filing.
He confronted her about the money and she agreed to pay him back, the court document stated.
October 2020
Eric Richins consulted both a divorce lawyer and an estate planning lawyer. Unbeknownst to his wife, he changed his will, formed a living trust and placed his estate under the control of his sister, Katie Richins-Benson, according to the amended court document.
He also transferred his partnership interest in his business to the trust and designated the trust as the beneficiary of his $500,000 life insurance policy, the document stated.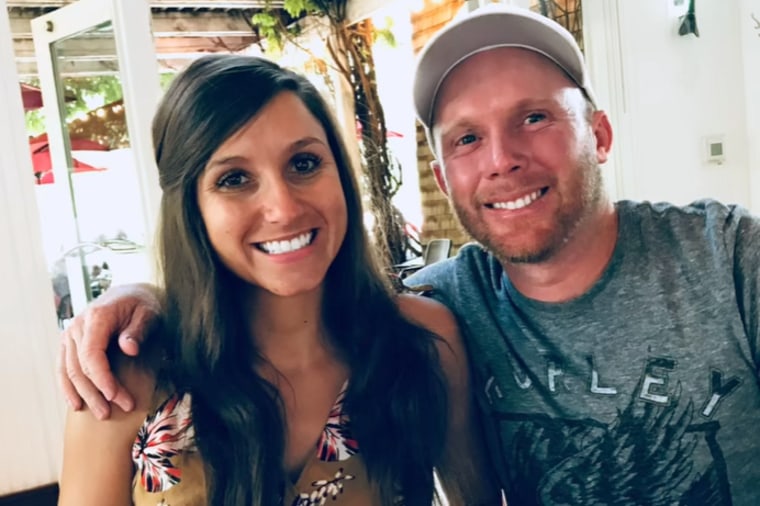 Jan. 1, 2022
Eric Richins and his business partner had $2 million life insurance policies that listed each other as the beneficiary, but prosecutors alleged that on Jan. 1, 2022, Richins changed the policy to list herself as the beneficiary, according to the amended court document.
Her husband was alerted to the change and put his business partner back as the beneficiary, the document stated. 
Later in the month, she allegedly "caused an application to be filed for a new $100,000 life insurance policy on Eric Richins' life," according to the document.
Feb. 12, 2022
In early 2022, Richins either called or texted an acquaintance named C.L. and asked for fentanyl, the document stated. Data from Richins' phone showed she contacted C.L. several times in January 2022 but authorities weren't able to determine the content of the messages because she allegedly deleted data from her phone from Jan. 2, 2022, to shortly after Eric Richins' death.
C.L. told authorities that she obtained the fentanyl pills and gave them to Richins in a hand-to-hand transaction on either Feb. 11 or Feb. 12, 2022, according to the document.
Feb. 14, 2022
A Valentine's Day meal turned into a nightmare when Eric Richins "broke out in hives and had difficulty breathing" after eating a sandwich his wife made for him, the document stated.
Prosecutors alleged in the document that Richins made her husband a sandwich and placed it on the seat of his truck with a love note. But after eating it, her husband became ill and needed to use their son's EpiPen. The document stated that Eric Richins believed he had been poisoned and "told a friend that he thought his wife was trying to poison him."
Late February 2022 
Richins allegedly contacted C.L. and said that the fentanyl pills "were not strong enough and asked that she procure some stronger fentanyl," the document stated. C.L. told authorities that Richins "asked 'for some Michael Jackson stuff' during this request for fentanyl, but subsequently conceded that the Defendant may have made the Michael Jackson reference during her first request for fentanyl," according to the document. (The pop superstar died in 2009 at his Los Angeles home he received a lethal dose of propofol.)
C.L. again obtained pills for Richins, according to the document.
March 3, 2022
Richins allegedly owed more than a million dollars at the time of her husband's death, prosecutors said in the document. The day before her husband died, prosecutors said she talked to a money lender to whom she owed at least $1.8 million and had a lengthy telephone call with the IRS. The document alleged that she had outstanding state and federal tax liabilities totaling $189,840 and also owed her husband at least $514,346.
March 4, 2022
Eric Richins, 39, died after he was found unresponsive in the bedroom of their home in Kamas after having a drink to celebrate his wife's business deal.
He had five times the lethal dosage of fentanyl in his system, according to the medical examiner, who said it was "illicit" fentanyl and not medical grade. It is also believed he ingested the drugs orally, according to the medical examiner.
Details about that night differ in a search warrant affidavit and probable cause statement.
Richins told authorities that she and her husband were celebrating her closing on a house for her business, according to the statement. She said she made her husband a Moscow mule in the kitchen and brought it to their bedroom where he drank it while sitting in bed, it said. Prosecutors have said she slipped five times the lethal dose of fentanyl into the cocktail.
The affidavit, however, stated that Eric Richins had one shot of alcohol and a THC (tetrahydrocannabinol) gummy.
Richins told authorities that she fell asleep in one of her children's rooms and when she woke up and went to her bedroom, her husband was cold to the touch, both documents stated. The affidavit said that Richins supposedly attempted CPR on her husband but when medical and fire personnel arrived, they said that it did not appear as if she had done CPR "due to the large amount of blood that came from Eric's mouth."
She also told authorities that she had left her phone plugged up in her bedroom, however, investigators found that it had been locked and unlocked several times and showed movement before 911 being called, the statement said.
The couple were married for nine years at the time of Eric Richins' death, according to his online obituary. They have three sons.
March 6, 2022
Days after her husband's death, Richins allegedly had a locksmith drill into her husband's safe, which contained between $125,000 and $165,000 in cash, according to the amended court document. When Eric Richins' sister, Katie Richins-Benson, told Richins to leave the safe alone, prosecutors alleged in the filing that Richins became angry and punched Richins-Benson in the face and neck.
Sheriff's deputies responded and called the attorney for Eric Richins' estate.
Richins was informed that her husband had created a living trust.
March 9, 2022
Richins allegedly wrote a backdated check for $1,300 to obtain fentanyl pills from C.L., prosecutors said in the document. C.L. told authorities that on either March 9 or March 10, she left the pills in a firepit in the backyard of a home owned by Richins, the document stated.
July 15, 2022
Richins-Benson hired a private investigator to surveil and follow Richins, according to court documents Richins filed to remove her sister-in-law as trustee of Eric Richins' trust. Richins and her sister-in-law have been in a legal battle over the trust and estate since Eric Richins' death.
Richins said in the documents that the private investigator would park outside her home "to watch and surveil her" and would question her neighbors about her and her husband.
Greg Skordas, a spokesperson for Eric Richins' family, told NBC News that the private investigator was hired to look into the death. The private investigator declined to speak about the case.
Nov. 15, 2022
Alec and Taryn Wright sue Kouri Richins, alleging that she sold them a home filled with "hazardous" mold.
In a lawsuit that alleges fraud and breach of contract, the Wrights said they suffered a series of medical issues linked to the mold after Richins misrepresented important facts about the property's habitability and value "recklessly and without regard for the truth."
In an interview with "Dateline," the couple said they're facing financial ruin, with estimates showing they would have to pay more to fix the home than the $409,00 they paid for it.
In a court filing, Richins' lawyers denied the allegations.
March 7
A year after her husband's death, Richins published a book titled "Are You With Me?" and dedicated it to "my amazing husband and a wonderful father." An Amazon description of the book said it was written to "create peace and comfort for children who have lost a loved one."
In the 41-page book, a boy questions whether his father is with him when he is sad or mad and whether he is with him for special occasions. The father reassures the boy that he is there for all of those moments.
The book is no longer available on Amazon.
April 6
Richins, in an interview with KTVX-TV of Salt Lake City, discussed her book and her husband's death, which she said happened "unexpectedly."
"It took us all by shock. My kids and I kind of wrote this book on the different emotions and grieving processes that we experienced last year, hoping that it can kind of help other kids deal with this and find happiness some way or another," she told KTVX reporters.
She went on to talk about how she would tell her children that their "dad is still here, just in a different way." Richins said she wrote the book after she saw how her children struggled with their father's death.
The station later updated its story to say it had not been aware she was suspected in her husband's death.
May 8
Richins was arrested on charges of aggravated murder and three counts of possession of a controlled substance with intent to distribute. She is in custody at Summit County Jail in Park City, Utah awaiting trial.
June 10
Lawyers for Richins argued for her release, denying the allegations and writing in a court filing this summer that there was "no substantial evidence to support the charges."
There "has not been a single text message or other document turned over in discovery to support the  allegation that Eric ever believed Kouri attempted to poison him," they wrote.
August 18
Prosecutors for Summit County told the court that they had reached the decision not to pursue the death penalty after "careful consultation" with the sisters and father of Eric Richins.
September 18
Prosecutors accused Richins of witness tampering, saying that she asked her brother to tell a false story about her husband supposedly buying drugs.
In a court filing, prosecutors said authorities found the request in a six-page letter in Richins' cell at Summit County Jail in Park City.
"Here is what I'm thinking but you have to talk to Ronney," Richins wrote about her brother Ronald, recalling how she allegedly told the sibling about her husband buying pain pills and fentanyl from Mexico a year before Eric Richins' death.
"He would probably have to testify to this but its super short not a lot to it," she wrote.
Prosecutors described the claim as false. In the letter, Richins said the conversation actually occurred.