Advocates for both survivors of campus sexual assault and the accused are bracing for a decision from Education Secretary Betsy DeVos, who is currently considering changes to Obama-era directives for how schools deal with such allegations under the federal law known as Title IX.
DeVos has indicated that she intends to reexamine Title IX enforcement and sexual assault guidance for schools, holding three 90-minute listening sessions with advocates for survivors, representatives of the falsely accused and higher education officials in July.
Afterward, DeVos has described the July 13 meetings as "a really emotionally draining day" and said the sessions "made it clear to me there's work to be done."
"Secretary DeVos and her team are still listening to and gathering information from policy experts and stakeholders to ensure that any potential changes to Title IX enforcement get the process right for all parties involved," Department of Education Press Secretary Liz Hill said in a statement.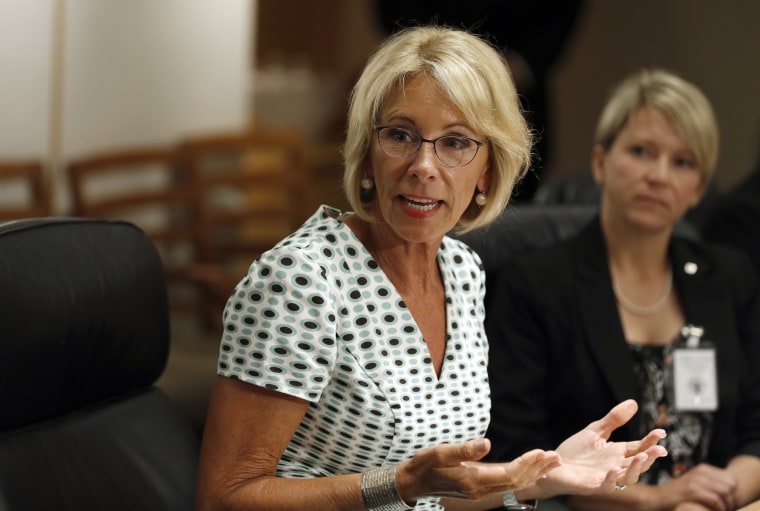 But DeVos now faces a wide-range of pressure — from those who say it would be "heartbreaking" for her to scale back Obama-era guidance to those who say that guidance has created a "dangerous" precedent for schools.
As survivors, educators and advocates present a gamut of opinions on how Title IX should be enforced await DeVos' next move, here's a look at the statute and what's at stake in the discussions.
What is Title IX?
Title IX of the Education Amendments of 1972 is a federal statute intended to protect people from sex discrimination in education programs or other activities that receive federal financial assistance.
The statute reads, "No person in the United States shall, on the basis of sex, be excluded from participation in, be denied the benefits of, or be subjected to discrimination under any education program or activity receiving Federal financial assistance."
The scope of the statute includes schools grades K-12, higher education institutions and other educational agencies, according to the Department of Education.
Under the federal civil rights law, schools are legally required to respond to sex discrimination complaints and provide safe environments for their students. Title IX is enforced by the Education Department's Office for Civil Rights.
While the statute has long been known for bringing equality to women's athletics, it also protects people from other forms of discrimination, including sexual harassment and violence.
Steven Healy, managing partner at Margolis Healy, a national campus safety and security consulting firm, said there has been a "cascading effect" through court cases over what the statute encompasses.
Courts have since defined sexual harassment as a form of discrimination, Healy said, and sexual violence as a form of sexual harassment.
What could change under Education Secretary DeVos?
During his presidency, Barack Obama took on campus sex assault as a key issue after a series of reports suggested schools were not taking allegations seriously enough.
The Obama administration stepped up enforcement of schools' obligations through a series of measures, including a 2011 "Dear Colleague" letter from the Department of Education's Office for Civil Rights. It issued guidance urging colleges and universities to do more to investigate and adjudicate sexual assault cases under Title IX — or risk losing their federal funding.
"Universities were initially struggling with the question of 'what do we need to do about our policies? What does this mean in terms of how we're approaching this?'" Healy said.
Related: Education Department Official Apologizes for Campus Assault Comments
One controversial aspect of the letter was a call for institutions to use the "preponderance of evidence" standard of proof in such cases, instead of the higher standard of "clear and convincing evidence."
Advocates for assault survivors argue the "preponderance of evidence" standard was already in place in many schools before the 2011 guidance, while advocates for the accused say urging that standard could pressure institutions to rule too often in favor of accusers for fear of losing federal funding.
Many who stand on the side of the survivors of sexual assault fear that DeVos will simply rollback the 2011 guidance altogether — the way she rescinded past guidance on transgender bathroom protections in public schools in February.
And although DeVos said after her listening sessions that America "can't go back to the days when allegations were swept under the rug," she also stressed that when it comes to students falsely accused of sexual assault, "It was clear that their stories have not often been told, and that there are lives that have been ruined and lives that are lost in the process."
Healy noted DeVos could also issue further guidance either clarifying or elaborating on aspects of the Obama-era guidance.
What do advocates hope DeVos will do?
The spectrum of debate on Title IX enforcement spans from those who believe current enforcement still does not do enough to hold schools accountable, to those who feel the Obama administration's guidance amounted to government overreach that unfairly punished some students.
Cynthia Garrett, co-president of Families Advocating for Campus Equality (FACE), told NBC News the current guidance was leading to "coercive and ineffective" results and that schools were pressured to side with accusers to avoid the "less dangerous alternative." FACE is one of the groups representing the falsely accused that met with DeVos this month.
Joseph Roberts, a board member for FACE who said he was falsely accused of sexual harassment while he was a college student, said after the meeting that while "sexual violence on campus was a real issue," he believed some students were not getting fair proceedings.
"There's a second issue, and that's a fair and equitable process in regards to accusations of of sexual assault," he said.
Garrett said she hoped DeVos would consider holding a notice and comment period and come up with a list of due process guidelines that all sides could agree on.
Related: Betsy DeVos Non-Committal on Private School LGBTQ Discrimination
Meanwhile, Fatima Goss Graves, CEO and president of the National Women's Law Center (NWLC), said that the 2011 letter, plus student activism and other changes under Obama were a "game-changer" for sexual assault survivors' rights.
"Schools took notice and finally took seriously decades-old obligations," Graves said. The NWLC represented survivors during its session with DeVos.
"So the idea that we are finally making progress and that that would be diluted is really heartbreaking," she said.
Darbi Goodwin, who said she was a survivor of sexual assault while she was in high school and is represented by the NWLC, said that she told DeVos in the July 13 meeting that the DOE was still not doing enough to hold schools accountable.
"Something I said to her was, Title IX has been around for 45 years and it still is not what it should be," Goodwin said. "Schools are still not held accountable and I think the Department of Education has a lot of ideas that could really set all of us back a lot."
Both Goss Graves and Goodwin said they hope DeVos will leave the existing guidance in place and continue to work with schools to do more to prevent sexual violence and help student victims.
"This will take time," Department of Education spokesperson Hill said, "and it's vital that at the end of this process, victims feel protected, the accused have access to due process, and universities/colleges have the tools they need to handle these cases with the care, compassion and attention they deserve."