Nearly half a million people in northwestern Ohio awoke Saturday to a dire warning from Toledo city officials: don't drink water from the tap. Don't give it to pets. Don't boil or cook with it, and restaurants should remain closed until further notice.
The dangers posed by the tap were grim: nausea, numbness, dizziness, diarrhea and liver damage. "Seek medical attention if you feel you have been exposed," a city-issued notice said.
The problem, the notice said, was microcystin, a toxin produced by blue-green algae. Chemists at Toledo's water treatment plant had detected high levels of it in Lake Erie, the source of the city's drinking water.
By Sunday, toxicity levels appeared to be receding, but the city of Toledo was still under a state of emergency. On Sunday, Mayor D. Michael Collins reminded residents to remain vigilant.
"This is not over yet," he said.
What happened?
Researchers said that sewage from treatment plants and fertilizer from farms streamed into the lake, triggering an algae bloom near an intake valve that sends water to Toledo and more than a dozen surrounding communities.
"There is a systemic challenge that we face out here on the Great Lakes that is actually much bigger than this one crisis," Collin O'Mara of the National Wildlife Federation told NBC News. "Unfortunately, this crisis could just be the tip of the iceberg unless we begin to address it."
The problems on Lake Erie stretch back a decade, and that earlier this year state lawmakers passed commercial fertilizer training reforms, according to the Associated Press. But officials have not mandated any restrictions, even though a state task force said that the amount of phosphorus from treatment plants and fertilizers needs to be scaled back by 40 percent.
"People are finally waking up to the fact that this is not acceptable," Collins said Sunday.
How are residents coping?
It didn't take long for bottled water to disappear from shop shelves. One Toledo resident, Leslie Rodgers, recalled how she got a call from her son at 3 a.m. on Saturday, just an hour after officials first issued the warning. He was on his way to a Kroger grocery store to pick up water for her. "It was already empty," she said.
At a second store, he bought several jugs and a few 24-packs of bottled water. A trip to Kroger today, however, found its bottled water gone, Rodgers said.
Water distribution sites were opened at high schools and fire departments throughout the area. Governor John Kasich declared a state of emergency, and the Ohio National Guard began providing tens of thousands of gallons of water.
The drinking, bathing and cooking warnings issued Saturday morning remained in effect Sunday, but Rodgers said that people appeared calm.
"There's no panic," she said. "Right now, everything is orderly."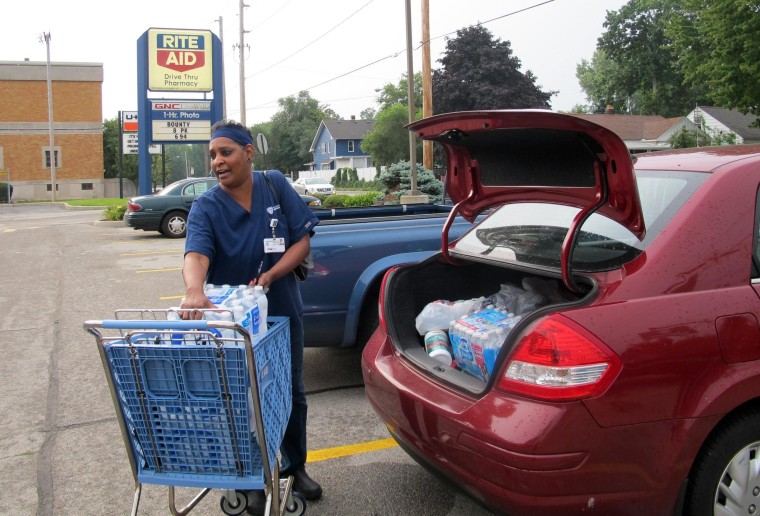 What's next?
Even though toxicity levels in Lake Erie appeared to be dropping, Collins said that additional testing was needed. The Environmental Protection Agency was evaluating water throughout the day and final results —as well as an announcement — were expected early Monday morning, said Lisa Ward, a spokeswoman for the city of Toledo.
School athletics practices for Monday were canceled, as were summer feeding programs, NBC affiliate WNOW reported.
"It appears that things are getting better," Rodgers said Sunday afternoon. "But we're still in a state of emergency."
Meanwhile, officials in Chicago tested the city's water source, Lake Michigan, for the same toxin found in Lake Erie. In a statement Sunday, a spokesman for the Department of Water said, "Chicago tap water continues to be safe to drink and use."