The face of the New England Patriots, Tom Brady, did not attend Wednesday's White House ceremony with his teammates due to "personal family matters" — but the show went on without the star quarterback.
Brady's decision not to visit the White House comes on the same day former teammate and convicted murderer Aaron Hernandez was found dead after an apparent suicide in his prison cell.
In a statement, Brady made no mention of Hernandez, but said: "In light of some recent developments, I am unable to attend today's ceremony, as I am attending to some personal family matters."
Brady dedicated his Super Bowl 51 win to his mother, Galynn, who battled cancer during their season, but rallied to see her son win his fifth title.
At the ceremony on the White House lawn, President Donald Trump did not mention the star quarterback's absence, despite calling Brady a "friend" and "great champion" multiple times on the campaign trail. But Trump did pause to savor the metaphor of the Patriots' historic comeback.
"With your backs against the wall and the pundits — good 'ol pundits, boy they're wrong a lot, aren't they — saying, 'you couldn't do it, the game was over, you pulled off the greatest Super Bowl comeback of all time," Trump said, drawing laughter from the audience.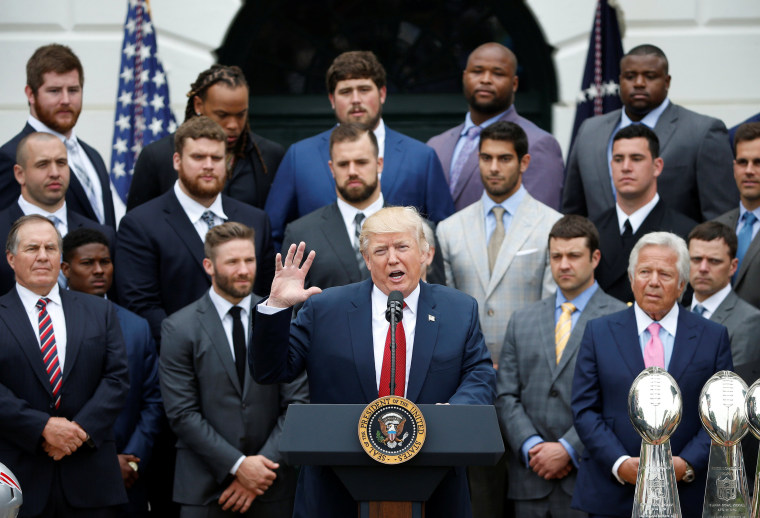 But the absence of several Patriots players was notable during the ceremony. At one point, President Trump turned to congratulate player Danny Amendola on a key play in the game — but the star wide receiver wasn't there either.
"Way to go, Danny," Trump quipped, drawing chuckles.
Patriots owner Robert Kraft praised Trump, calling him a "very good friend" and "a man who is mentally tough and hard working."
"It's a distinct honor for us to celebrate what was unequivocally our sweetest championship with a very good friend and somebody who's mental toughness and strength I greatly admire," Kraft said.
The team presented the president with an official jersey and a helmet.
In the statement provided to NBC News, the star quarterback thanked Trump for hosting the New England Patriots and praised his team.
"Our team has accomplished something very special that we are all proud of and will be for years to come," Brady said. "Hopefully, if we accomplish the goal of winning a championship in the future years, we will be back on the South Lawn again soon."
Brady joined a long list of his teammates who sat out the ceremony at the White House. Patriots' defensive tackle Alan Branch became the latest to pull out for political reasons Wednesday morning, citing the president's "Access Hollywood" hot-mic comments.
Brady came under fire throughout the election for his friendship with Trump, which drew controversy and headlines throughout the campaign. At a November rally in New Hampshire, Trump said Brady called him just after the election to say he voted for him.
"He called today and he said, 'Donald, I support you, you're my friend and I voted for you,'" Trump said, to cheers, adding that Brady gave him permission to tell the crowd how he voted.
"He said, 'If you want to say it, you can say it,'" Trump said.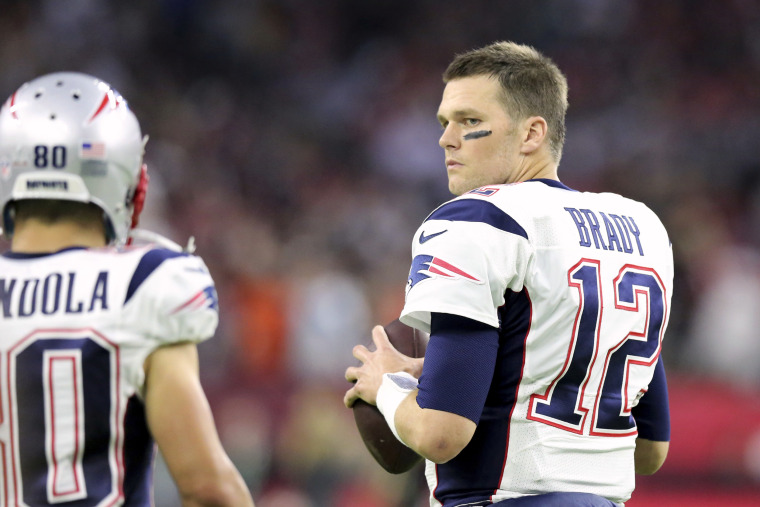 But since then, Brady has dodged questions about his relationship with Trump, telling ESPN that his wife, supermodel Gisele Bundchen, told him not to "talk about politics anymore."
Related: Why Donald Trump is always ready for some football
Athlete rejections of White House welcomes are not new. For instance, when the 1986 champion Chicago Bears were honored by President Barack Obama in 2011, former player Dan Hampton refused to attend because he opposed the Democrat's agenda. Three members of the undefeated 1972 Miami Dolphins did the same thing in 2013.
And in 2015, when Brady didn't appear at a photo-op with the Super Bowl XLIX championship team citing a family commitment, some viewed it as a politically motivated snub of Obama.