At least a thousand people gathered at a Wisconsin high school Saturday afternoon to pay respects to a 19-year-old biracial man who was fatally shot by a police officer more than a week earlier, in an incident that sparked protests.
The auditorium at Madison East High School surpassed its 1,000 person capacity, prompting additional people attending the funeral for Tony Terrell Robinson Jr. — known to friends and family as Terrell — to filter into the gym and watch the 4 p.m. (5 p.m. ET) service on screens, according to the Wisconsin State Journal. Even more people had come earlier for the two-hour visitation, the Journal reported.
Robinson, whose mother is white and whose father is black, was shot by Madison Police Department Officer Matt Kenny on March 6 after a confrontation, according to police. Robinson was unarmed. An autopsy report released by the Dane County Medical Examiner's Office Friday said the 19-year-old was shot in the head, torso and upper body.
The shooting, which prompted peaceful protests and community gatherings throughout the city, is under investigation by the state Division of Criminal Investigation.
Madison Police Chief Mike Koval expressed throughout the week that he understood the distrust that the shooting caused in the community and encouraged residents to protest peacefully. Robinson's family also called for peaceful protests, but made clear that they wanted to avoid fostering an "anti-police" environment.
But on Saturday the family requested respect, and mourners who showed up with signs were told to put them away, The Associated Press reported.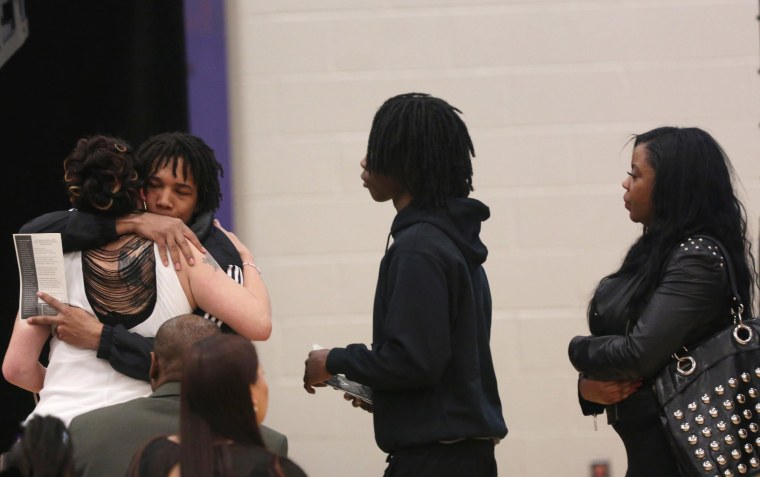 The service opened with prayer and a scripture reading, according to the program. Friends of Robinson then shared memories and emotional sendoff messages, and Robinson's aunt, Lorien Carter, recited a poem and said she would miss Robinson's laugh and holding his hand.
"My nephew was not a victim, because God has called him home to take his place beside our Father on the highest of the thrones," Carter said.
Robinson's uncle, Turin Carter, who earlier in the week acted as a spokesman for the grieving family, said his nephew always wanted to help people. Carter promised to continue that legacy.
"I told him that anybody who stands in the way, anybody that stands in the way of true justice, I will make it my personal duty to expose it," he said.
Johnnie Robinson, Robinson's cousin, said after the service that it was beautiful, and said that hearing everyone speak so highly of Terrell was a testament that "he was a good person."
"Terrell was a passionate and compassionate young man, and a wonderful friend. He was always there when you needed him for an ear to listen, a deep conversation about life's complexities or just to make you smile," said Robinson's obituary, which was read aloud at the service.
The obituary said the 19-year-old was determined for he and his four brothers to become professional athletes, and he would often practice football with them. In the meantime, he planned to study business at Madison College after taking time off since graduating high school six months early, according to the obituary.
He also enjoyed longboarding and "listening to music of all kinds," the obituary said. And the medium that once brought Robinson joy helped to comfort mourners during his funeral Saturday.
"And I know eventually we'll be together," a vocalist sang in the beginning of the service, "one sweet day."
NBC affiliate WMTV's Lindsey Branwall contributed to this report.