The mother of "affluenza" teen Ethan Couch had her bond reduced from $1 million to $75,000 after her older son testified Monday she was broke.
"Me, so far," Steven McWilliams answered at Tonya Couch's bond hearing, when asked who was on the hook to pay his mom's mounting legal bills.
While McWilliams was on the stand, his mother sat quietly beside her lawyers in a Forth Worth, Texas courtroom.
Couch and his mother were arrested in the Mexican resort city of Puerto Vallarta last month after several weeks on the lam.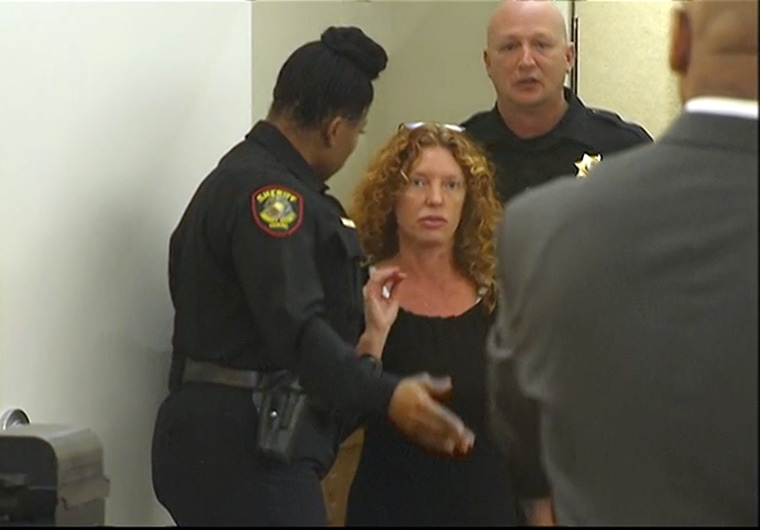 McWilliams said his mom used one of her ex-husband's company pickup trucks to escape Texas. He said he'd make sure she had a ride to get her to court if she were let out of jail.
When asked if his mom had friends who could help her in Tarrant County, McWilliams answered, "Yes and no." There was no elaboration.
Asked if his mother attended church, her son said, "She used to, I don't know where."
Tonya Couch is charged with hindering apprehension of her son, a Class C felony that normally carries a bond closer to $10,000.
Prosecutors ordered her held on a million dollars bond after calling her a "proven flight risk."
At the conclusion of the hearing on Monday, Judge Wayne Salvant agreed to reduce Tonya Couch's bond to $75,000, NBCDFW reported.
Couch, 18, remains in a Mexican jail and is fighting extradition to the U.S., where he faces jail time for violating his probation.
Law enforcement officials said last week Tonya Couch took $30,000 from a bank account and cut ties with her son's dad before splitting for Mexico.
Couch became infamous after his lawyers used his pampered, privileged upbringing to escape jail for a deadly 2013 drunk-driving crash.
Instead, Couch was sentenced in juvenile court to 10 years of probation for killing four people and injuring nine others.
But when video surfaced that appeared to show Couch violating his probation by drinking, he and his mother took off for Mexico.