When Don Verrilli wins at the Supreme Court, he wins big.
In his five years as the top lawyer representing the United States, Verrilli won cases on marriage equality, immigration law and the legality of President Barack Obama's health care law –- twice.
He has also lost in big ways.
The court rejected his arguments on the Voting Rights Act, money in politics and Obama's attempt to jam recess appointments past the Republican-controlled Senate.
As U.S. solicitor general, the most visible part of Verrilli's work has been arguing those cases in court. He said the most "amazing" part of the job, however, is deciding the United States' position in each dispute.
"Before you're up at the podium arguing, you've got to decide what the government's position's gonna be," he told MSNBC in his first TV interview since announcing plans to step down this month.
While Verrilli is overseen by the attorney general, he says traditionally it is the solicitor general who decides where the U.S. stands -- after "plenty" of deliberations within the executive branch.
Those stances also swing with the administration in power, of course, or the mood of the country.
The George W. Bush administration proposed a constitutional amendment banning gay marriage, for example, while the current Obama administration sent Verrilli to argue that the Constitution actually protects that right.
Marriage Equality Was 'A Bridge too Far'
The marriage equality ruling was one of Verrilli's most significant cases, and as a younger lawyer, he said he would have never expected that victory at this point in history.
Verrilli recalled working on a narrower gay rights case in 2003, asking the Supreme Court to strike down criminal laws against sodomy. To win, the lawyers developed a litigation strategy to avoid even discussing marriage.
"In fashioning the arguments in that case, everybody was very careful to try to avoid the suggestion that ruling in favor of the right to same-sex intimacy," Verrilli said, "would imply anything about marriage."
"I thought -- and I think everybody thought -- in 2003, that that was a bridge too far," he recalled. "So it's really quite remarkable how fast that evolution occurred."
Verrilli believes the first hint of a potential victory for same-sex marriage came during oral argument, when Justice Anthony Kennedy cited that very case, Lawrence v. Texas.
"There was a moment in oral argument when I thought we were in pretty good shape," he recalled. "Justice Kennedy said, 'Well, haven't we learned a lot even since [Lawrence v. Texas] about the place of gay people in society?'"
The collapse of those antiquated laws against gays, Verrilli believes, bred more societal understanding and tolerance.
"What Lawrence did was provide the assurance that gay and lesbian people could live openly and without fear in society," he said, and then "everyone else would come to understand that gay and lesbian people are full and equal citizens -- they oughta be entitled to full and equal rights under the law."
"So when Justice Kennedy said that, I thought, 'Ah. This is right -– this is where we want this to be,'" Verrilli said.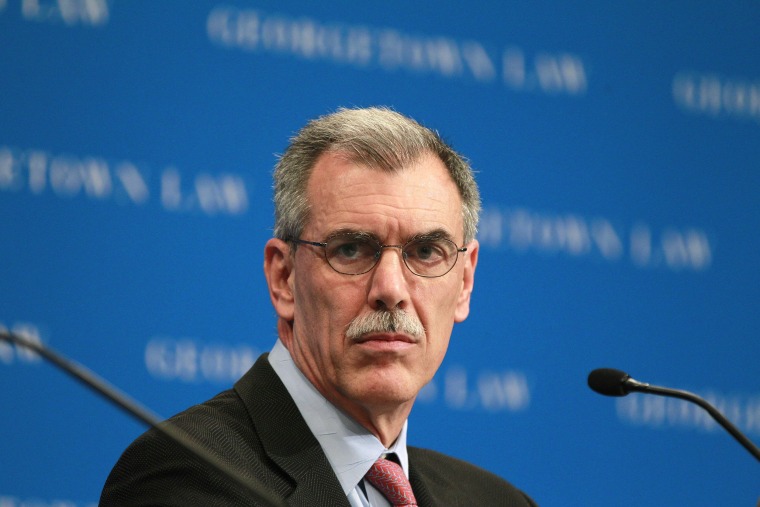 From 'Train Wreck' to Victory
While oral argument looked promising in the marriage case, Verrilli hit some turbulence in the high-stakes debate over Obamacare.
He began his presentation with any public speaker's worst nightmare -– physically choking and stuttering over his words, thanks to a parched throat -– and then seemed to lose the thread of his argument.
Even without cameras in the courtroom, the audio of the argument was widely panned.
Reporters recounted Verrilli's "spluttering and harrumphing," his "train wreck" of a presentation and "the worst Supreme Court argument of all time." BuzzFeed posted a clip of "all of the painful moments," while the Drudge Report slammed Verrilli for "choking."
The reaction may have sensationalized style over substance, but even the White House took the unusual step of responding with a formal affirmation of its "confidence" in Verrilli.
The argument "did not go so well," Verrilli said, but the response still felt like an "overreaction." He recounted how he was taxing his voice in practice and oral arguments, so that day, his "voice was pretty much shot."
"I started the argument, and my throat seized up, you know," he recalled, "took a sip of water, went down the wrong way, and I literally couldn't get any words out."
Then, with the justices and crowd looking on, the mind-body connection kicked in.
"I guess my concentration sorta wandered, because I was unable to get anything out at the beginning," he said, "and the justices were very amped up, because it was the big day about the constitutionality of the law."
Litigators have long stressed that written briefs, which take months to prepare, matter more than a lawyer's 30 minutes of oral argument.
That was clearly the case for Obamacare, which Verrilli won despite his troubles.
The court not only upheld the law, but did so on the specific grounds Verrilli pushed despite political blowback -– that the law was valid under the government's power to tax.
'A Rabbit Out of the Hat'
Asked about how he sold his Obamacare defense as a tax issue rather than the federal power argument that liberals preferred, Verrilli protested.
"I wouldn't say 'sold it' as a tax," he said.
"We had an alternative constitutional argument to justify the constitutionality of the law," he explained. "It's not like we pulled a rabbit out of the hat, that was a defense of the statute -- right from the very beginning."
It's certainly true that legislators originally argued Obamacare was justified as a tax. The IRS also collects the fines from people who didn't buy health insurance.
But politically, Obama and Democrats campaigned by insisting the health care law did not include any tax increases.
Verrilli discussed the quandary with Obama.
"The lawyers think we need to raise this tax power argument," he recalled aides telling the president, "and some of the political folks don't want to raise it, because you'll be subject to criticism on the ground that you're taxing Americans."
"The president didn't have any difficulty deciding that we were going to make the tax power argument right from the beginning," Verrilli said, "and then we never looked back on it."
Ultimately, Verrilli came into office when Obamacare was the nation's largest legal and political controversy. He believes he is leaving with the legal debate settled, as the court majority backing the law grew over two big cases from five to six justices.
Chief Justice John Roberts ruled that Obamacare is a valid national program and did so "for not five but six justices in the [second] case," Verrilli stressed, "so I think the debate is effectively over."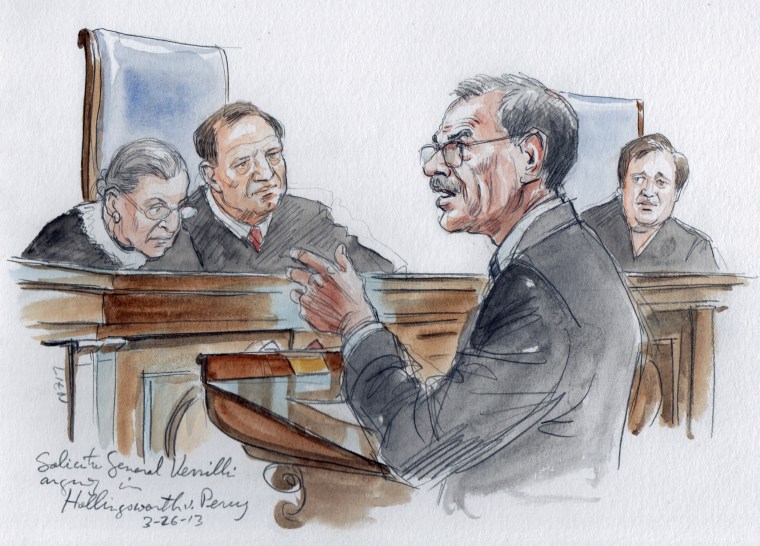 A Hot Bench
Verrilli also reflected on how the justices approach their work.
Asked who poses the hardest questions, he echoed other litigators who say late Justice Antonin Scalia was the court's most challenging interlocutor in some time.
"The person -- you know, God rest his soul -- who asked the most aggressive questions was consistently Justice Scalia," Verrilli said. "It was good, in its way, that he did, because you knew you needed to stand up to his questions."
Verrilli also rebutted the notion that Justice Clarence Thomas, who went 10 years without asking a single question from the bench, is somehow disengaged.
"He didn't ask me any questions during my five-year tenure," Verrilli said. "Some people have suggested that he may be less than fully engaged up on the bench, but I'm here to tell you that's totally wrong."
"He's fully engaged. He's looking at the briefs, he's asking for copies of the U.S. reports to be brought to him so he can look at precedents. He's talking to his colleagues," Verrilli said. "Frankly, if a few more of them were a little more like Justice Thomas, it'd be a little easier for the advocates," Verrilli said with a laugh, "they'd have a little more time to talk."
While total silence is unusual from a justice, the trend is certainly far broader than Thomas. The court used to give lawyers more time to talk. Since the 1980s, for example, the word count of questions by justices has more than doubled, according to studies.
A 'Religious Test' for Muslims?
Verrilli also discussed the ongoing controversies over immigration.
Asked about presumptive Republican presidential nominee Donald Trump's talk of a temporary ban on Muslims entering the U.S., Verrilli said while he didn't "want to speculate on a case that doesn't exist, and probably will never exist," he "can't imagine that the court would find a religious test like that appropriate."
The Constitution bars any "religious test" as a government requirement for office or public trust.
As for Obama's attempt to diminish enforcement of some immigration laws against undocumented workers, Verrilli said courts have long given "a huge amount of discretion" to the executive branch in that area.
Asked whether a future president could use executive orders to diminish enforcement of other federal laws, such as civil rights protections, Verrilli argued that immigration is basically special.
"The fact that the executive branch has that kind of discretion with respect to immigration," he said, based on laws Congress passed, "doesn't mean" it would extend to other domestic areas. "I don't think you can make that leap," he said.
Over the wide-ranging, 30-minute interview, there were also questions Verrilli simply declined to answer, often citing the obligations of his office.
He wouldn't discuss pending cases before the court or whether the Senate should hold hearings on Judge Merrick Garland's Supreme Court nomination, and he demurred when asked to describe Texas Sen. Ted Cruz in one word.
Asked the same question about Scalia, he offered "brilliant"; for Obama, "heroic"; and for marriage equality, Verrilli said, "Well, it's two words but: about time."