Russia may be influencing and supplying the Taliban in Afghanistan, the top U.S. general in Europe said during a Senate Armed Services Committee hearing on Thursday.
Army Gen. Curtis Scaparrotti, who also serves as NATO's Supreme Allied Commander in Europe, told Senators that Russia's role in Afghanistan seemed to be growing, according to Reuters.
"I've seen the influence of Russia of late — increased influence in terms of association and perhaps even supply to the Taliban," Gen. Scaparrotti said.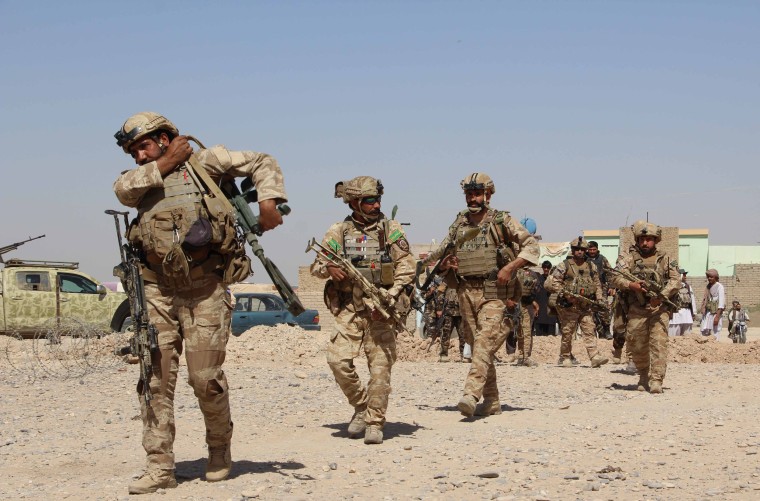 The news comes in the wake of the Taliban's reported capture of the hotly contested town of Sangin in Afghanistan on Thursday, the location of a number of U.S. and British fatalities inside the deadly Helmand Province.
Taliban spokesman Qari Yousuf Ahmadi shared a statement on Thursday that claimed the Taliban had captured Sangin's district center, according to the Associated Press.
But that claim has been refuted by coalition forces.
American Army Capt. William K. Salvin, spokesman for NATO's Resolute Support Mission in Afghanistan, pushed back, alleging that Afghan forces still controlled the town but had simply moved its district center.
"This move to a new district center had been planned for some time," Salvin said, noting that U.S. Forces assisted with the move and helped destroy buildings and inoperable vehicles to leave nothing usable behind.
"The only thing they left to the Taliban is rubble and dirt," he added.
Related: ISIS Claims Kabul Hospital Attack But Taliban Remains Main Threat
The American military and NATO forces handed over control of Sangin to the Afghan military in 2013. Nineteen members of the American military have died maintaining the region since 2006, according to Operation Enduring Freedom statistics, and British forces lost more than a hundred soldiers in the town alone.
Russia, meanwhile, has largely been absent in the country since the Soviet Union fought a disastrous war there in the 1980s. But their renewed interest in the region, Scaparrotti said, seems to be growing.
Gen. John Nicholson, commander of U.S. forces in Afghanistan, appeared before the Senate Armed Services Committee last month and told Senators that Russia was overtly attempting to legitimize the Taliban via a false narrative that they were fighting ISIS.
He added that he had received reports that Russia was also providing "support to the Taliban."
The general called this "surprising" as "the Taliban have evolved over the years into a narco-insurgency and one that engages in extensive criminal activity, narcotics, kidnapping, illegal mining and other forms of criminal activity to fund their operations."
Nicholson also noted that Russia had met with the Taliban in Moscow to discuss the future of Afghanistan, but hadn't extended an invitation to the Afghan government.
Nicholson previously said the Afghan and U.S. forces "are in a stalemate" and requested "a few thousand" more soldiers to help train, advise and assist the local military.