For a long time, Diane Collier, just like many of her neighbors in New York's East Harlem, didn't think much about the statue in Central Park honoring a 19th century "surgeon & philanthropist" named James Marion Sims.
But after Collier learned about the man's work ─ Sims is known as a "father of gynecology" for breakthroughs made by experimenting on black slaves ─ she decided that the statue had to go.
"The fact this person has been given an honor in New York City for having discovered gynecology, but at the pain and suffering of African-American slaves who couldn't give truly informed consent to what they were subjected to — I'm totally offended by that," said Collier, who is black and chairs the local community board.
Related: National Battle Over Confederate Monuments Renewed After Charlottesville Violence
She joined a group of East Harlem residents urging City Hall to remove the statue. Those efforts haven't progressed very far. But their demands have taken on new life in the aftermath of violent protests in Charlottesville, Virginia.
"I think there is now more awareness of it, and a serious movement to make it happen," Collier said, referring to the demand to remove the statue.
This is happening around the country, as an invigorated movement to take down Confederate monuments has brought more attention to markers that honor figures in sports, politics, culture and science who have been deemed racist.
In New York City, where there is a new push to rename streets honoring Confederate leaders, Mayor Bill de Blasio is conducting a review of all controversial pieces of public art.
In Boston, Red Sox owner John Henry announced that he wants to rename Yawkey Way, an iconic street outside Fenway Park, which honors former owner Tom Yawkey, who resisted the racial integration of professional baseball.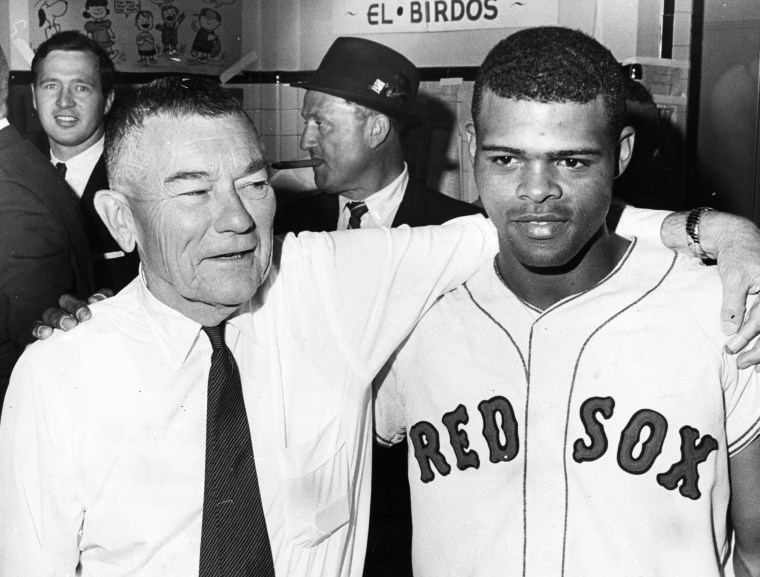 In Pittsburgh, city officials are again looking into calls to remove a statue of hometown 19th century composer Stephen Foster ("Camptown Races," "Oh! Susanna") standing over a barefoot, banjo-playing slave character from one of his songs.
In Chicago, residents and aldermen are pushing for the removal of the Balbo Monument, honoring Italian fascist general Italo Balbo. They also want to rename a roadway memorializing him.
And in Philadelphia, city leaders are taking up a long-simmering dispute over a statue honoring Frank Rizzo, a former police chief and mayor despised by many African-American residents for his treatment of the black community ─ including the use of slurs, excessive force against black protesters and ordering Black Panthers members to strip naked on the street. Since the violence in Charlottesville, the statue outside the Municipal Services Building has been repeatedly vandalized.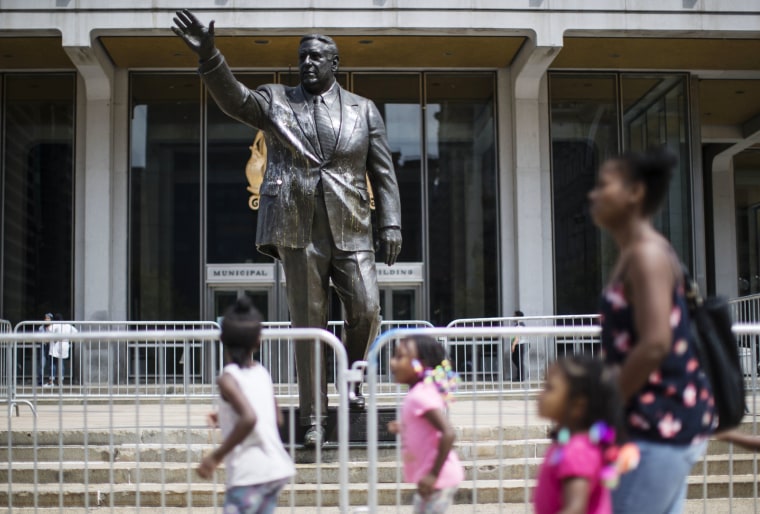 Penny Bach, executive director and chief curator of the Association for Public Art, which helps Philadelphia officials choose and place statutes and monuments, said the heightened scrutiny of Confederate statues has "rekindled conversations that had already begun" about removing the Rizzo sculpture.
That campaign and similar efforts elsewhere fit into a long tradition of public debate about monuments' relationship with American history, Bach said.
She pointed out that the Rizzo statue was controversial before it was even made, and was placed outside the municipal building in 1998 after being rejected for a more prominent location near statues of William Penn and George Washington. That decision drew criticism from Rizzo supporters, who accused leaders of treating an Italian immigrant poorly, Bach said.
Around the same time, Bach said, the city agreed to move a 1934 statue honoring African-American war veterans to the Benjamin Franklin Parkway from an obscure corner of West Fairmount Park.
Related: Charlottesville Mayor: Tear Down That Confederate Statue
"Moving a sculpture is always an option, but it needs to be done in a very thoughtful way, just as was done to put it there in the first place," Bach said.
James Grossman, executive director of the American Historical Association, said that the events of the past week underscored the importance of having civil, informed public discussions about the place of monuments in American communities.
Monuments serve two basic purposes: they reflect the reverence held for a particular person in a particular point of time, and they serve as pieces of a historical narrative. Over time, those purposes often diverge, and history does not look kindly at the subjects.
In those cases, removing a statue is a perfectly reasonable option, he said.
"The debate should be civil and it should be infused with historical knowledge and perspective," Grossman said. "That is not what happened in Charlottesville."