CHARLOTTESVILLE, Va. — White nationalists and counter-protesters clashed violently on Saturday, and a car plowed into a group described as "anti-racist" demonstrators, killing one person and injuring 19 others, authorities and witnesses said.
A Virginia State Police helicopter crash seven miles southwest of Charlottesville also killed two state troopers, state police said. Foul play is not suspected in the crash.
Earlier Saturday, Virginia Gov. Terry McAuliffe declared a state of emergency after unrest in the Virginia city of more than 43,000 people.
Supporters gathered in Emancipation Park Saturday morning in anticipation of a noon rally held by "Unite the Right." The aim of the rally was to protest the removal of a statue honoring Confederate Gen. Robert E. Lee. The park was formerly known as Lee Park.
State police and members of the Virginia National Guard surrounded the park after McAuliffe declared a state of emergency and the city of Charlottesville declared the alt-right protest an unlawful assembly — effectively cancelling the demonstration before its planned start time.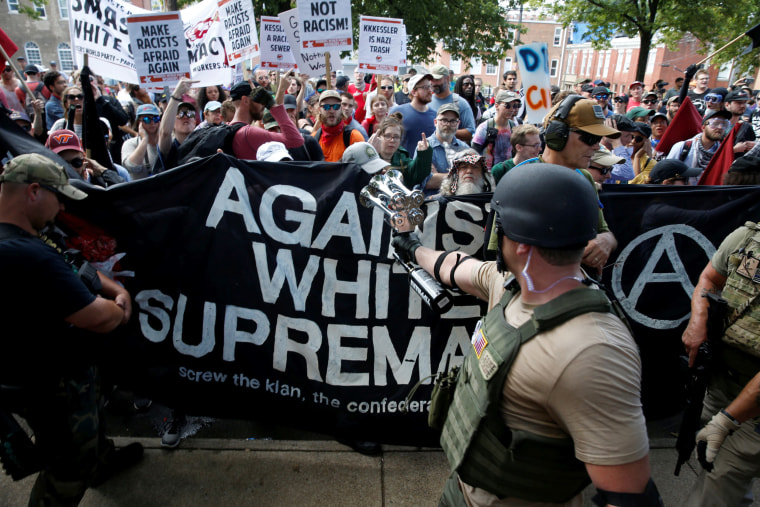 Later in the day, a car plowed into a group of counter-protesters, witnesses said. Charlottesville Police Chief Al Thomas said a 32-year-old woman crossing at an intersection was struck and killed, a suspected driver was arrested.
Police said James Alex Fields, Jr., 20, of Ohio, is charged with second-degree murder and other counts.
The car that struck the crowd built speed over two blocks before hitting the counter-protesters, witnesses said. It then appeared to back up and flee the scene.
The University of Virginia Health System said it was treating 19 patients from the car crash, five of whom are in critical condition.
Related: Trump Criticized for 'Both Sides' Comment After Charlottesville Violence
The CPD estimated between 2,000 and 6,000 people were expected to attend the "Unite the Right" rally, according to local paper The Daily Progress. The controversial event was seeking to unify the far-right wing and "affirm the right of Southerners and white people to organize for their interests," according to its Facebook page.
McAuliffe said he declared a state of emergency to allow for a response to quell the violence. At a press conference later Saturday, he condemned the white nationalists and members of other extreme groups and said many were from outside of the area.
"I have a message to all the white supremacists and the Nazis who came into Charlottesville today: Our message is plain and simple. Go home. You are not wanted in this great commonwealth," McAuliffe said.
"Shame on you," he said. "You pretend that you are patriots, but you are anything but a patriot."
White nationalists, as well as apparent neo-Nazis and Ku Klux Klan members, were met in opposition by clergy members and other groups, who stood in a line singing "This Little Light of Mine" to drown out the profanity and slurs.
"Love has already won. We have already won," the counter-protesters responded early Saturday.
But as the violence intensified with shoving and punching, demonstrators covered their mouths after tear gas was apparently released into the crowd.
Two people were also treated for serious but non-life-threatening injuries near Emancipation Park, the city of Charlottesville tweeted, as tensions flared with back-and-forth shouting and physical posturing.
A large group of counter-protesters wore black shirts and masks and carried shields, yelling to the white nationalists: "We have replaced you. Strong, united, interracial crew."
PHOTOS: State of Emergency in Charlottesville, Virginia
Thomas, the police chief, said at least 35 people were treated for injuries as of Saturday afternoon, and 14 of those were hurt in "individual engagements." There were no injuries reported from interactions with law enforcement, he said.
Virginia State Police helicopter pilot Lieutenant H. Jay Cullen, 48, and trooper-pilot Berke M.M. Bates, died in the helicopter crash southwest of Charlotte that occurred shortly before 5 p.m., state police said. The cause of the crash is under investigation.
Once the violence had mostly come to an end, President Donald Trump denounced the clashes via a tweet that called for "ALL" to be united in their condemnation of hate.
Earlier in the day, former Imperial Wizard of the Ku Klux Klan David Duke credited Trump with inspiring the rally in an interview with a Indianapolis Star reporter.
"This represents a turning point for the people of this country. We are determined to take our country back. We are going to fulfill the promises of Donald Trump," Duke said. "That's what we believed in, that's why we voted for Donald Trump because he said he's going to take our country back and that's what we're going to do."
Trump later spoke about the events during a press conference on Saturday and was criticized for not providing a vehement denunciation of the white nationalist rally.
"We condemn in the strongest possible terms this egregious display of hatred bigotry and violence on many sides," the president said. "On many sides."
When the White House was asked to clarify the remarks, an official said, "The president was condemning hatred, bigotry and violence from all sources and all sides. There was violence between protesters and counter protesters today."
The city and Albemarle County both issued a "declaration of local emergency" for the two jurisdictions to request additional resources.
The University of Virginia, located in Charlottesville, canceled all events and programming on the school's campus.
The rally followed a night of torch-wielding white supremacists clashing with counter-protesters at the University of Virginia. Chants of "You will not replace us!" and "Blood and soil!" were met with shouts of "No Trump, no KKK, no fascist USA!"
Reuters and a number of local reports put the number of protesters Friday in the hundreds. The Washington Post reported that the march lasted between 15 and 20 minutes.
At least one person was arrested Friday night and several others treated for minor injuries, according to The Daily Progress. Both sides reported being hit with pepper spray, the newspaper added.
Related: Ahead of Far Right Wing Rally in Virginia, Airbnb Cancels Accounts
Rep. Don Beyer, D.-Va., tweeted Saturday morning that "white supremacists chanting Nazi slogans aren't Virginia or America. They are weak, ignorant, fearful people with citronella tiki torches."
In videos posted to social media from Friday night, the white supremacists can be seen goading their opposition with shouts of "Jews will not replace us" and "white lives matter."
The display drew condemnation from local and university officials.
"I am deeply saddened and disturbed by the hateful behavior displayed by torch-bearing protesters that marched on our grounds this evening," University of Virginia President Teresa Sullivan said in a statement. "I strongly condemn the unprovoked assault on members of our community, including university personnel who were attempting to maintain order."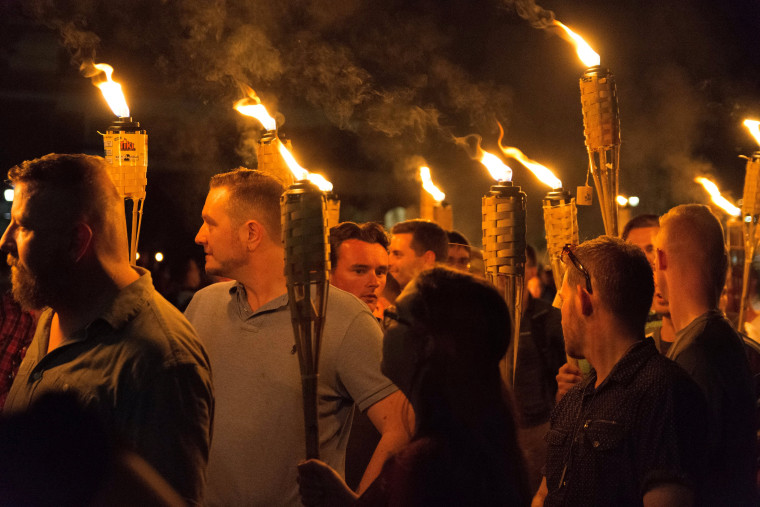 "The violence displayed on the grounds is intolerable and is entirely inconsistent with the university's values," Sullivan added.
Charlottesville Mayor Mike Signer called the demonstration a "cowardly parade of hatred, bigotry, racism and intolerance."
He added: "Everyone has a right under the First Amendment to express their opinion peaceably, so here's mine: Not only as the Mayor of Charlottesville, but as a UVA faculty member and alumnus, I am beyond disgusted by this unsanctioned and despicable display of visual intimidation on a college campus."
The King Center, founded by civil rights icon Martin Luther King Jr.'s widow, Coretta Scott King, tweeted that "racism never left America."
Marianna Sotomayor reported from Charlottesville. Phil McCausland and Ariana Brockington reported from New York.