Two enormous bands of turbulent weather threatened much of the central U.S. after storms battered the region Sunday, destroying buildings and injuring several people.
The National Weather Service issued tornado watches for a wide swath that includes parts of Texas, Oklahoma and Arkansas.
Several counties in Texas and one in Arkansas were under more urgent tornado warnings, and the parts of Arkansas not covered by the tornado watch were under flash flood watch, as was much of north-central Texas. The severe weather scare extends through western Missouri and southeast Iowa, which were under severe thunderstorm watches.
Another band of rough weather was running from Colorado and Kansas in the south through Nebraska, South Dakota and eastern Wyoming and into North Dakota.
The southern part of the band is merely a frost warning, but that escalates to a winter storm warning straddling the line between North and South Dakota.
Mother's Day got off to a stormy start in the Plains as damaging tornadoes, hail and floods hit the already weather-battered region. At least nine people were injured in Delmont, South Dakota, about 100 miles west of Sioux Falls, after a twister ripped through the city. South Dakota Gov. Dennis Daugaard asked residents to evacuate the city "for safety reasons."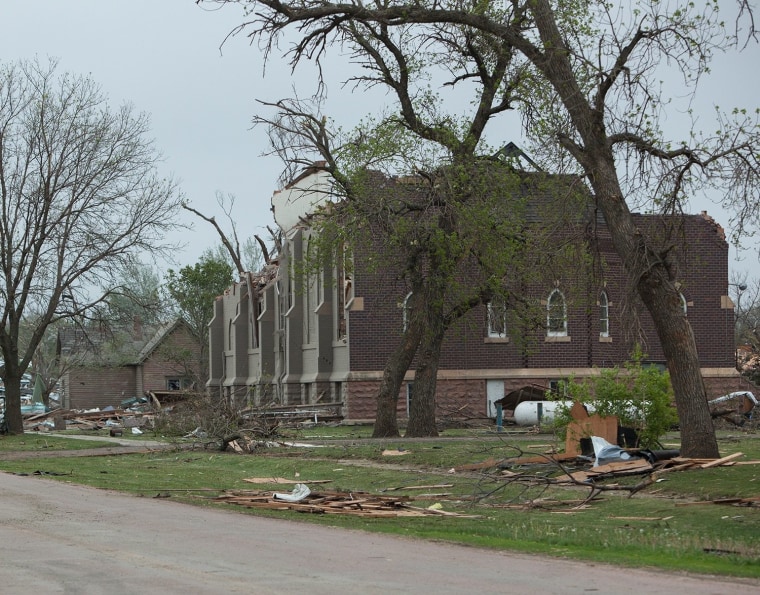 About two dozen buildings were damaged, the state Department of Public Safety said. The town remained without water or power Sunday night.
The department said there had been reports of injuries, but no deaths. A spokeswoman for Avera Health, a regional organization of health professionals, told The Associated Press that three people were in good condition at a local hospital.
An owner of a mini-mart in Delmont told NBC station KDLT of Sioux Falls that a church and the city's fire hall were in near ruins and most residents were without power.
Four additional tornadoes were reported throughout South Dakota, according to the National Weather Service.
In Lake City in central Iowa, a tornado tore off the roof of Southern Cal High School, where about 125 people were attending a school awards ceremony. Jodi Simpson, a spokeswoman for the Calhoun County Sheriff's Office, told NBC News that no injuries were reported.
"We followed the path of the tornado," a witness, Austin Jacobs, told NBC station WHO of Des Moines. "The entire roof of the main part of the building was ripped off and kind of bent and bowed over top of the road."
Meanwhile, four tornadoes were reported in Texas, according to the NWS, which reported that a twister in Denton damaged roofs. Severe thunderstorms also toppled trees and power lines in the Dallas-Fort Worth area and created problems for travelers.
Almost 900 flights into and out of DFW International Airport were canceled Sunday, according to FlightAware.com.
Hail, up to an inch in diameter, was reported in two different parts of Dallas, according to the NWS. Power lines and trees were downed in Southlake, a suburb of the city, by heavy winds and downpours, according the Southlake Department of Public Safety, which was posting pictures of the destruction on their Twitter page.
The saturated ground keeps the threat of flooding high throughout Sunday night, according to the National Weather Service. A bridge was washed out and two people were rescued from swelling water in Johnson County, about 30 miles south of Fort Worth, according to the county's department of emergency management.
The havoc comes after days of wild weather for the Plains. One person was killed and three injured — one critically — when a tornado touched down near Cisco, Texas, on Saturday.
One of the twisters caused "five miles of destruction" as it ravaged homes in a rural area about 100 miles west of Fort Worth, Eastland County Judge Rex Fields said.
"The homes that I've seen, there are just maybe one or two walls standing," Fields, who also serves as the county's emergency services coordinator, told The Associated Press. "[The tornado has] taken them into pieces and blown them out into pastures."
About 45 tornadoes are thought to have touched down in the Plains Saturday, but forecasters said the system will weaken throughout Monday as it moves east.
Elsewhere in the country, Tropical Storm Ana made landfall early Sunday in South Carolina, packing top sustained winds of 45 mph. The storm was kicking up 11- to 12-foot seas as it moved over the coast.
Meanwhile, a winter storm was forecast to bring widespread 1-2 feet accumulations to Wyoming and Colorado, and into western Nebraska and western South Dakota. Nearly 18 inches of snow fell in southern Colorado. The snow was expected to keep falling in South Dakota Sunday, where the Black Hills had already accumulated 18 inches of their own.
IN-DEPTH
SOCIAL
Matthew Grimson and Hanna Guerrero of NBC News and The Associated Press contributed to this report.