The tornado that struck Missouri's capital city late Wednesday, injuring more than 20 people and damaging homes and businesses, was rated as an EF-3 with estimated peak winds of 160 mph in some parts, the National Weather Service said Thursday.
"I'm happy to say we still have no fatalities to report," Jefferson City police Lt. David Williams said at a news conference Thursday. "Our injured numbers are only up slightly — we're still in the dozen to three dozen range. Twenty-four, 25 people for the things that happened last night."
Residents in Jefferson City may have had around a 30-minute warning before the storm hit. Williams has said that the first sirens went off at 11:10 p.m., a rotation was confirmed, the sirens were reactivated at 11:40 p.m. and the first reports of damage in Jefferson City itself came in at 11:47 p.m.
The tornado that hit the Jefferson City area had an estimated strength of EF-3 in some areas with peak winds of 160 mph, the weather service said. In other areas it registered in a lower category. The path of the tornado was around 19 miles.
Andrew Buchanan told NBC affiliate KOMU of Columbia that he was at home when the tornado hit and was at his backdoor and ran to the basement after he heard trees snapping. "I ran down the basement, and it just kind of exploded," he told the station.
"I don't have a roof. I don't have many windows. There is much water inside," Buchanan said.
A tornado that killed three people in Golden City, in the southwestern part of the state, is thought to have been an EF-3 tornado with estimated peak winds of 142 mph, based on preliminary survey results, the weather service said.
That tornado, that hit at 8:51 p.m., was on the ground for 22 minutes with a path that was 12 miles long and a half-mile wide, the weather service said. Mobile homes were damaged and destroyed, and numerous homes had roof damage. One person was also injured.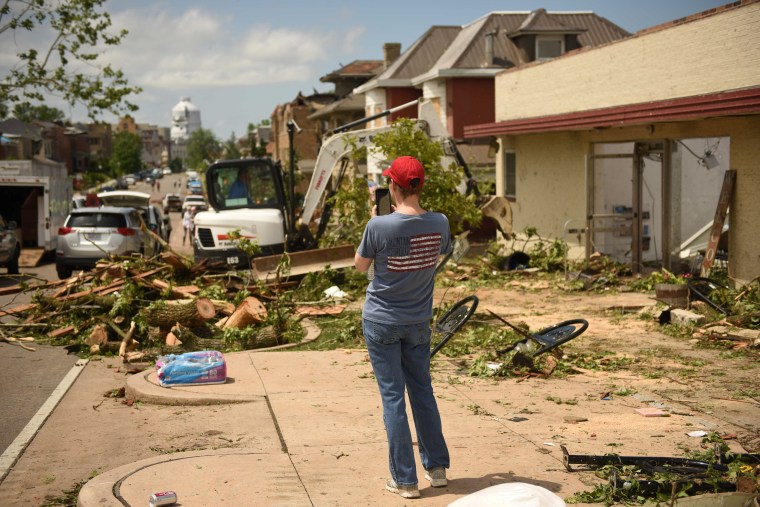 The weather service said an EF-3 tornado hit Carl Junction, a town of around 7,400, at 8:05 p.m. and that the twister had estimated peak winds of 140 mph. The tornado, which had a path 9 miles long and a width of a quarter of a mile, was on the ground for around 14 minutes, the weather service said.
Carl Junction Police Chief Delmar Haase said the damage there is likely "in the millions," the Associated Press reported.
The tornado that hit Carl Junction was spotted Wednesday evening north of Joplin on the eighth anniversary of a huge tornado that devastated the city and killed 158 people. Carl Junction is around 10 miles from Joplin.
The storms that swept across the Plains and Midwest have caused major flooding. In Oklahoma, the town of Webbers Falls issued an urgent message to leave after two barges got loose on the rain-swollen Arkansas River and threatened to hit a dam, and over the risk of flooding.
The U.S. Corps of Engineers said Thursday on Facebook that two barges made contact with Webbers Falls Lock and Dam #16, made contact with piers for some gates, and then capsized and sunk, but "initial observations are that the structural damage is minimal."
"We found no integrity issues that make us concerned that it will not perform as designed," the Army Corps of Engineers said. "We will continue to monitor and assess the dam as water conditions change."
The town of Webbers Falls, population around 600, was still closed Thursday due to rising waters, the town said. There was a mandatory evacuation order in effect for the community, Oklahoma's emergency management department said.
More than 1,000 homes have been damaged and 35 to 40 highways closed by flood waters in Oklahoma, Gov. Kevin Stitt told reporters Thursday evening.
More tornadoes in the middle of the country were reported to the weather service Thursday, concentrated in sparsely populated panhandles of Oklahoma and Texas, the Associated Press reported.
A swath of north-central Oklahoma and southern Kansas was under tornado watches early Friday morning, and there were flood warnings in southeastern Kansas and into parts of Missouri, according to the weather service.
The weather service warned that severe thunderstorms and flash flooding would again be possible from the Southern Plains into the Midwest on Friday.