States of emergency have been declared, national guardsmen are on standby and rescuers are picking through rubble. With untold damage and destruction left in the wake of the deadly storm system that has battered the Plains and the South, here's a look at the resources being mobilized to assist with the recovery.
ALABAMA
Gov. Robert Bentley said that by issuing a state of emergency declaration, he was directing all state agencies to take necessary actions to respond to communities in need of assistance.
"Some of our communities have already experienced significant damage as a result of the tornadoes that began moving through Alabama earlier today," he said in a statement.
Bentley also authorized the mobilization of 100 Alabama National Guard members to stand at the ready to assist if needed.
MISSISSIPPI
Mississippi took a precautionary approach, declaring a state of emergency before the storm hit.
"This storm system has the potential to create dangerous conditions, and we are monitoring it closely," Gov. Phil Bryant said on Monday. "Residents should not overreact but should make plans now to ensure they are prepared for a variety of conditions, including strong winds and rains and the possibility of hail and tornadoes.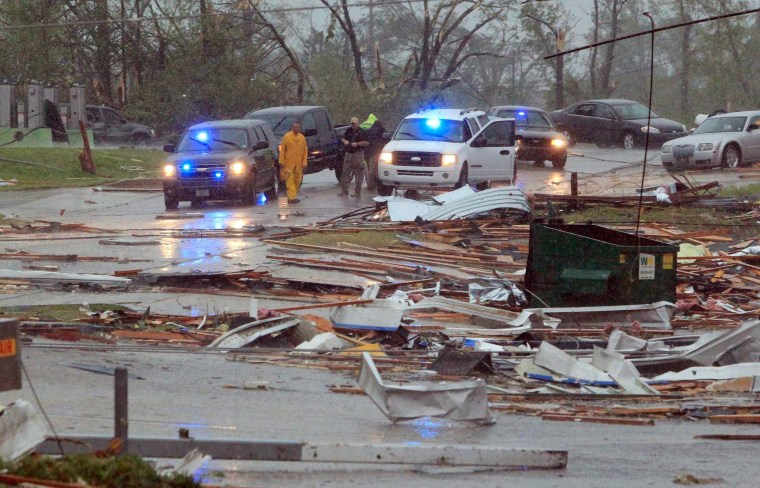 GEORGIA
With his state expected to start experiencing severe weather on Tuesday, Georgia's Gov. Nathan Deal moved to free up state resources.
"At this juncture, we've declared the emergency for the entire state because it's impossible to pinpoint where the weather will hit," Deal said in a statement. "Georgia is threatened at least through tomorrow and perhaps into Wednesday. We're prepared now and we'll be ready for recovery should we, God forbid, experience tornado damage or flooding.
ARKANSAS
At least 16 people were killed over the weekend in Arkansas when the same storm system spawned a tornado. Gov. Mike Beebe asked federal officials for assistance hard-hit Faulkner County on Monday afternoon.