Days of political turmoil after the firing of FBI Director James Comey has left President Donald Trump questioning his communication team's performance and privately weighing changes, multiple sources tell NBC News.
The president told "Judge Jeanine" Pirro on Fox News on Friday that he doesn't feel the daily White House press briefings are needed any longer, nor does he think his press aides are able to keep up with the fast-pace of his decisions and actions.
In the interview, the president spoke glowingly about his two top public communicators, calling Sarah Huckabee Sanders, the principal deputy communications director, "a lovely young woman" and White House Press Secretary Sean "a wonderful human being" and "a nice man."
However, Trump demurred on whether Spicer would keep his title.
"He's doing a good job, but he gets beat up," Trump said. When pressed on Spicer's job security, Trump said: "He's been there since the beginning."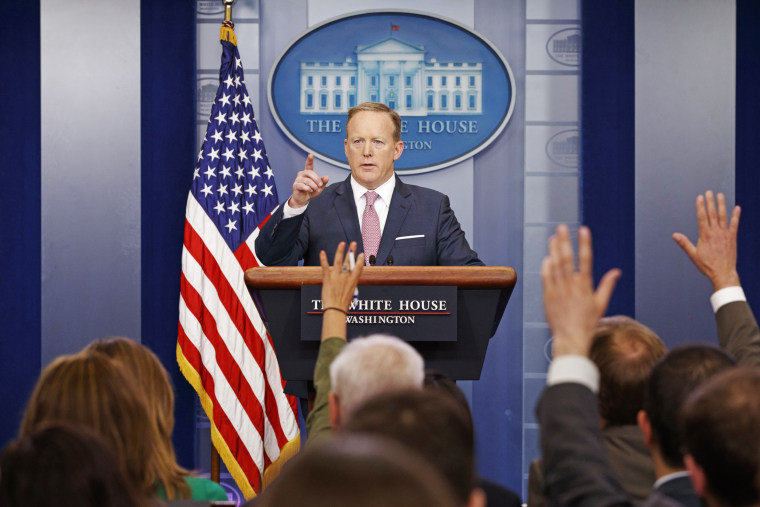 Multiple sources with knowledge of the conversations within the White House told NBC News that Trump has been asking people close to him what they think about Spicer's handling of the press briefings in comparison to Sanders, who filled in for Spicer while he was on Navy reserve duty last Friday, as well as Wednesday and Thursday this week.
Trump was "impressed" and "really pleased" with Sanders' turn at the podium when she fielded reporters' questions on the timeline that led to Comey's firing, a White House official told NBC News. Sanders also explained the different version of the president's decision-making that was provided by administration officials and the president himself.
The official, speaking on condition of anonymity, said the president is now considering "whether or not it makes sense at this juncture to change the face of the administration."
The White House has pushed back on reports of Spicer's ouster, with one senior administration official calling it the "rumor du jour." After Spicer's Friday return to the podium, another White House official described the mood as: "Good. Pretty much business as usual."
Related: Fact Checking Donald Trump's Interview With NBC's Lester Holt
A source with direct knowledge of the communications team said the mood inside the press office was apprehensive in the wake of Tuesday night's handling of the announcement that Trump fired Comey — public roll out that one official described as "so bad."
The news of Comey's ouster began with a verbal heads up from Spicer to several reporters in the White House press briefing room.
An emailed statement followed, along with assurances to the White House press corps that there would be no more information forthcoming from the administration that night — only to have Sanders, Spicer and Kellyanne Conway, counselor to the president, line up before cameras to defend their boss' decision on cable television that evening and into the next day.
On Thursday, Trump told NBC News' Lester Holt in an exclusive interview he planned to fire Comey "regardless of recommendation" from Deputy Attorney General Rod Rosenstein. That account directly contradicted the explanation given by Spicer, who, when asked by the media, hung the decision on Rosenstein's written memo about Comey.
Sanders sought to explain the varying accounts Thursday during the press briefing in which she explained that while she had spoken with the president on Tuesday night, she didn't ask him directly if he'd already made the decision to remove Comey before seeing the Rosenstein memo. But the contradictory versions of Trump's decision-making prompted Friday morning tweets from the president, who threatened to "cancel all future 'press briefings' and hand out written responses for the sake of accuracy."
Trump said in another tweet that because he's such an "active president with lots of things happening, it is not possible for my surrogates to stand at podium with perfect accuracy."
The sentiment hearkens back to an adage from Trump's first campaign manager, Corey Lewandowski: No one speaks for Trump except Trump.
Related: Does Trump record Oval Office conversations? Spicer won't say.
For months, Trump's press shop has had to field a barrage of reporter questions about a wide range of high-level scandals — many of them stemming from a probe into whether some members of the Trump campaign had any improper contact with Russia in the wake of that nation's alleged interference in the 2016 election.
To be sure, Spicer has had his fair share of missteps.
On Tuesday evening, the day Comey was fired, Spicer reportedly hid near a cluster of bushesas reporters gathered just off in the distance, according to The Washington Post. His run for cover became a social media meme.
Since January, his sometimes snappish responses — often admonishing the press for questions — have become fodder for "Saturday Night Live" parodies with comedian Melissa McCarthy portraying an oft-angry "Spicey."
In March, he took American Urban Radio Networks' correspondent April Ryan to task for shaking her head at a White House press briefing, actions which earned a sharp critique from former Secretary of State Hillary Clinton and several high-profile women journalists.
The next month, he was roundly criticized and later apologized for saying Adolf Hitler "didn't even sink to using chemical weapons" against his own people like Syrian President Bashar al-Assad. Hitler murdered millions of Jews in gas chambers during the Holocaust using chemical gas agents such as Zyklon B.
Josh Earnest, press secretary under President Barack Obama, told MSNBC that the problems with Trump's communications team start with Trump himself as it is his responsibility to make sure his spokespeople know what he wants conveyed — and how.
"He needs to empower his press secretary and his spokespeople to understand what he's thinking and be able to accurately relate it to the world," Earnest said. "So that is a problem and a flaw that starts at the top, and I've said this before, right now, the White House is drowning in a self-inflicted crisis."
On Friday, Spicer was back at the podium and didn't deny that press briefings could be canceled in the future. He expressed "dismay" on behalf of the president and White House staff at the relationship with the press.
Spicer described a hard-charging communications operation that does "everything we can to provide" reporters with the most up-to-date information, but complained that the press often looks to "parse every little word" and create a "gotcha" situation.
With the president's "robust" schedule, Spicer said, the White House press officials give reporters the information they have at the time and seek to update with new information as it becomes available.
"We do what we can," he said, acknowledging that "sometimes we don't have an opportunity ... to get his full thinking" on certain issues.