When activists needed advice on disrupting Republican lawmakers' hometown events this month, they turned to Hugh Espey, a self-taught master in the art of political bird-dogging.
Espey, an Iowa social-justice activist, has been haranguing politicians at public events for four decades. He's like a Jedi knight when it comes to needling, cajoling and provoking on-the-record policy statements from lawmakers who, in his mind, have lost sight of Americans' needs.
The work is grinding and can go unnoticed. But there are big-game triumphs. Like the time he and fellow members of the Iowa Citizens for Community Improvement hounded Republican presidential candidate Mitt Romney into blurting at the Iowa State Fair in 2011 that "corporations are people" — a remark that shadowed him for the remainder of the campaign.
Related: Lawmakers Pressed on Trump's Policies at Town Halls
Despite his confrontational persona, Espey, a Bernie Sanders supporter who calls himself a "populist with a heart," seems uncomfortable with being held up as a bird-dogging guru.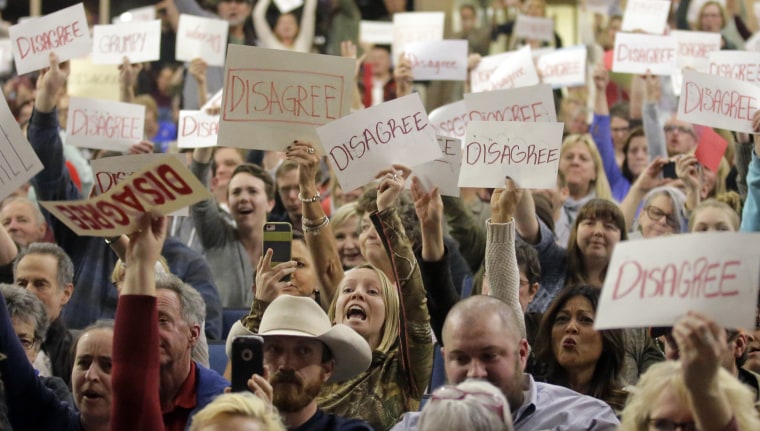 "It's not rocket science," he said in an interview. "It's common sense. What's bothering you? Are other people feeling the same way? Who are they? How do you g et them involved? What do you want? And who can give you what you want?"
The protests were already underway — including a highly charged confrontation with Rep. Jason Chaffetz of Utah — when a coalition of leftist advocacy groups led by MoveOn reached out to Espey for help. Members of both houses of Congress were heading back to their home districts on a week-long recess, and many would be holding town halls to speak with constituents. They wanted him to do a quick training session for more than 40,000 activists who'd be listening to a weekly organizing call.
"Bird-dogging," Espey told them, "means you get to speak out and fight back with other like-minded folks. It's liberating. And actually, in fact, when you bird-dog you may be called a heckler. And that's OK."
His tips: prepare pointed questions, bring several people, spread out in the audience, ask the questions repeatedly, create tension, attract attention, take video, and talk to the media.
Then they headed out and began stirring things up, some following Espey's playbook, some using guidance from other advocacy groups, some simply winging it.
The result has been a remarkable display of voters anger, with lawmakers getting peppered with questions about their position on Trump administration policies, from the immigration ban to the promised repeal of the Affordable Care Act.
Related: The GOP's Lack of Policy Specifics Is Making Its Town Hall Problem Worse
Every day, there are new GOP targets, new videos of angry confrontations shared on social media. Some Congress members have chosen not to show up in public, accusing the protesters of using political theater to bait them into controversy.
Trump criticized the protesters Wednesday with a tweet saying they were organized by "liberal activists."
Which is the case — although many speakers have spoken out at the Town Halls have had their own personal motivations.
And none of it is groundbreaking — or exclusive to the left.
Organizers of the current movement, including the MoveOn-led coalition that calls its campaign ResistanceRecess, say they were inspired by the tea party, which did pretty much the same thing in the summer of 2009. Some of the organizers worked for Democratic lawmakers targeted for their stances on the Affordable Care Act — a relentlessly local effort that sparked an uprising that helped dismantle the Democrats' majorities in Congress.
The Democratic organizers freely admit to taking pages from the tea party playbook. But they also credit HIV/AIDS activists, who since the 1980s have been bird-dogging lawmakers into taking positions on their cause.
They often train students, because "they're cute and they get called on" at campaign or town hall events, said Hilary McQuie, director of U.S. policy and grassroots mobilization for Health Gap. "And it shows them they can be engaged in the political process, not just voting, but the followup."
It was a student who got Trump, as a candidate to make a statement in support of increased funding for AIDS treatment.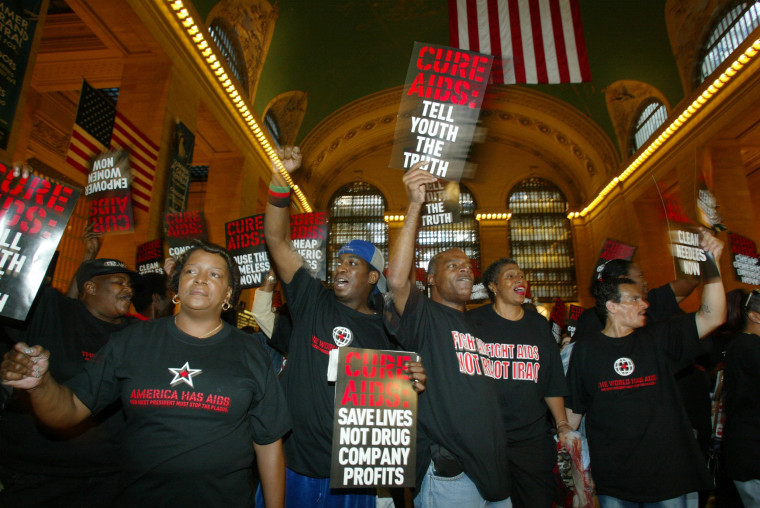 HIV/AIDS activists are among those bird-dogging the Republican town halls this week on the Affordable Care Act, McQuie said.
Ben Wikler, MoveOn's Washington director, said he was motivated by a much earlier instance of bird-dogging: a 1989 onslaught of former Illinois Rep. Dan Rostenkowski, one of the most powerful men in Congress, by a group of senior citizens angry about costly changes to a federal health insurance program. Rostenkowski said afterward that the protesters "don't understand what the government was trying to do for them." Three months later, the law was repealed.
"I started sending this video around and saying, "This is what it'll take. If the ACA is to be saved, it will take this kind of citizen outrage," Wikler said.
People like Esprey are trying to help help channel that anger.
"Blessed be the fighters," he said at the conclusion of his training call last week. "Blessed be the agitators. And, yes, blessed be the hecklers."