The entire four-person police department of Blandford, a small Massachusetts town, resigned Monday evening, citing various safety concerns.
"Attention Blandford residents: If you have a police, fire or medical emergency, please continue to call 911 as you normally would. The entire Blandford Police Department resigned this evening, effective immediately," the department's Facebook post read.
For now, 911 calls will be handled by county officials and other neighboring police forces.
The Blandford officers, including three patrolman and Interim Police Chief Roberta Sarnacki, released a signed statement giving a detailed reasoning for their resignation.
"The town is asking officers to patrol in cars that have no a/c, no snow tires, and no four wheel drive, on days that have been 90 plus degrees, and previously in blizzard conditions. They are asking us to do this with no radio coverage, no real backup if needed, and all for $14 or $15 an hour," the statement read.
Sarnacki also said that multiple police cruisers were having issues with their brakes and the department's bulletproof vests were past their expiration date.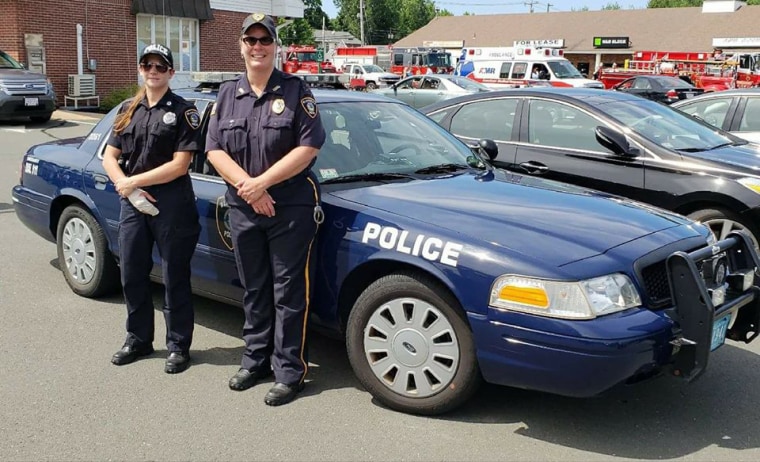 "We shouldn't have to fear our own equipment in the same manner that we fear criminals," Sarnacki said.
But the chair of of the town's Selectboard, Cara Letendre, told NBC News that she gave the officers and Sarnacki an opportunity to address their concerns.
"They were at a Selectboard meeting last Monday, I asked each of them if they had any concerns but they did not address any and were only concerned about the police chief position being posted," Letendre said.
It was at that meeting where Sarnacki says she felt slighted by the board for posting the position of police chief even after the other officers spoke highly of her. Sarnacki was only slated to be interim police chief from June to July 30th while the Selectboard considered multiple options for the department.
"In a small town, it's difficult to run a police force with the tax base we have," Letendre said. "We looked at three possibilities: Keeping the same police department, relying more on state police or looking at regionalizing."
Departments in rural towns and large cities across the country have for years been suffering from diminishing pay, a shortage of officers and recruits and general anti-police attitudes.
One option being considered by the board is to combine the police department in Chester, a nearby town, with Blandford's. Sarnacki believed the board wanted to replace her with the Chester police chief, she said.