The oldest son of former Alaska Gov. Sarah Palin was arraigned Sunday on domestic violence charges against his father, according to online court records and sources.
Track Palin was charged with felony burglary, assault in the fourth degree and criminal mischief for causing property damage in Wasilla, Alaska, according to court records. The criminal mischief charge was for causing $250 to $999 in property damage.
The assault charge involved father Todd Palin as "the victim" and the burglary charge stems from an incident at the home of Sarah and Todd Palin, sources close to the Palin family told NBC News.
The alleged incident occurred on Saturday, according to the court records, which indicated that all charges were related to domestic violence.
Track Palin was arrested after his mother called 911 and later told police her son was "freaking out and was on some type of medication," according to charging documents obtained by the Anchorage Daily News.
The dispute was over a truck that Track wanted to take, according to the documents. His father told him no because he was allegedly drinking and taking pain medicine, the report says.
"Track told him he was (going to) come anyway to beat his ass," wrote Wasilla officer Adam LaPointe.
His father grabbed a pistol to "protect his family," and the two got into a fight, the report says. Track broke a window and struck his father on the head, the report says. Todd Palin broke free and suffered injuries to his face and head, was bleeding and had liquid coming from his ear.
NBC News has not independently obtained the charging documents.
John Tiemessen, an attorney for Todd and Sarah Palin, said that, given the nature of the charges, they were unable to comment on the incident.
"They ask that the family's privacy is respected during this challenging situation just as others dealing with a struggling family member would also request," Tiemessen said in a statement.
A woman who answered the phone at Mat-Su Pretrial Facility in Palmer, Alaska, said Track Palin was listed as being held there as of Sunday evening. The woman would not give her name or title.
Palin was also arrested in January 2016 in Wasilla, on charges of assault, interfering with a domestic violence report and misconduct involving weapons.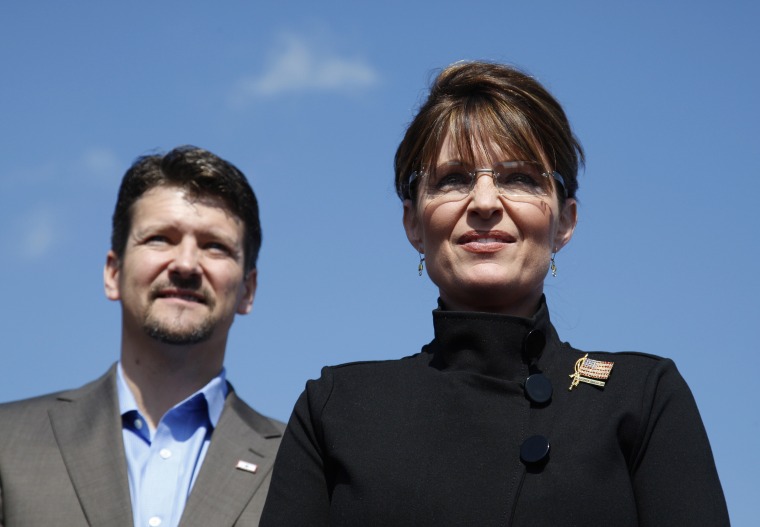 An officer who responded to a 911 call at the Palin household in Wasilla during the 2016 incident wrote that when he met Track Palin in the driveway he was "uncooperative, belligerent and evasive with my initial line of questioning," according to court documents.
Palin's girlfriend told the officer that he "struck her on the left side of her head near her eye with a closed fist," sending her to the ground, according to court documents. He then allegedly kicked his girlfriend, threw her cell phone and threatened suicide with his AR-15 rifle, according to the documents.
Palin pleaded guilty to misconduct involving weapons charge for possessing a weapon while intoxicated, online court records show. The assault charge and interfering with a report of domestic violence charge were dismissed by the prosecution.
Sarah Palin suggested at the time that her son's arrest stemmed from post-traumatic stress disorder after a year-long military deployment in Iraq.
"My son, like so many others, they come back a bit different, they come back hardened, they come back wondering if there is that respect for what it is that their fellow soldiers and airmen every other member of the military so sacrificially have given to this country," she said at the time after alluding to the arrest.
Palin ran unsuccessfully for vice president on the Republican Party's ticket alongside Sen. John McCain of Arizona in 2008 against then-Sens. Barack Obama of Illinois and Joe Biden of Delaware.