Three weeks of terror in central Texas ended before dawn Wednesday in a ditch at the side of an interstate outside Austin, with an explosion that killed a young man suspected in a string of deadly bombings across the state capital.
That final blast, triggered as police closed in on Mark Anthony Conditt, 23, marked the culmination of several coordinated investigations conducted by hundreds of federal and local authorities, some high-tech and some old-fashioned.
They worked in plain view and in seclusion, assembling pieces of a case that expanded to include five explosions since March 2 — three at homes that killed two and injured two, one triggered by a tripwire that injured two, and one in a package at a FedEx distribution center near San Antonio on Tuesday.
First, there were examinations of the bombs themselves by teams from the federal Bureau of Alcohol, Tobacco, Firearms and Explosives, who collected, reassembled and studied the pieces of devices that detonated. In this phase, experts say, just about anything is a possible clue: the types of explosives, detonators and wires; surfaces containing potential DNA or fingerprints; labels, tape and stickers; tiny tool marks. The assembly itself might reveal unique identifiers.
Related: Who was Austin bomb suspect Mark Anthony Conditt? 2012 blog reveals views
In this case, many of the bombs' components — galvanized steel pipe, a form of a low-level explosive, different types of shrapnel — were fairly rudimentary, available at home goods and electronic stores, multiple law enforcement officials told NBC News. Indeed, Rep. Mike McCaul, R-Texas, told NBC Austin affiliate KXAN that Conditt purchased some of the materials at a local Home Depot. The mechanics of the bombs were also of low sophistication, officials said.
But investigators noticed something peculiar about the batteries used.
Amid the remnants of the five explosions, investigators found "exotic" Asia-made batteries that had been ordered online, multiple senior law enforcement officials briefed on the investigation told NBC News.
This was a sign that a single person was responsible, and allowed investigators to link the blasts.
Another break came from closely guarded software that allows FBI agents to use cell tower signals to locate and track individual cellphones.
That pattern-based technology, used by the FBI's cellular analysis survey teams, gave investigators the ability to identify mobile phones near the blast sites. Zeroing in on devices that showed up repeatedly, they came up with a list of phone numbers of people who were in the area of the bombings, senior federal law enforcement officials said.
Greg Carl, the former director of the FBI's Terrorist Explosive Device Analytical Center, where improvised explosive devices from war zones and American streets are examined, said the Austin investigation appeared to be "textbook" in the use of hundreds of agents, in labs, at computers and in the streets.
"You're pulling large amounts of data and then going through it, like finding a needle in a haystack," Carl said. "That's where it comes down to old-fashioned police work."
Finally, investigators examining surveillance footage at FedEx centers saw a man drop off two packages, one of which later exploded at the FedEx facility near San Antonio, several law enforcement officials said. Footage shared with the public showed the man, believed to be Conditt, wearing gloves and a blonde wig.
While the high-tech investigations unfolded, agents and police officers were doing the shoe-leather detective work also typical in serial bombing cases: canvassing neighborhoods where the bombs were delivered, talking to witnesses, sifting through tips from the public and hundreds of reports of suspicious packages.
"It's nice to see that it was good old-fashioned hard work and dedication that resolved this and not theories and psychological profiles," said Max Noel, a retired FBI agent who helped track Theodore Kaczynski, known as the Unabomber, who was responsible for string of bombings that killed three people and injured 22 over 17 years before his 1996 arrest.
Conditt's biggest slip-up was apparently thinking he could drop off a package with a bomb at FedEx, Noel said.
"He almost became arrogant," Noel said. "To think he could get away with doing that by wearing disguises and what have you."
Witnesses told investigators of relevant purchases Conditt had made at stores, Texas Gov. Greg Abbott told KXAN. Witnesses also remembered seeing the man with the wig in the FedEx center, and told investigators about the car he was driving, Abbott said. That drew investigators closer to Conditt.
Investigators tracked the suspect's car to a Red Roof Inn in the city of Round Rock, authorities said, just north of Austin, and 15 miles from Conditt's hometown, Pflugerville.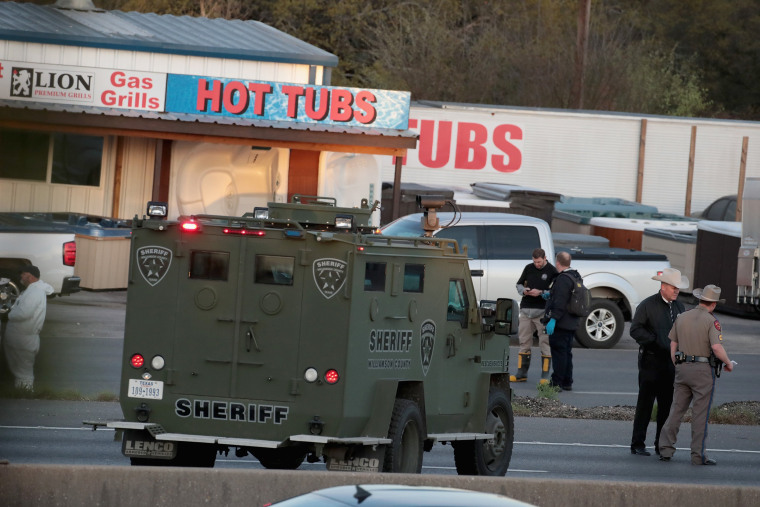 By Tuesday night, authorities had obtained a federal warrant for Conditt's arrest, charging him with unlawful possession and transfer of a destructive device. The affidavit that provides the explanation for the warrant remains under court seal.
Related: Austin bomb suspect Mark Anthony Conditt used 'exotic' batteries in explosives, sources say
At some point, Conditt — who authorities say had no criminal history — turned off his cellphone, making it difficult to track him, two senior law enforcement officials said. But late Tuesday or early Wednesday, he switched it back on, alerting police to his position. They began following him.
As investigators made preparations to take Conditt into custody — there was the possibility of more explosions — the suspect got into his car and drove away, Austin Police Chief Brian Manley told reporters Wednesday. Officers tailed him, while tactical vehicles made their way to the area.
Then Conditt stopped the car in a ditch alongside Interstate 35. A member of the Austin Police Department's SWAT team approached. An explosion went off inside the car, Manley said. The blast knocked the SWAT officer back. Another officer fired at the car.
They finally had their man. And he was dead.
But the case is not closed, authorities cautioned.
In Conditt's apartment, investigators found a large amount of bomb-making materials, multiple senior law enforcement officials told NBC News.
"There are still two things we did not know," Abbott told KXAN. "We don't know whether or not he had preset or mailed any other bombs before he was apprehended. We also have not been able to rule out if there are any other accomplices who may be a part of this who still pose a danger."
And authorities still are working to understand Conditt himself, and what drove him to plant the bombs.
"I think we will be able to piece together the puzzle of who this man was and why he did what he did," Abbott said. "And that will resolve a lot of the uncertainty that still exists."