A chartered train carrying Republican lawmakers collided with a garbage truck in Virginia on Wednesday morning, killing one person, authorities said.
The train was carrying House and Senate Republicans to a retreat in West Virginia when the crash occurred. No members of Congress or their staff were injured, White House Press Secretary Sarah Huckabee Sanders said in a statement.
Authorities late Wednesday identified the deceased victim as Christopher Foley, 28, one of two passengers aboard the trash truck. A second unidentified passenger was airlifted to University of Virginia Medical Center with critical injuries, the Abermarle County Police Department said in a statement.
The driver of the truck was transported by ground in serious condition. President Donald Trump had said Wednesday afternoon that the driver of the truck had been killed.
"We were on our way to West Virginia, and it was a sudden impact, a loud noise, and everyone was jolted," Rep. Carlos Curbelo of Florida said on MSNBC.
Rep. Jason Lewis of Minnesota was taken to a hospital for a reported concussion, according to a senior leadership source on the train.
The University of Virginia Health System said Wednesday that it had received six patients at UVA Medical Center. One was in critical condition, one was in fair condition, and four have been discharged as of Thursday morning, it said.
The National Transportation Safety Board, or NTSB, sent a team of investigators to the scene. NTSB investigations can take a year or more to complete, and Earl Weener, a member of the board, said Wednesday night that investigators wouldn't speculate on any possible cause.
Amtrak said the crash happened at 11:20 a.m. in Crozet, Virginia, in Albemarle County near Charlottesville. By 1:15 p.m., the train had left Crozet and was heading back to Charlottesville.
Sen. Jeff Flake of Arizona described feeling a "big impact" during the crash and then making his way to help one of the injured. He had been traveling with his wife and 18-year-old son in one of the front cars.
Related: Train crash was déjà vu for Republican lawmakers who survived Virginia shooting
"I knew there were going to be bad injuries, so I worked my way back thinking they might need people to help carry people to ambulances, and they did," he said.
Flake said that the front car of the train derailed and that the impact "smashed the truck pretty badly." He said he saw that one person was killed, "who they worked on for quite a while while I was there and we were tending to the other injured person."
Sen. Bill Cassidy of Louisiana and Rep. Brad Wenstrup of Ohio, both of whom are medical doctors, were among others who helped the injured, Flake said.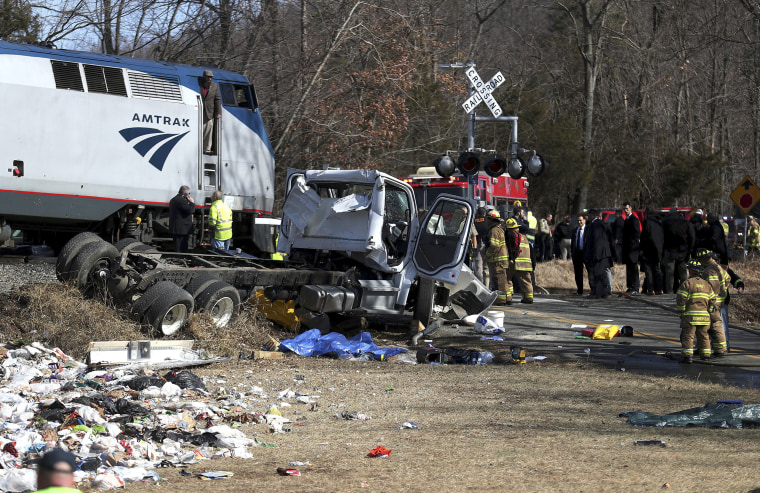 Rep. Pete Sessions of Texas, who was traveling with his wife, described the scene as "a mess," with trash strewn up to 80 yards away.
"The truck is completely smashed," Sessions told MSNBC.
The crossing where the crash occurred was equipped with flashing lights, as well as gates on both sides of the track, sources told NBC News.
Rep. Michael Burgess of Texas said on MSNBC that "both of the crossing arms were down" by the time he had exited the train and that it did appear that "the lights were functional."
Several lawmakers tweeted about the incident and said they were uninjured.
Photos: At the scene: Train carrying GOP lawmakers strikes garbage truck
"Our train heading to the GOP Retreat in West Virginia has been involved in an accident," Sen. James Lankford of Oklahoma tweeted. "I am safe but first responders are treating minor injuries on the train & treating the truck drivers."
A post on the Twitter account of Rep. Roger Marshall of Kansas, who is an obstetrician, said the lawmaker performed cardiopulmonary resuscitation "on train conductor, and helped the two people in the garbage truck who are now in the ambulance. They are injured badly."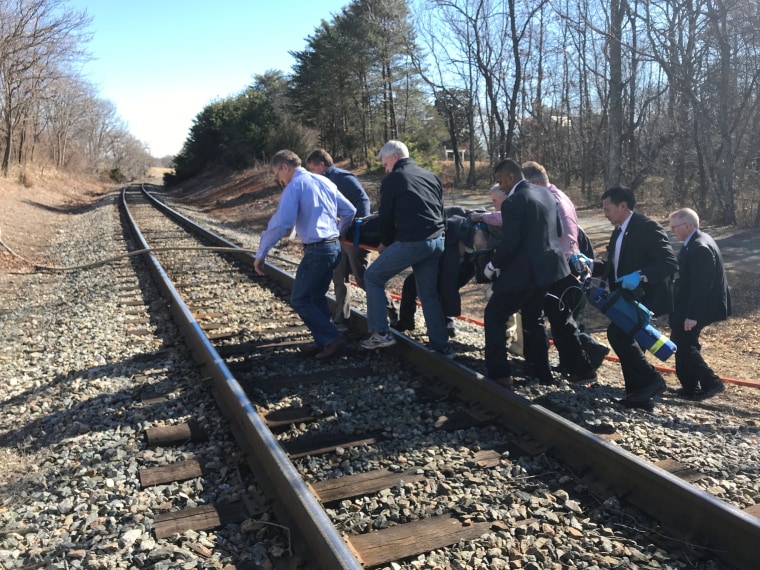 Marshall later told MSNBC that he first tried to help the deceased victim but "couldn't find a pulse, so we started CPR and worked on that person for several, several minutes, and [it] just didn't go real well for that gentlemen."
"We just could never get him resuscitated, I'm afraid," he said, so he and another lawmaker "decided we needed to focus all of our attention on the other person, who at least had a pulse."
Wenstrup, a podiatrist, said it felt like the train "went over a boulder."
He said he rushed off the train and saw a man from the truck who was able to stand and two other people on the ground. He tended to an injured man who had "a lot of blood coming from around his mouth and nose," he said on MSNBC.
They worked to clear the unconscious man's airway and make sure that his mouth wouldn't fill up with blood, he said. The man was breathing, and they were able to get him to an ambulance, Wenstrup said.
House Speaker Paul Ryan of Wisconsin was on the train but wasn't injured, a source told NBC News. Senate Majority Leader Mitch McConnell of Kentucky wasn't on the train, a spokesperson said.
Ryan said on Twitter that the incident was "a terrible tragedy."
The retreat was to proceed with an adjusted program including include a moment of prayer and a security briefing from the sergeant at arms and Capitol police, the Congressional Institute said in the statement.
Rep. Phil Roe, of Tennessee, said during a news conference from the retreat that during the train ride, the lawmakers had been happy after Trump's State of the Union address but that "in a millisecond ... that changed."
Flake said the crash and its aftermath felt all too familiar, seven months after he survived the shooting at a Virginia baseball field that left House Republican Whip Steve Scalise of Louisiana and three other people wounded.
"I thought after that time I never want to experience a day like this again. and unfortunately it came too soon," he said.
Trump told reporters Wednesday afternoon that he had spoken with Ryan and that "they're doing pretty good," despite enduring a "tremendous jolt."
"It was a pretty rough hit, that's what they all tell me," Trump said at the beginning of an Oval Office meeting with U.S. workers who Republicans say have benefited from the recently passed Republican tax plan.
Trump is scheduled to travel to West Virginia on Thursday for a previously scheduled address at the retreat.
Vice President Mike Pence tweeted addressed the retreat Wednesday evening, saying he spoke Ryan by phone while he was at the scene of the crash.
"We thank God. We thank God today because we know it could have been much worse," Pence said. "To you and your families, thank you for your service to America, and God bless you all."