A train carrying hazardous materials derailed and a bridge collapsed into a southern Montana river Saturday, sending rail cars into the water and prompting concerns about contamination. 
Some of those fears may have been allayed by evening as rail officials said two cars known to be carrying sodium hydro sulfate, which can burn, irritate and cause shortness of breath, had not entered the Yellowstone River below the failed bridge. 
No hazardous materials were released from those particular rail cars, said Andy Garland, a spokesperson for Montana Rail Link. 
But an unspecified number of other cars containing molten sulfur and asphalt had been "compromised," he said in a statement.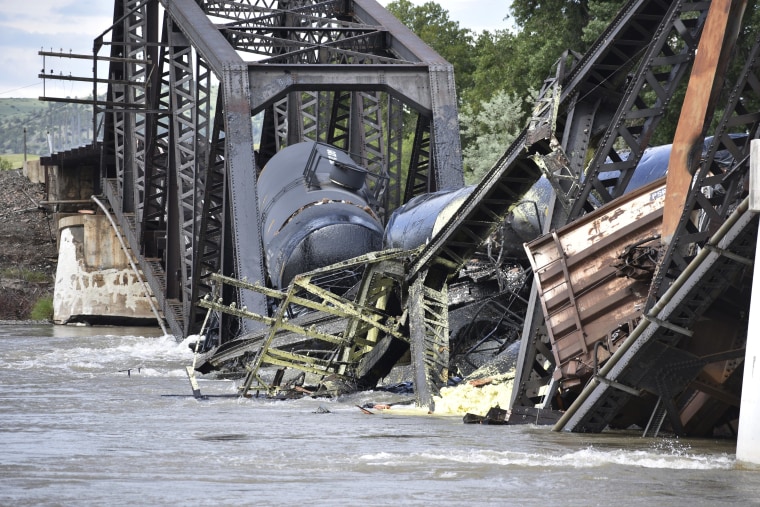 Officials will continue to monitor the derailment site, he said.
No injuries were reported, officials said. 
As many as eight cars derailed, Columbus, Montana, Fire Chief Rich Cowger told NBC affiliate KULR of Billings.
Billings said in a statement that it would shut down city water system intakes fed by the Yellowstone River for the time any pollutant would need to pass and end up downstream.
Billings, a city of nearly 110,000 people, has a clean supply of drinking water in its system, including storage tanks that are full, it said.
Laurel, Montana, suspended its intake from the river and temporarily shut down its water treatment plant Saturday morning, but a few hours later it reconnected its supply and restarted treatment, officials said in a statement.
Laurel officials visited the derailment site and investigated the water system, the statement said.
Water treatment plants in Yellowstone County were working as normal as officials monitored the river for any signs of contaminants, county officials said in a statement.
"At this time there have been no reported negative impacts to Yellowstone County," its government said in a statement.
The train derailed and the bridge collapsed about 6 a.m. near the community of Reed Point, said officials in Stillwater County, which abuts Yellowstone County. The bridge over the Yellowstone River was described as a rail bridge in the statement Saturday.
The National Transportation Safety Board said in a statement Saturday evening that it is sending an investigative team to the derailment site. The Federal Railroad Administration is leading the inquiry, the NTSB said.
It was not immediately clear whether the collapse or the derailment happened first or what caused either.
Asphalt contains carcinogens, and it has been linked to some forms of cancer. Molten sulfur can cause serious thermal burns upon contact and will form toxic and flammable gases when it reacts to hydrocarbon, a compound at the heart of fossil fuels.