A Seminole Gulf Railway train carrying propane derailed near a Florida airport Tuesday, prompting a major clean-up, officials said.
Emergency crews from Southern Manatee Fire & Rescue were called to reports of a train derailment in Manatee County, just a few miles from Sarasota Bradenton International Airport, county officials said in a statement. At least five rail cars and two propane tankers derailed, they said.
No injuries were reported, and officials said there appeared to be "no leakage at this time."
One tanker, a 30,000-gallon liquid propane car, was on its side, while the other car was "off the track but upright," Southern Manatee Fire & Rescue Chief Robert Bounds said late Tuesday.
While he said there were no apparent leaks, he said officials continued to monitor the situation with gas detection equipment. He said the "mitigation process" could take up to five to seven days.
It was not immediately clear what caused the derailment.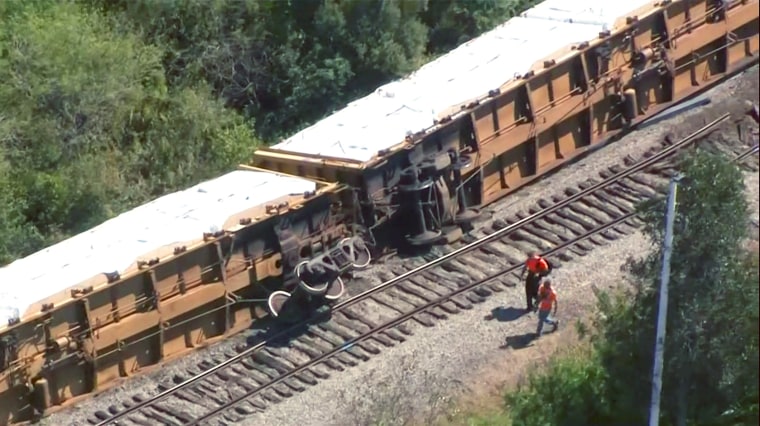 Manatee County Emergency Medical Services and county sheriff's personnel were deployed, along with county public safety workers.
Authorities said clearing the tracks would likely "take some time," as the propane will have to be removed from the tankers before they can be moved.
"We are proud of our first responders," county Board of County Commissioners Chair Kevin Van Ostenbridge said in a statement. "Their quick action has helped maintain the safety and security of our citizens."
Crews will continue to monitor the situation as clean-up efforts begin.
Seminole Gulf Railway Vice President Robert Fay said the company would work to "clear the cars in a safe manner this coming week."
A massive train derailment in Ohio that resulted in toxic, cancer-causing fumes' being released in the area of East Palestine has gained national attention amid rising health concerns among local residents.
As the cleanup continues, those living in and around the small town have expressed growing concerns for their health, with some having been diagnosed with bronchitis or having reported otherwise unexplained nausea, rashes, irritated eyes and other symptoms.