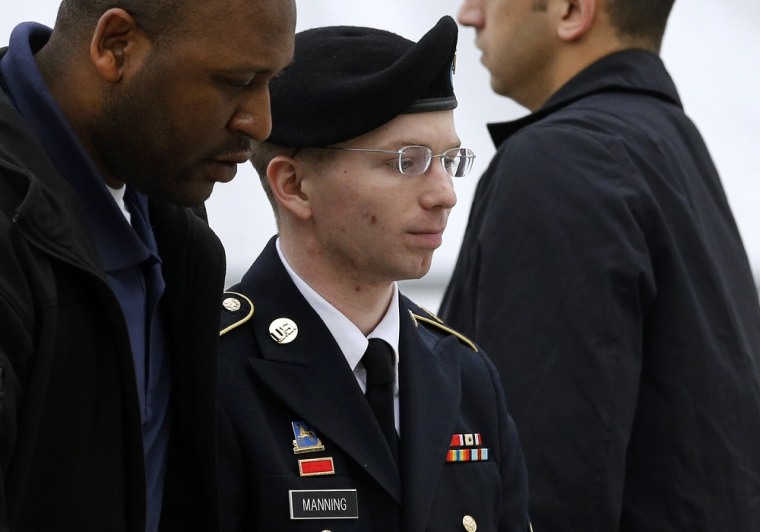 Pfc. Bradley Manning says he was driven by an unquenchable thirst for information and wanted to show the world the truth about the American wars in Iraq and Afghanistan. The military says he helped enemies of the United States.
Now a judge will decide his fate.
Manning,  a 25-year-old former Army intelligence analyst, goes on trial Monday in a military court at Fort Meade, Md., for his release of hundreds of thousands of secret documents to WikiLeaks, the anti-secrecy website.
Here's a rundown of the case:
WHAT WE KNOW
This much is undisputed: Manning, while serving in Iraq, stole U.S. diplomatic cables and other military documents. While on leave in Maryland in 2010, he began sending them to WikiLeaks.
At a hearing last November, he said that he had become disillusioned by behavior that did not seem worthy of the United States, including a foreign policy bent on "killing and capturing people."
In a 35-page statement that took more than an hour to read in court, Manning in February cited the "bloodlust" of an American crew that carried out a helicopter attack in 2007 that killed Iraqi civilians and two journalists working for Reuters.
"They dehumanized the individuals they were engaging and seemed to not value human life, and referred to them as, quote-unquote, dead bastards," he said.
Manning told the judge, Army Col. Denise Lind, that he nonetheless knew that releasing the documents was wrong.
Manning has been jailed at Fort Leavenworth, Kan., since April 2011. He was at the military prison in Quantico, Va., for nine months before that. Under a court ruling earlier this year, Manning would have any sentence reduced by about four months to compensate for harsh treatment during his confinement at Quantico.
THE STAKES
In all, Manning faces 22 charges. He already pleaded guilty in February to 10 of the least serious charges, including improper handling of classified information and impeding the order and discipline of the military.
And earlier this month, military prosecutors abandoned an effort to convict Manning of violating a federal law in connection with the release of a State Department cable known as Reykjavik-13 that summarized U.S. Embassy discussions with Iceland officials about Iceland's finances.
On the first 10 charges alone, Manning could be sentenced to 20 years in prison. He gave the guilty pleas without any deal with prosecutors — to the bewilderment of some legal analysts — and prosecutors pressed forward on the more serious charges.
Those include larceny, aiding the enemy and violating the Espionage Act, counts that could land him in military prison for the rest of his life. The judge alone, not a jury, will determine his guilt or innocence.
Manning's defense team, which has generally not been talking to the media, did not return calls for comment from NBC News.
WHY IT MATTERS
The documents that Manning sent to WikiLeaks constituted the most extensive leak of information in the history of the U.S. military. They included battlefield reports, intelligence memos and State Department cables.
Manning has become nothing less than a hero to people who believe he was a noble whistleblower, and those who opposed one or both of the wars — and a traitor to those who believe he compromised the U.S. military's safety.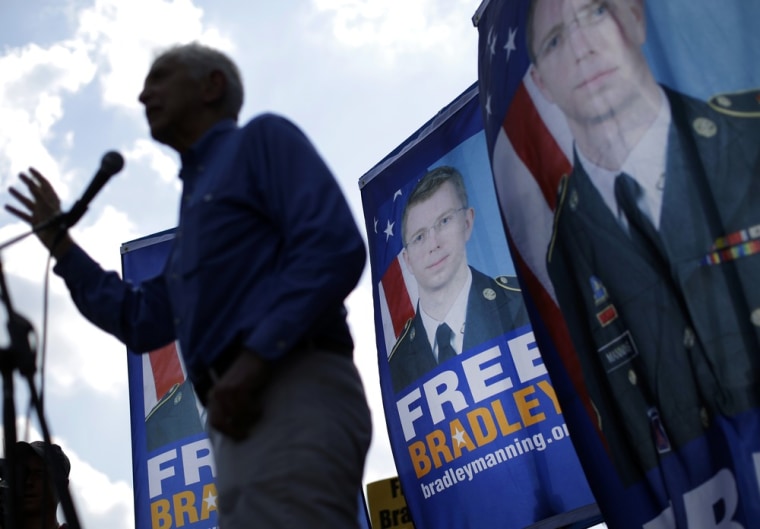 Prosecutors have signaled that they may call a Navy SEAL who participated in the May 2011 raid that killed Osama bin Laden to establish that some of the material that Manning leaked wound up in bin Laden's compound.
Among Mannings defenders is Daniel Ellsberg, who in 1971 leaked what became known as the Pentagon Papers to The New York Times. Those papers documented the government's systematic misleading of the public about American involvement in Vietnam.
"The future of truth-telling is at stake," Ellsberg has written of Manning. "A young man's selfless, heroic act of patriotism deserves our support."
WikiLeaks founder Julian Assange has called Manning a "political prisoner."
WHAT WE DON'T KNOW
To the frustration of reporters, pretrial proceedings have been conducted partly in secret. The court has withheld orders from the judge and even transcripts of hearings. The few documents that have been released have been heavily redacted.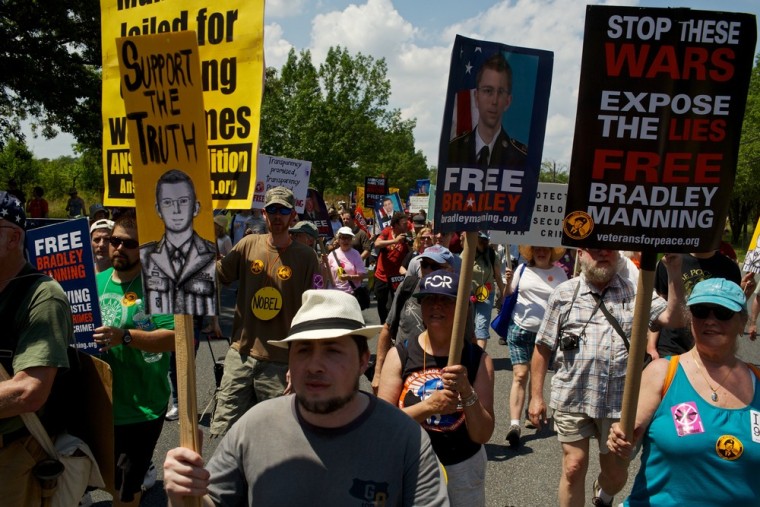 In defiance of the court, an anti-secrecy organization in March released a secretly made audio recording of Manning's statement. The group, the Freedom of the Press Foundation, did not say how it obtained the recording.
The level of secrecy is "mind-boggling," particularly at a time when public faith in the military has been shaken by sexual assault cases, said Eugene R. Fidell, who teaches military justice at Yale Law School.
"It's not a credit to the military justice system," he said in a telephone interview. "It's a system that could use all the public confidence it could get."
Courtney Kube of NBC News contributed to this report. Reuters and The Associated Press also contributed.