A transgender woman from El Salvador seeking asylum in the United States died Saturday in a Texas hospital four days after being released from custody, officials and advocates said.
Johana Medina Leon, 25, complained of chest pains and was brought to Del Sol Medical Center in El Paso, Texas, on Tuesday, Immigration and Customs Enforcement said. That same day, ICE said she was processed for release on parole. Leon died on the first day of pride month.
"This is yet another unfortunate example of an individual who illegally enters the United States with an untreated, unscreened medical condition," said Corey A. Price, field office director for ICE Enforcement and Removal Operations in El Paso, adding that "many of these aliens attempt to enter the United States with untreated or unknown diseases, which are not diagnosed until they are examined while in detention."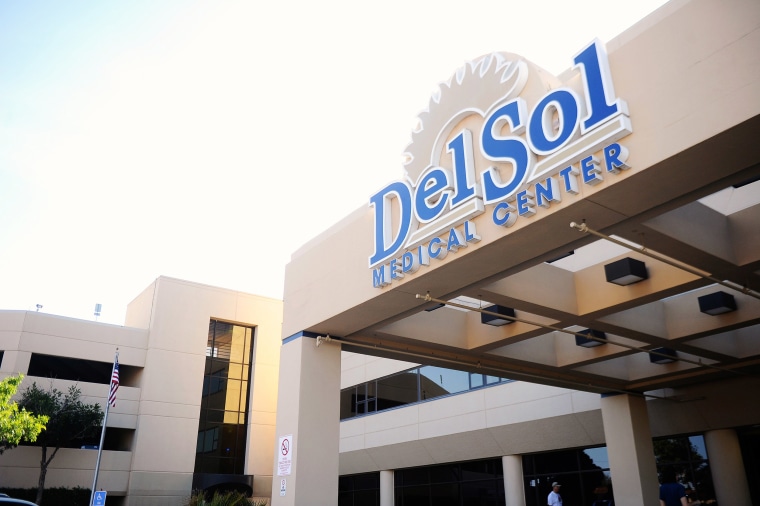 Allegra Love, the executive director of the Sante Fe Dreamers Project, a nonprofit that provides free legal service to immigrants, said Leon did nothing "illegal" when she fled to the U.S following Department of Homeland Security protocol
"She didn't violate a single law coming to the U.S. to ask for political asylum," Love said.
Leon, who was known to friends as Joa, had been detained in the U.S. since mid-April. On May 18, she received a positive credible fear finding, ICE said. Advocates told NBC News that she was seeking asylum in the U.S. as a transgender woman.
Leon was being held at Otero County Processing Center, a private detention center in New Mexico where the ACLU and the Santa Fe Dreamer Project recently alleged poor treatment of and "unconscionable conditions" for LGBTQ immigrants. In a letter sent to ICE, the groups said "ICE's practices at Otero have created an unsafe environment" for the LGBTQ detainees there.
Leon fell ill while in ICE custody, when she also tested positive for HIV.
In a Facebook post about her death, Diversidad Sin Fronteras, an advocacy group for LGBTQ refugees, said that she had pleaded to ICE for medical attention. She "became extremely ill and unconscious" the group said.
Her death comes almost exactly one year after Roxsana Hernandez, 33, a transgender migrant from Honduras, died of AIDS complications in ICE custody.
Kris Hayashi, the executive director of the Transgender Law Center, said in a statement the group is "devastated and outraged, but not surprised" by the news of Leon's death.
Referring to the deaths of both Hernandez and Leon, Hayashi wrote, "these deaths are a direct result of U.S. government policy, and will continue unless we force dramatic change."
Both U.S. Reps. Deb Haaland, D-N.M., and Veronica Escobar, D-Texas, expressed their grief over Leon's death and stressed the need for better treatment of migrants in U.S. custody, particularly those in vulnerable populations.
"There is no reason for this to happen because its foreseeable," Haaland told NBC News. "There have already been a lot of deaths." She added that she doesn't feel like ICE is equipped to manage the health care and medical needs of detainees.
Escobar said she found ICE's statement about Leon's death "outrageous," saying ICE "tried in some respects to blame the victim for her own death" and "wash its hands" of responsibility for Leon's well-being.
"There is a growing number of people arriving at our doorstep seeking asylum, and the response by the U.S. government has not just been inadequate, but in many cases cruel," Escobar said. "It feels like this administration is intent on using cruelty as a deterrence, and vulnerable populations, people like Johana and the children who have died in U.S. custody, are especially at risk."
In the wake of Hernandez's death in ICE custody in 2018, attorneys, advocates and lawmakers have been sounding alarms on the treatment of LGBTQ migrants in ICE custody.
On Friday, the Transgender Law Center filed a lawsuit against the DHS and ICE "for illegally withholding information" about Hernandez's death, and a NBC News investigation found that immigrants are often forced into solitary confinement in U.S. detention centers for being LGBTQ.
When a spokesperson for Diversidad Sin Fronteras visited Leon in the hospital, she said she was deeply concerned about the young woman's fate. "I said that what happened a year ago to Roxana in the month of May could happen to Joa right in there. And it did."
Love, of Sante Fe Dreamers Project, said, "I give an interview a week about the medical conditions for trans women," which she described as alarming and dangerous.
"If anyone wants to pretend to be shocked, did you miss a year ago when a trans woman died in custody in Albuquerque?" she said.