The agency that oversees thousands of federal building nationwide is issuing a notice declaring that transgender employees and visitors must be allowed to use the bathrooms that match their gender identity.
The notice, to be published Thursday in the Federal Register, applies to the more than 9,000 buildings and offices controlled by the General Services Administration in more than 2,000 cities nationwide.
"Federal agencies occupying space under the jurisdiction, custody, or control of GSA must allow individuals to use restroom facilities and related areas consistent with their gender identity," the notice says.
Related: Texas, Other States to Ask Judge to Halt Obama's Transgender Bathroom Policy
GSA officials say the notice is based on a review of recent rulings and directives from the Departments of Education and Justice and the Equal Employment Opportunity Commission.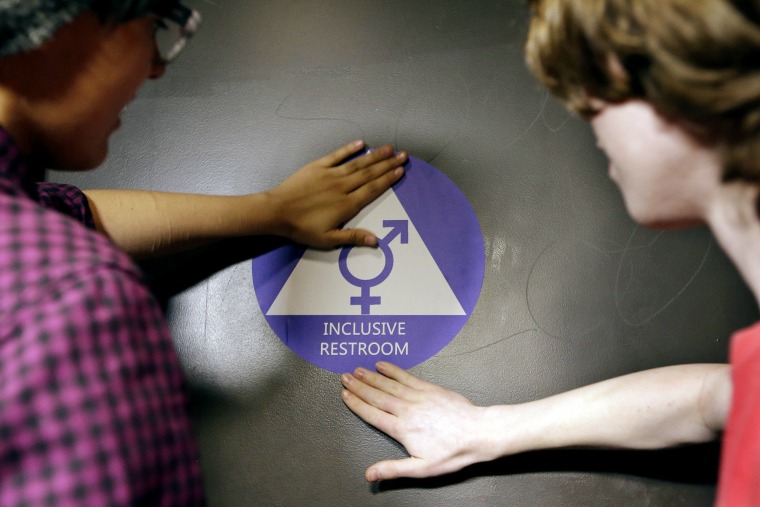 Publication is intended "to clarify that discrimination on the basis of gender identity is prohibited as sex discrimination," a GSA official said.
The rule applies to federal courthouses and offices of such widely visited agencies as the Social Security Administration and the Department of Veterans Affairs.
It will not, however, apply to the U.S. Capitol or national parks, which are not under GSA control.
Related: 10 States Sue Federal Government Over Transgender Bathroom Rules
The notice also says that the requirement to provide equal access cannot be met by requiring transgender employees and visitors to single-user restrooms.
Nor can an agency require transgender people to be undergoing any medical procedure or to produce proof of any surgery. "The self-identification of gender identity by any individual is sufficient to establish which restroom or other single-sex facilities should be used," the draft notice says.
For the past several months, the separate issue of transgender rights in the nation's public schools has been playing out in the courts.
In May, the Obama administration said schools must honor the bathroom choices of transgender students or risk losing federal education funds. That prompted lawsuits from 21 states who argue that the advisory, which came in a letter from the Education and Justice Departments, threatened, in the words of one of the suits, "to turn schools into laboratories for a massive social experiment."
The transgender rights issue could be headed to the U.S. Supreme Court. A Virginia School board said it will appeal a lower federal court's ruling that a transgender high school student must be allowed to use the bathroom of his choice.