NASHVILLE, Tenn. — A transgender bathroom bill in the Tennessee legislature failed Monday after the House sponsor said she was withdrawing the legislation while waiting to see how legal challenges play out in other states that have passed similar measures.
The bill's demise follows intense lobbying from both supporters and opponents of the measure and questions about potential economic fallout if it were to become law.
Rep. Susan Lynn, the Mount Juliet Republican who sponsored the bill in the House, said she needed to tweak the legislation before bringing it back up again next year.
"There's definitely some issues we need to work out," Lynn said. "We know as soon as this bill passes, we're going to be sued. So if we're going to be heading into a lawsuit, we want to make sure we have the strongest position possible."
Related: Gay Rights and Worker Rights: The New Battles Between Blue and Red America
The bill would have required all students in public schools and universities to use bathrooms and locker rooms that matched their gender at birth.
Supporters said it would have protected the privacy of students. Opponents called it discriminatory.
Lynn had amended the bill so students who objected could be given an alternative, but opponents said it was still hurtful toward transgender students. She pulled the measure the same day that a religious coalition of the Family Action Council of Tennessee and about 30 pastors urged lawmakers earlier in the day to stand strong in the face of intense opposition.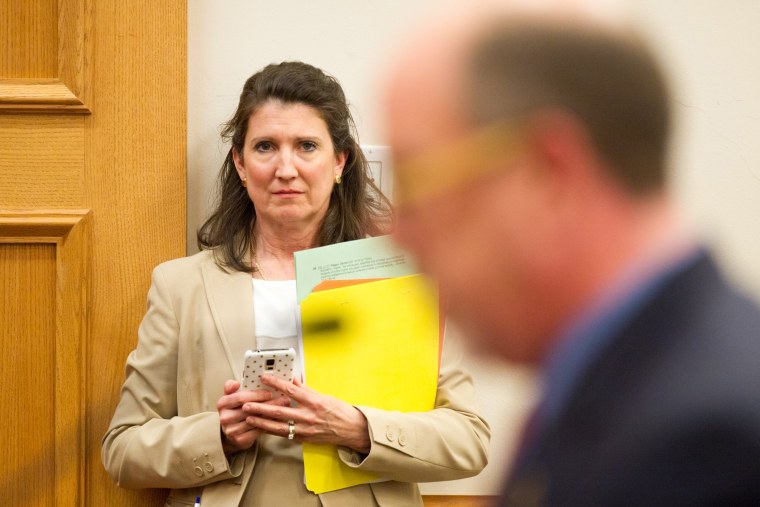 They asked lawmakers to ignore the "false prophesies of economic gloom and doom" and outside corporations and instead listen to churchgoers, parents and voters in Tennessee.
David Fowler, the president of Family Action Council of Tennessee, blamed the bill's failure on "consistent opposition from the governor's office and others."
"We join the thousands of parents across the state who are profoundly disappointed that at this point in the process Rep. Lynn has decided not to proceed with a bill that would have simply protected the privacy of the children they have entrusted to our public schools," Fowler said in a statement.
Henry Seaton, a senior at Beech High School in Hendersonville and a transgender student, said he couldn't understand why lawmakers were targeting people like him now.
"I feel singled out, and I feel stigmatized," Seaton said earlier in the day.
Tennessee's proposal is part of a wave of legislation across the country that opponents say is discriminatory toward lesbian, gay, bisexual and transgender people. The head of the Human Rights Campaign, the nation's largest LGBT civil rights organization, hailed the bill's death and urged legislators not to bring it up again.
"Tennessee lawmakers were wise to learn from the mistakes of North Carolina and Mississippi and halt this cruel legislation that would have only worsened the marginalization and harassment transgender students already face on a daily basis," HRC President Chad Griffin said.
The state's attorney general had issued an opinion saying that the state risked losing federal education funds if the measure became law, putting more than $1.3 billion at risk. There was also a backlash from the business community.
The leaders of 60 businesses, including the chief executives of Williams-Sonoma, Hilton Worldwide and T-Mobile, signed a letter last week that asked Tennessee lawmakers to reject the bathroom bill, saying it is discriminatory.
Tennessee Gov. Bill Haslam, who said he had received calls and emails from a number of business people about the measure, had raised concerns that the state could lose education funding if the measure were to ever become law. Lynn said she had spoken to Haslam before yanking the bill.
"We've had conversations about it," Lynn said. "And those conversations had to do with timing, had to do with strategy, and had to do with some outstanding issues we probably need to address in the legislation."
She said she still supports the measure.
"I feel very passionately about this issue," she said. "I really believe that boys should just use the boys room and girls should use the girls room."