NFL star Travis Kelce spoke about pop superstar Taylor Swift's appearance at the Kansas City Chiefs game Sunday in a new podcast episode with his brother Wednesday morning, calling it "a game to remember."
The "Love Story" singer made headlines and fueled dating rumors when she was seen supporting Kelce at the game against the Chicago Bears, sitting with his mother, Donna Kelce. 
"Shoutout to Taylor for pulling up, that was pretty ballsy!" he said on Wednesday's episode of "New Heights," which he hosts with his brother Jason Kelce, who plays for the Philadelphia Eagles.
"I just thought it was awesome how everybody in the suite had nothing but great things to say about her, the friends and family. She looked amazing. Everyone was talking about her in great light," he added.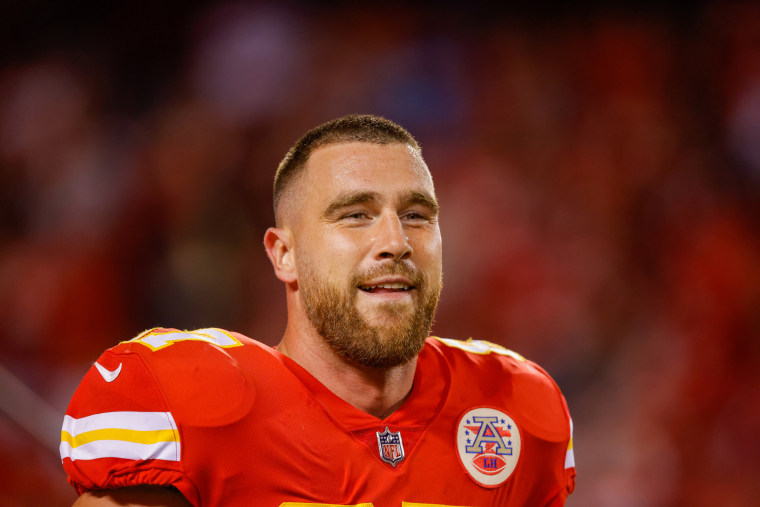 Jason Kelce called the energy at the game "electric" with the superstar's appearance, joking to his brother, "How does it feel that Taylor Swift has finally put you on the map?"
"To see the slow-motion chest bumps, to see the high-fives with Mom, to see how, you know, Chiefs kingdom was all excited that she was there. That s--- was absolutely hysterical, it was definitely a game I will remember, that's for damn sure," Travis Kelce said. "Then we just slid off in the getaway car at the end."
"Shoutout for Taylor for coming through and seeing me rock the stage," he added.
Travis Kelce joked about the Kansas City Chiefs head coach Andy Reid playing matchmaker. 
"Then you got Coach Reid telling everyone he's cupid. He's been manifesting this the whole time," he said. Jason Kelce asked if there was any truth behind Reid putting the two stars together. 
"I don't even know how to answer that," Travis Kelce said. "I know that he had met the Swift family before, so I don't know, he could have been in the background the whole time."
Jason Kelce acknowledged that rumors had been swirling for "quite some time" about Travis Kelce and Swift and the brothers debating bringing them up on the podcast.
"I know I brought all this attention to me. I did the whole friendship bracelet thing and told everyone how butt hurt I was I didn't get to meet Taylor," Travis Kelce said. "I think what's real is that it is my personal life and I want to respect both of our lives. She's not in the media as much as I am doing this show every single week and having fun during the NFL season on other guys' shows."
"I'm enjoying life and I sure as hell enjoyed this weekend," he added, noting that he'll likely avoid talking about romance in the future. 
The episode is live on podcast streaming platforms.
The internet has been in a frenzy over the rumored romance between the singer and the Chiefs tight end. 
After the game, which the Chiefs won 41-10, the two were seen leaving together in a video posted on X by Chicago sports media personality Jarrett Payton. 
Travis Kelce previously joked on his podcast that he tried to give Swift a friendship bracelet with his number on it when he attended the Eras Tour over the summer.
Though there hasn't been official confirmation that the two are dating, a source close to Swift previously told NBC News that she and the NFL star are hanging out and that it was still in the early stages.