The attack on a Pittsburgh synagogue that claimed the lives of 11 people and wounded six began before 10 a.m. Saturday, authorities said, when suspected gunman Robert Bowers drove a green Hyundai Sonata to the neighborhood of Squirrel Hill.
Bowers would later tell a member of the Pittsburgh SWAT team who apprehended him that he "wanted all Jews to die" and that he thought the Jewish community was "committing genocide to his people," according to excerpts of a police complaint issued Sunday.
Scott Brady, the U.S. attorney for Pittsburgh, said federal prosecutors were seeking approval from the Justice Department to pursue the death penalty, The Associated Press reported Sunday night.
He began shooting before 9:45 a.m. as Sabbath services were underway at Tree of Life synagogue, they said, and police were called to reports of shots fired.
The timeline of what happened next is based on police radio feeds, law enforcement sources and public statements.
"After he entered the synagogue, it looks like at that point he murdered the 11 [worshippers]," Bob Jones, special agent in charge of the FBI's Pittsburgh office, told reporters Saturday.
Police said Bowers was on his way out of the synagogue when officers arrived, and there was an exchange of gunfire. One officer was shot in the hand and the second had several cuts to his face from shrapnel and broken glass, according to police.
Police said Bowers then retreated into the building. A small SWAT unit then followed the shooter into the building.
"They observed Bowers had shot and killed multiple victims" — eight men and three women, according to the police complaint.
The 11 victims ranged in age from 54 to 97 and included two brothers and a married couple, authorities said Sunday.
Bowers then retreated to the third floor of the building, where a gunfight took place. Two SWAT officers were injured inside the building, Pittsburgh Police Chief Scott Schubert told reporters.
One SWAT officer was shot in the arm, and a tourniquet was applied to stop the bleeding, according to radio transmissions. The other SWAT team members then carried the injured officers outside the building where they were taken by Pittsburgh paramedics for treatment.
Authorities believe the suspect was in the synagogue a total of 20 minutes.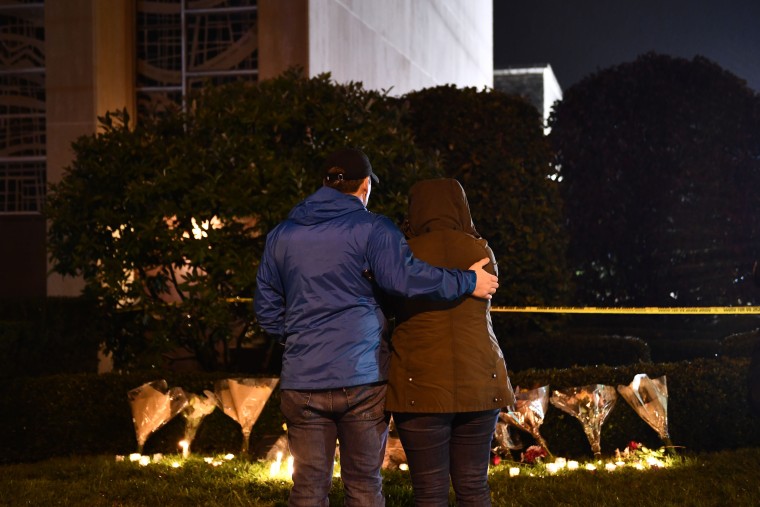 SWAT team members told their colleagues the suspect was armed with an AR-15-style assault rifle, as well as a handgun.
In a separate room, police found a military-style bag. A bomb squad checked it for explosives but did not find any.
Jeff Finkelstein, CEO of the Jewish Federation of Greater Pittsburgh, said three different congregations hold services in the Tree of Life synagogue in Pittsburgh but could not say how many were meeting on Saturday.
Authorities said victims were found in different locations within the synagogue.
Bowers was wounded during the exchange of gunfire with officers. He was asked by police to surrender, which he eventually did, giving them his name and date of birth.
While Bowers was being taken into custody, police searched him and allegedly found two other handguns.
In total Bowers had four firearms in the synagogue, three Glock handguns and a semi-automatic rifle, according to federal charges. Authorities said Sunday that he used all his weapons.
Bowers is currently being treated for gunshot wounds in hospital but is due to appear before a judge on Monday afternoon, U.S. attorney Scott Brady said Sunday. He is believed to have acted alone.
Police located the Hyundai that Bowers drove to the synagogue, and it was searched by bomb squad officers. No explosives were found in the car.
Shortly after 8 p.m. Saturday, a judge signed a criminal complaint charging Bowers with 29 federal counts, including 11 counts of using a firearm to commit murder and 11 counts of obstructing the exercise of religious beliefs resulting in death.
On Sunday, the police complaint from the Commonwealth of Pennsylvania said there was probable cause to charge Bowers with 11 counts of criminal homicide, six counts of attempted homicide and six counts of aggravated assault. The complaint said there was also probable cause to charge Bowers with 13 counts of ethnic intimidation.