Opening arguments kicked off Monday in the federal trial of Sayfullo Saipov, the Uzbek immigrant who in 2017 plowed a rented pickup truck on a New York City bike path, killing eight people in its path of destruction. 
The Oct. 31 attack was the deadliest terrorist attack in New York City since Sept. 11, 2001. Prosecutors are seeking the death penalty, marking the first federal death penalty trial under President Joe Biden's administration.
Saipov was charged with 28 counts including eight counts of murder, attempted murder, and one count of providing and attempting to provide material support to the Islamic State terrorist group, or ISIS. He pleaded not guilty in November 2017. 
The prosecution shared opening arguments Monday morning in New York court before a room filled with survivors and relatives of the victims who were killed.
Prosecutors spoke of the "destruction and horror of that day" and mentioned how Saipov allegedly plowed his victims down to become a member of ISIS.
The judge said the trial should last three months. 
Police said Saipov, then 29, was inspired by the Islamic State terrorist group, or ISIS, in launching the attack. 
He told the FBI after the rampage that he "felt good about what he did" and wanted to kill as many people as possible, according to the criminal complaint. He planned an attack for about a year, the complaint said.
How the attack unfolded
In the attack, Saipov rented a white Home Depot pickup truck in Passaic, New Jersey, and drove it into Manhattan where the streets were filling up with Halloween festivities. 
He headed south toward the West Side Highway cycle path, a tree-lined route along the Hudson River, veered onto the cycle path near Houston Street and continued at a high speed for almost a mile, indiscriminately striking cyclists and people in his path.
Saipov struck a school bus outside Stuyvesant High School, jumped out and shouted "Allahu Akbar" — meaning "God is great" in Arabic and brandished a pellet gun and paintball gun, officials said. He was then confronted by a police officer who shot him in the abdomen, and Saipov was detained and hospitalized. 
Investigators later found a note that Saipov left in the truck, claiming the attack was in the name of ISIS.
Six of the fatal victims were tourists, five of them Argentine and one Belgian. Two Americans were also killed: Darren Drake, 32, of New Milford, New Jersey, and Nicholas Cleves, 23, of New York. Twelve people were injured in the attack. 
Three interpreters, one for Saipov, one for the people from Belgium and another for those from Argentina were present in the courtroom Monday.
Saipov arrived in U.S. in 2010, appeared to 'self-radicalize'
Saipov arrived in the U.S. in 2010 from Uzbekistan, made a living driving long-haul trucks and for Uber, and lived with his wife in Paterson, New Jersey.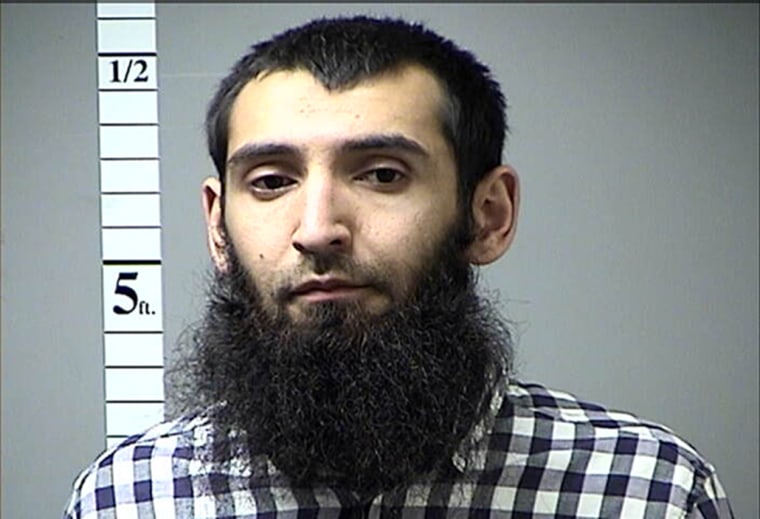 He was born in the capital of Tashkent and came to the United States on a visa through a diversity immigrant visa program in 2010, according to the Uzbek Consulate and U.S. authorities. The program, according to the State Department, allows the arrival of a limited number of applicants from countries with historically low rates of immigration to the United States.
Records indicated that within months he obtained commercial truck licenses in New Jersey then in Florida, and registered two automobile-related businesses in Ohio. 
He had, at some point, "self-radicalized" after consuming ISIS propaganda, a federal law enforcement official previously told NBC News.