A state trooper and a gunman are dead after an "active shooter" situation at a Greyhound bus station in Virginia on Thursday afternoon, state police said.
"It's with an incredibly heavy heart tonight that I announce to you the loss of Police Trooper Chad Dermyer," Virginia State Police Superintendent Steven Flaherty said at a news conference Thursday night.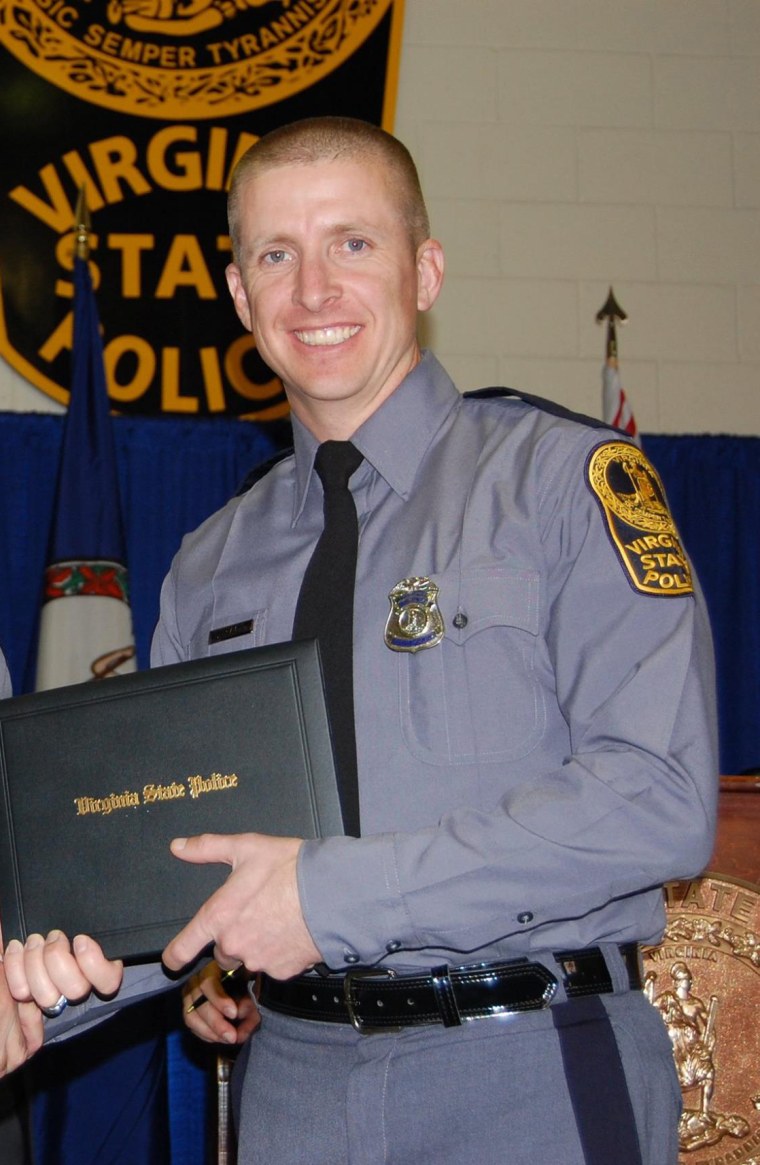 Dermyer, 37, died as a result of sustaining multiple gunshot wounds during the Thursday afternoon shooting, Flaherty said.
Two civilian women were also injured during the incident, which took place around 2:45 p.m. ET Thursday afternoon at the bus station in Richmond, Virginia, State Police Spokeswoman Corinne Geller said at an earlier press conference.
Flaherty said Dermyer had been taking part in a police training mission before the shooting.
Dermyer, who was wearing a military-fatigue-style uniform, approached the man at the entrance to the bus station when the man pulled a gun and shot the officer at close range, Geller said.
Flaherty said the encounter lasted roughly 30 seconds and that the gunman shot Dermyer multiple times.
Two officers standing nearby returned fire and fatally struck the gunman, who died after being taken to a hospital, she said.
The two injured civilians were shot after the trooper, said Geller, who noted that a gun was recovered at the scene.
Dermyer was not wearing a bullet-proof vest at the time, Flaherty said. Police are encouraged, but not required to wear vests during such training sessions, he added.
Police have identified the gunman, whose address is not listed as in Virginia, but are not releasing his identity as they are still notifying next of kin, Flaherty said. The man has a history of charges against him, but investigators were still sorting through his convictions, he said.
Officials told NBC News that the gunman appears to have been mentally disturbed.
VCU Medical Center in Richmond said multiple patients from the shooting were brought to the center and declined to provide additional information at this time.
Greyhound said in a statement that their station in Richmond was closed until further notice and that they were actively working with authorities.
Witness Brendan Hamilton told NBC affiliate WWBT that he first heard two loud gunshots as he was about to enter the bus station.
Then "there were five, maybe 10 more after that," Hamilton said of the gunfire.
He saw people running from the station and left "as fast as I could."
Sarah Newman, 22, of Nashville, Tenn., said she was waiting about 30 feet from the front door of the station, waiting to pick up friends, when she heard a commotion inside.
"We heard a lot of yelling inside and we saw a few people run out, then we saw a bunch of police cars come in," she said. "They brought out the trooper and the other victims ... He had blood all over him and his eyes were lifeless."
Newman said her thoughts turned to her friends and whether or not they were inside when the shooting occurred.
"I was really worried for my friends that were coming in. We were trying to stay calm but it was really scary," she said. "We're just really shaken."
All of Newman's friends were accounted for and were not among the injured.
Virginia Governor Terry McAuliffe said he had spoken to the mayor of Richmond and the state police superintendent and was offering "whatever state resources may be necessary" to respond to the situation.
"Our public safety team and I will continue to monitor the situation and support State Police and local authorities in their response and investigation of this incident," he said in a statement.
Virginia Attorney General Mark Herring said the situation was "heartbreaking and frightening" in a post on his Twitter account.
Richmond City Councilwoman Reva Trammell told WWBT "I would never believe this."
"This is one of the saddest days that I've seen in the city of Richmond," she said.
Dermyer was a former Marine and had been a member of the Virginia State Police since 2014, Flaherty said. He had recently been transferred to the department's counter-terrorism unit.
"He was a great trooper," Flaherty said.
Dermyer is survived by his wife Michelle, and two young children, officials said.
He is the 16th officer shot and killed in the U.S. in 2016, according to the National Law Enforcement Memorial Fund -- continuing a spike in firearms-related officer fatalities.