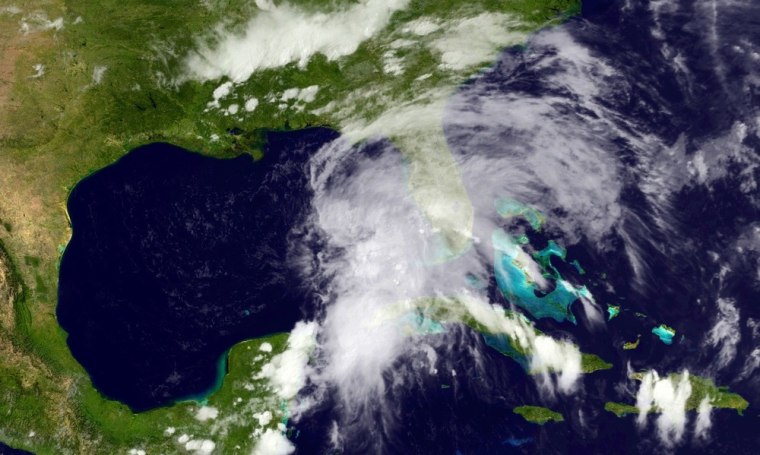 Most of Florida's Gulf Coast was under the first tropical storm warning of the year Wednesday as a storm named Andrea debuted the 2013 Atlantic hurricane season.
The warning extended all the way up the state, from Boca Grande off the southern tip of the Florida peninsula to the Ochlockonee River in the panhandle. A less urgent tropical storm watch was in effect up the rest of the East Coast from Flagler, Fla., to Surf City, N.C.
A tropical storm warning means that tropical storm conditions are likely in the next 36 hours; a watch means they're possible in the next 48 hours.
Andrea was parked in the Gulf of Mexico about 300 miles southwest of Tampa, Fla., creeping along at 3 to 5 mph with maximum winds of 40 mph, the National Hurricane Center said. Tropical storm force winds extended outward up to 140 miles.
The center of the storm was expected to reach the Big Bend — the sharp left turn where the peninsula turns into the panhandle — sometime Thursday afternoon or evening.
Andrea's then expected to wash over southeastern Georgia and eastern South Carolina this weekend.
Forecasters for The Weather Channel said a combination of wind shear in the upper atmosphere and dry air on the west side of the system was trapping the heaviest winds on Andrea's east side. That means the main concern will be very heavy rainfall through Friday.
Full coverage of Andrea on Weather.com
Several inches of rain could cause localized flooding across the Florida peninsula, with a chance of isolated tornadoes if the right conditions develop, forecasters said. Along the Alabama coast, swimmers were told to be on the lookout for dangerous rip currents.
Related: