Tropical Storm Karen's strength ebbed Saturday as it churned in the Gulf of Mexico, though experts say people in the area should still brace for a significant storm.
The storm's maximum sustained winds dropped to 40 mph by 2 a.m. ET Saturday, the National Hurricane Center reported. The storm's center was moving north-northwest at about 8 mph.
A tropical storm warning was in effect from Morgan City, La., to the mouth of the Pearl River east of New Orleans.
"The wind speeds have come down a little bit," Dennis Feltgen, meteorologist and spokesman for the hurricane center, told NBC News. "Regardless, it's still a strong tropical storm."
Feltgen warns that the storm still "could have a very significant impact."
"We don't want anyone letting their guard down," he said. "Nobody should be taking this thing lightly."
Heavy rains could cause flooding and raised water levels as the storm hits the Gulf Coast, though the chances of it becoming a hurricane are very low, a meteorologist said Friday.
The storm is set to make landfall early Saturday in Louisiana, where the governor has declared a state of emergency, and hurricane watches are still in effect from Grand Isle, La., eastward to Indian Pass, Fla.
"It's going to be the kind of storm which could produce rain around the four-inch mark," said Michael Palmer, lead meteorologist at the Weather Channel.
He added that the coast would see a water-level rise of two to four feet, which could cause additional flooding in the low-lying areas.
Palmer urged people in the storm's path to be prepared, especially to the east of the system, which posed the greatest risk of wet weather.
"The biggest threat for this type of storm is not the winds but the heavy rainfall," he said. "The east side of the storm is where all the condensation is, and the west is not going to get nearly as much rain."
However Louisiana's state of emergency and the hurricane watches were only a precaution in the event of strong gusts rather than the formation of a hurricane, Palmer said.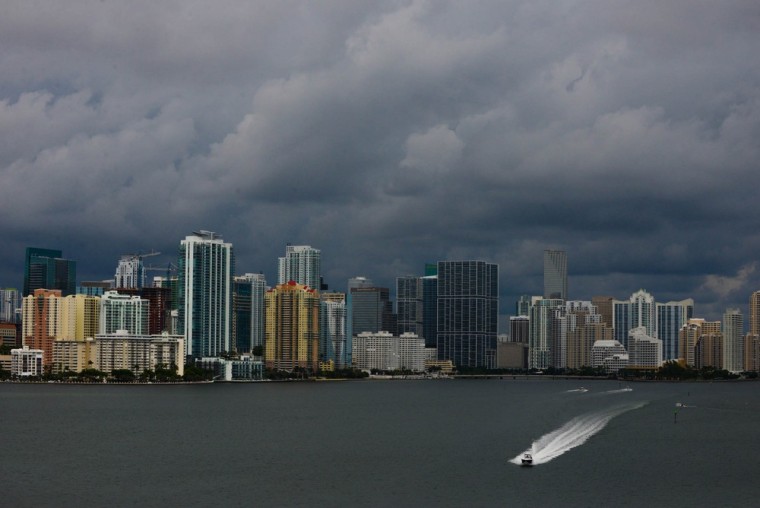 "It's looking a lot less impressive on satellite than it did," Palmer said. "It does not appear that it will turn into a hurricane at this point. There could be an outside chance according to the National Weather Center."
In anticipation of the storm, the White House said Thursday it would recall employees of the Federal Emergency Management Agency who have been placed on furlough because of the federal government shutdown.
Louisiana Gov. Bobby Jindal declared a state of emergency on Thursday afternoon in response to the storm forecasts.
Under the declaration, the Governor's Office of Homeland Security and Emergency Preparedness is authorized to carry out any steps necessary to prepare for the storm and respond to emergencies resulting from it.
NBC News' Daniella Silva and Simon Moya-Smith contributed to this report.
Related: Tropical storm looms in Gulf; snowstorm builds in Rockies