Federal investigators say that a pickup truck driver charged in a fatal crash with a church bus that left 13 people dead in Texas last year failed to control his vehicle due to his use of marijuana in combination with the misuse of prescription medication.
The National Transportation Safety Board released its findings in the March 29, 2017, crash near Concan in a statement on Tuesday.
The NTSB does not release the names of those involved, but the agency said the driver of the pickup truck, which was observed traveling erratically before the crash, tested positive for Delta-9-THC, a primary active chemical in marijuana, and clonazepam, a sedative used to treat seizure and panic disorders, and that the driver stated he took twice his prescribed dosage of clonazepam prior to the crash.
The driver of the pickup truck has been identified by authorities as Jack Dillon Young, 20, and in June of 2017 he was charged with multiple counts of intoxication manslaughter. The driver of the bus and 12 of 13 passengers on board died in the head-on collision.
The NTSB said that "the post-crash inspection of the pick-up truck's cab revealed unsmoked and partially smoked marijuana cigarettes, drug paraphernalia, and prescription and over-the-counter medication."
"The pick-up truck driver in this crash made terrible choices with tragic consequences," NTSB Chairman Robert L. Sumwalt said in a statement.
"But the rising tide of drug-impaired driving did not begin with this driver, and it will not end with him," Sumwalt said. "Law enforcement needs additional tools and advanced training to detect impaired drivers before they crash, regardless of the impairing drug they're using."
Young had told police after the crash that he had been texting on his phone and had taken prescription medication before the crash, according to a crash report released by the Texas Department of Transportation after the accident.
The church bus was carrying a group of seniors from First Baptist New Braunfels Church returning from a three-day retreat when it was struck head-on by the pickup truck on U.S. Highway 83, according to the NTSB and other authorities. The truck was seen traveling erratically for 15 minutes before the crash at around 12:20 p.m, local time (1:20 p.m. ET) the transportation board said.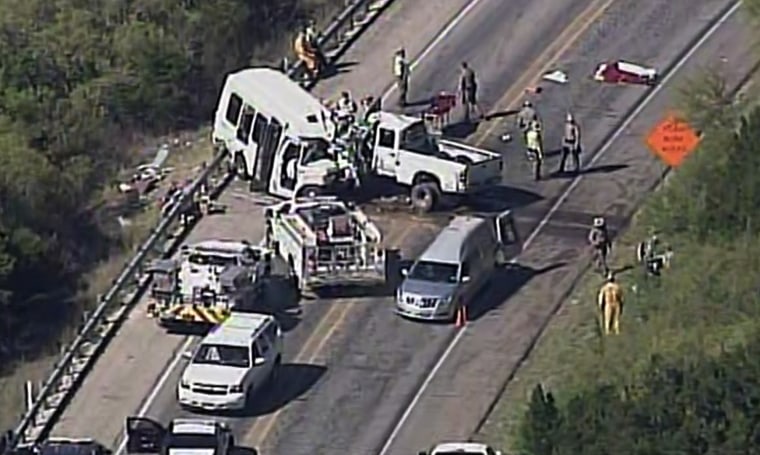 The NTSB also found that "contributing to the severity of the injuries was the insufficient occupant protection provided by the lap belts worn by passengers seated in the rear of the medium-size bus." The NTSB recommended that medium-sized bus and seat manufacturers should install "lap/shoulder belts" as standard rather than optional equipment on those vehicles.
Young in May pleaded no contest to the charges against him and will be sentenced in November, NBC affiliate WOAI of San Antonio reported. His sentence could be anywhere between two and 270 years in prison, the station reported at the time of the plea.