An Algerian man accused of being a recruiter for al Qaeda was brought to a U.S. courtroom Friday to face federal terrorism charge, despite President Donald Trump's promise to send terrorism suspects to the U.S. detention facility in Guantanamo Bay, Cuba.
Ali Charaf Damache was brought from Spain to Philadelphia, where he was accused of recruiting people to wage jihad overseas and to kill a Swedish artist who drew a political cartoon depicting the Prophet Muhammad.
Federal prosecutors said Damache, known as "The Black Flag," recruited two women in the U.S. who were willing to travel around Europe in support of violent jihad. One of them, Colleen La Rose of Pennsylvania, who called herself Jihad Jane, was convicted in 2014 and sentenced to 10 years in prison.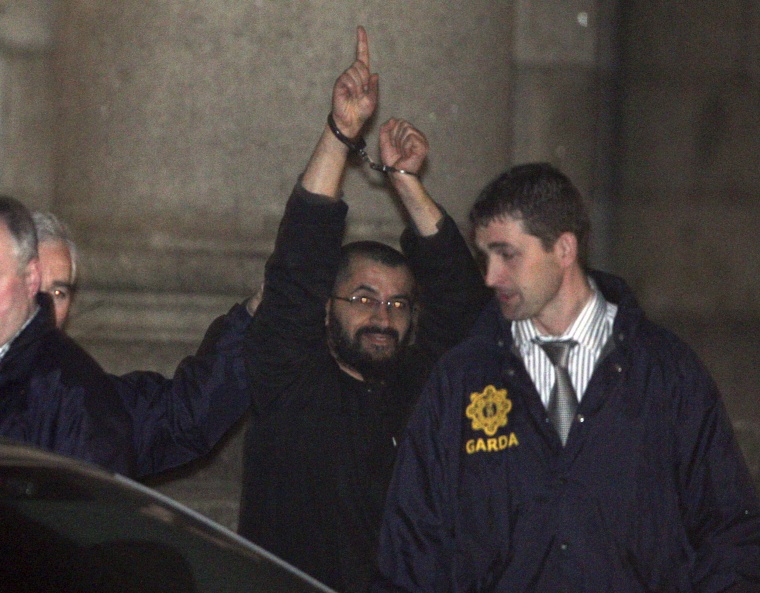 Trump and Attorney General Jeff Sessions have been strongly critical of the Obama administration for bringing terrorism suspects to the U.S. for trial instead of sending them to Guantanamo Bay for interrogation. In civilian courts, Sessions has said, "they get discovery rights to find out our intelligence and get court-appointed lawyers and things of that nature."
Damache was arrested in 2010 in Ireland, where he had lived for a decade. An Irish judge rejected a U.S. extradition request. But American officials tried again after he was arrested in Spain in 2015.
It's likely that Spanish authorities would not have agreed to the U.S. extradition request without a guarantee that Damache would face trial in a civilian courtroom. So his case may not represent any policy shift on how terror suspects should be treated.
"The individual involved in this case was indicted in 2011 in federal district court. The United States has consistently used the extradition process to obtain indicted fugitives who are overseas, so that they can stand trial in our federal courts," said Ian Prior, a Justice Department spokesman.
The ACLU praised the administration for bringing him to federal court. "The alternatives of indefinite detention at Guantánamo and flawed military commissions violate basic constitutional and human rights, and have created far more problems than they've solved," said David Cole, the ACLU's legal director.