The U.S. Department of Agriculture is preparing to ease school lunch regulations created under former President Barack Obama.
On Friday, the department announced its secretary, former Georgia Gov. Sonny Perdue, will introduce an interim rule to provide "regulatory flexibility" for the National School Lunch Program at a Virginia elementary school on Monday, alongside Pat Roberts, R-Kansas, chair of the Senate Committee on Agriculture, Nutrition and Forestry.
It's unclear how the regulations will be changed, or what effect it could have on school lunchrooms.
The National School Lunch Program provides nutritionally balanced reduced-cost or free lunches to children. Former First Lady Michelle Obama pushed for strict nutritional standards on the program as part of her campaign against obesity.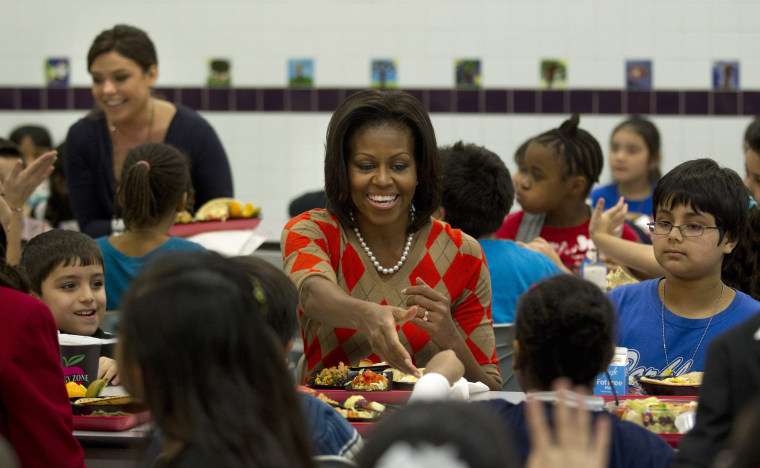 Conservative Republicans have long held concerns about the program's costs, at times attempting to claw back its associated regulations or allow schools to opt out completely.
Loudoun County, Virginia, where the announcement will be made, received $6.1 million in federal aid for the school lunch program in 2016, according to a county audit of federal award programs. It received another $1.4 million for the school breakfast programs.
But the program's inflexibility has a history as a bipartisan issue. A 2016 bill negotiated by Roberts and Sen. Debbie Stabenow, D-Michigan, ranking member of the senate agriculture committee, sought to loosen whole grain requirements and extend a deadline to cut school lunch's sodium levels.
But partisan bickering from both sides stalled the bill's progression. It died never having received a floor vote.
Health advocates were more wary of change. American Heart Association CEO Nancy Brown said much progress had been made and 99 percent of schools were complying with the program.
"Improving children's health should be a top priority for the USDA, and serving more nutritious foods in schools is a clear-cut way to accomplish this goal," Brown said. "Rather than altering the current path forward, we hope the agency focuses more on providing technical assistance that can help schools get across the finish line, if they haven't done so already."