The Trump administration rolled back a major Obama-era clean water regulation on Thursday, reversing protections for certain waterways and wetlands that had fallen into a legal grey area after a series of Supreme Court challenges.
Announced by Environment Protection Agency Administrator Andrew Wheeler during an event at the headquarters of the National Association of Manufacturers, a trade group that had long lobbied for the 2015 rule to be repealed, the rollback will limit the number of waterways the federal government will protect from pollution and chemicals — which President Donald Trump has argued infringes on the rights of farmers, real estate developers and landowners.
"Today's Step 1 action fulfills a key promise of President Trump and sets the stage for Step 2 — a new [Water of the United States] definition that will provide greater regulatory certainty for farmers, landowners, homebuilders and developers nationwide," Wheeler said, noting that the final rule change will come through later this year.
The rule came about after two Supreme Court decisions created uncertainty around what waterways and wetlands were owed protections. While the Bush White House had a loose guideline in place, the Obama administration moved to establish a permanent rule and definition through the EPA in 2015. That new bit of regulation extended protections to an estimated 60 percent of American waterways.
But farming and industry groups said that it only served to limit the way they could use their own land.
"No regulation is perfect, and no rule can accommodate every concern, but the 2015 rule was especially egregious," said Zippy Duvall, the president of the American Farm Bureau — which lobbied for the rule change. "We are relieved to put it behind us. We are now working to ensure a fair and reasonable substitute that protects our water and our ability to work and care for the land."
Former officials balk at rule change
Former EPA officials who've worked under Republican and Democratic administrations told NBC News that this rule change will only benefit mining industries, oil and gas pipeline corporations and land developers.
Though critics of the 2015 rule say it overregulated farmers, forcing them to get permits for every potential stream or body of water, the officials said that the rule maintained every exemption for agriculture that the Clean Water Act required them to, and they even expanded exemptions to extend to ditches and other bodies of water that didn't consistently flow.
Industries, not farmers, are the ones who will benefit, said Betsy Southerland, the former director of Science and Technology in EPA's Office of Water, which she departed in 2017 after more than 30 years.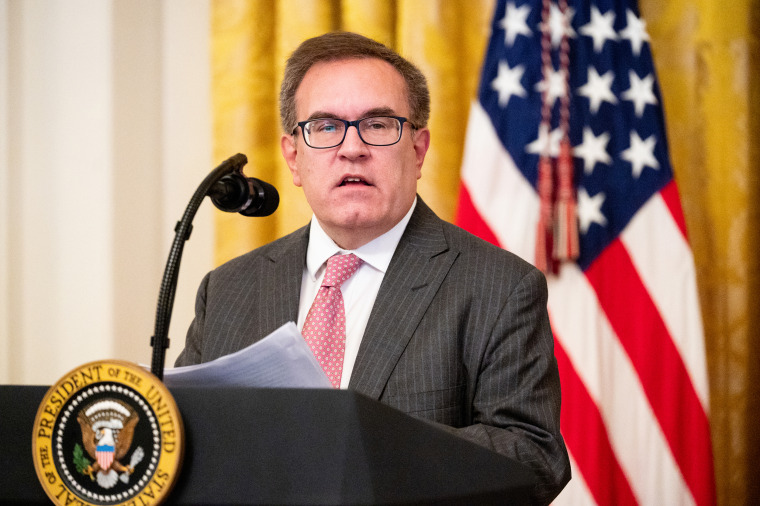 "This will mean that miners can do mountaintop removal and fill in streams, pipelines can cut across wetlands, land developers can build on wetlands without a permit," Southerland said. "What they are doing with this repeal, is leaving it to the states to handle it. I can tell you that there are very few states that have permitting and enforcement programs to do this. They have always depended on EPA."
Meanwhile, the quality of American water will deteriorate and poor rural communities will be the first to pay the price, according to Southerland and other officials.
"The cumulative effect of all these wetlands being lost and all these headwater streams being destroyed is going to have an enormous negative impact on all the waters we do use for drinking and recreation," Southerland said. "Wetlands are big flood control functions and filter pollutants out before they get to streams that we drink from. All of that will be lost if we no longer have these protections, and once you lose them you can't get them back."
After the rule became official in 2015, 18 states sued the Obama administration to stop what they argued was an unlawful extension of federal authority over insignificant waterways such as streams and wetlands. The states said the federal government had usurped the language of the Clean Water Act that drew a clear distinction between federal authority and state or private landowners.
Experts say that the Trump administration and industries who are invested in this rule change may have to wait for challenges from states and environmental groups to make their way through the legal system.
"The withdrawal rule has been very controversial, and is now almost three years in the making," said Mark Ryan, a leading expert on the Clean Water Act who helped write the rule near the end of his 24-year career as a senior litigator for the EPA. "It will certainly be challenged by the states — almost half of which are now operating under the 2015 Rule — and by environmental groups."
Another issue is that this rule will also potentially suggest a new way to handle interstate waterways, which could lead to lawsuits between states.
"That's what the federal government is here to do," Southerland said, "they make sure that there is a level playing field between states for water and air quality."
Environmental groups prepare to challenge Trump
More than two dozen environmental groups shared statements on Thursday announcing their intense displeasure with the Trump administration's decision and their fear for what it could mean for unprotected streams and waterways. Many said they would not sit idly by.
Scott Edwards, the director of the Food & Water Justice program at Food & Water Action, said that his group plans to match or exceed the challenges the 2015 rule had seen since its adoption.
"It has now been four years of constant litigation since the 2015 rule came out," he said. "Trump's rule will be met with an equal amount of opposition and court challenges and attempts to strike it down.
Edward's group is not alone in that challenge.
Earthjustice, an environmental legal group that has sued the EPA over several environmental regulatory changes, said they plan to continue to maintain pressure on the current administration.
"We're already involved in litigation and advocacy on these issues," said Anna Sewell, a senior attorney with Earthjustice. "We plan to continue to litigate as necessary to make sure that the clean water protections remain consistent with the full force of the law."
While most voiced a concern over this latest move by the Trump administration, many groups said this there are many more fronts for legal challenges.
"There is literally a tidal wave of regulatory changes that are coming out of this administration now that are going to need to be challenged," Edwards said, "and we will be in court challenging them."